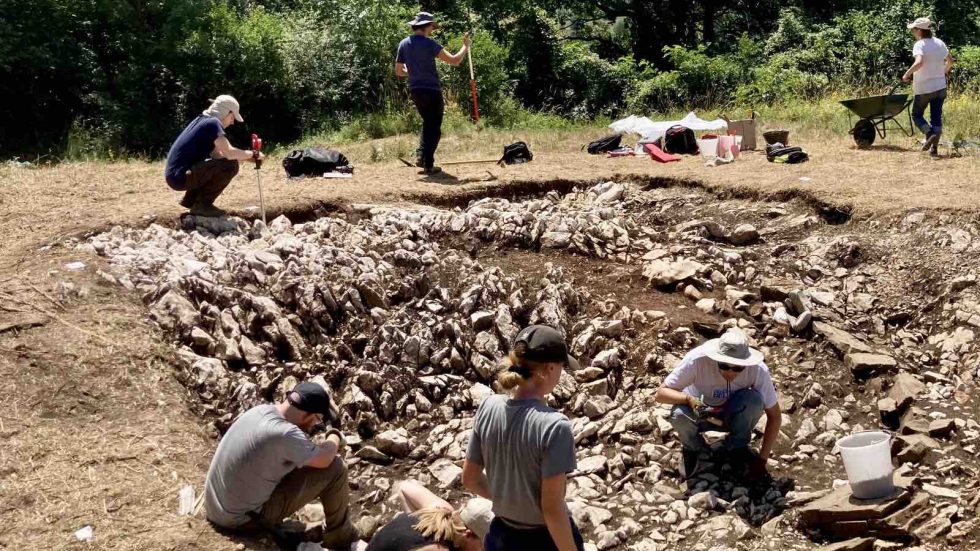 When students return to the University of Wisconsin Oshkosh this fall, many will have stories to tell about exciting summer adventures.
Only a few, however, will be able to say they were among the first-ever group of American students to take part in an archaeological field school in Slovenia.
"This was truly the best trip I've ever been on and probably will ever go on," said Dana Lemke, a senior anthropology and history major from Saukville. Lemke was one of five students from UW Oshkosh, and nine students total, who took part in the project dubbed The Wolves and the Caesars—a five-week overseas trip to excavate a settlement site in the Slovenian town of Slavina. The site, a hilltop fort, dates back to the Iron Age, or roughly the ninth through first centuries B.C.
The program was launched by two members of the anthropology department at UWO: Adrienne Frie, assistant anthropology professor, and Kevin Garstki, anthropology lecturer.
The group included Lemke and fellow UWO students Abbey Braker, a junior anthropology major from Jackson, Wisconsin; Julia Dahms, a junior history major from Omro; Abby Holden, a senior anthropology major from Waunakee; and Meredith Volkman, a senior anthropology and biology major from Verona; plus two students from UW-Milwaukee, one from UW-La Crosse and one from the University of Mississippi. All but one are undergrads who earned six credits. The lone grad student, Calleigh Wondra from UW-Milwaukee, earned credit toward her master's.
The educators arrived a little earlier, but the students were in Slovenia from June 2 through July 6. Most of that time the group stayed at what's called a "tourist farm," so the students got to mingle with goats, chickens, ducks and a dog. Later they moved to the capitol city of Ljubljana.
Project origins
Frie has both experience and connections in Slovenia. She did research there for her PhD. and has several colleagues there at a variety of institutions and said there is a need for bodies to help with excavations. It was back in 2019 she first engaged in conversations about bringing a group of students over for what was clearly a win-win.
"We knew it would be great for students to get a travel-abroad experience, but also from an archaeological perspective, we would have enough people to really start to do some interesting and exciting in-depth excavation," she said.
The original plan was for a first trip in the summer of 2020, but the pandemic put things on hold. Finally this year it was a go.
Braker learned about the plans back in spring 2021 and said it sounded like a "dream come true."
"It was amazing. I'm so glad I was able to go," she said. " … I could go on and on about how amazing and fascinating archaeology in Slovenia is and all of the personal or obsessive nerd reasons I had for going, but it was also a really good opportunity for future careers and research."
Digging in
The project, which became a reality through the University's International Education office, included a partnership with the National Museum of Slovenia, the Park of Military History and the Slovenian Institute of Archaeology.
The typical weekly structure was archaeological work Monday through Friday, a field trip Saturday and a free day Sunday. Those weekdays were focused on one of about 180 hilltop forts in the area. The settlement, known as Baba, is located in an area where Julius Caesar's Roman armies came through from northern Italy.
"This site has never been excavated before," Garstki said. "Some metal detectorists over the past 100 years have kind of looked around there and found some material that seems to be an indication of Roman incursion, like lead slingshot bullets. … But there doesn't seem to be any occupation afterward. So what we're interested in understanding is if this is one of those places that fought back against the Romans and was destroyed, or did they kind of side with the Romans in an effort to keep living and survive there."
The group spent weeks excavating within the walls of the fort. They also used laser technology, known as lidar, to create 3D renderings of the terrain. Garstki said it was an opportunity for students to mix both the traditional hands-on field work and the more modern types of excavation with newer types of digital technology.
"This program will definitely help me in graduate school as I now have experience excavating, as well as knowledge on how to process Lidar data and how to create computational photogrammetric models of a site and artifacts," said Holden, who called the trip a "once-in-a-lifetime experience."
The team dug into a sunken depression they first thought might have been a home. It turns out their 10 meter-by-6 meter trench was some kind of workshop. Garstki's hypothesis is it was for iron smithing, while Frie thinks it was more of a multipurpose shop, with some iron work but perhaps some glass or bronze work as well.
"It was a really interesting structure and it wasn't what we expected to find," Frie said.
Looking ahead
Frie said talks have already started with the International Education office to have another program next summer. The educators are excited about the future, knowing the relationships that are already in place will now open up more opportunities.
Plus—there's much more excavation work to do.
"Dr. Frie and Dr. Garstki are both so knowledgeable about the topics we went over and were both so supportive and encouraging to the students," Braker said. "Words can't express how much I enjoyed the field school.
"If anyone is given the chance, I highly recommend they go."
---
Written by Shane Nyman
Link to original story: https://uwosh.edu/today/107384/once-in-a-lifetime-experience-uwo-students-spend-summer-digging-into-iron-age-history-in-slovenia/