Setting foot on a college campus requires a great deal of adjustment for many students. Budgeting time for classes, studying, extracurricular activities and even just a few moments of rest and relaxation can be a stressful situation. The environment can be even tougher for student veterans.
While the process of regaining familiarity with civilian life can be difficult for some veterans, the additional demands of attending college – often while juggling fulltime jobs and family responsibilities – can make the task even more difficult.
The University of Wisconsin-Superior is hoping to help ease student veteran's adjustments to civilian and academic life with a new class. Transitions in Your Life: From Military to Campus Culture enables students to examine human behavior or interaction using the methods and assumptions of social science research.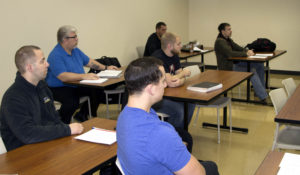 "One of the core learning outcomes has to do with creative thinking," said Monte Stewart, Veteran and Non-Traditional Student Services Coordinator and instructor of the course. "We talk about coming from the military and what that transition looks like and trying to align veterans with the skill-set to be able to critically think."
Limited to active duty military members and veterans, the course was specifically developed for transitioning soldiers and veterans to support their academic and life goals. Having a class specifically geared toward military members and veterans was originally developed by UW-Stevens Point.
"I worked with Monica Roth-Day [Associate Dean and Professor of Social Work] to put this together here at UW-Superior," said Stewart. "We got it approved as a class and approved through University Studies to fulfill a social science credit."
The three-credit Interdisciplinary Studies course explores topics such as transitioning from military to civilian and campus life, connecting with resources to support success and understanding the role of events and experiences on personal and professional goals. The inaugural class features seven students.
"We have a lot of great discussion in every class," said Stewart. "I think the students really enjoy the class and it's a place where they can create a relationship with other people that have similar life experiences and connect with other veterans where they wouldn't have had that opportunity otherwise. Outside of going to class, they have other responsibilities – some are working full time, going to school full time and managing a family."
For Josh Hogan, a freshman from Barnum, Minn., majoring in Computer Science, the class has already been a benefit.
"My favorite part of the course has been relating to people who have gone through and are going through the same things I am," said Hogan. "We have covered so much in this class that has benefited me already. From learning the resources that campus has to offer, finding out what type of learner I am and taking an EQ-I [Emotional Quotient Inventory] assessment. Among many other things, I will continue to use these tools in the near future."
The course has included guest lecturers along with discussion and tips on time management, strategic relationships, learning styles, ways to get involved on campus and additional ways to become successful.
"Anything is wide open and fair game to talk about," said Stewart. "I want to make sure to equip these students with the resources both here and in the community so that they can be successful. That's something that's very important."
Hogan hopes courses like this become available at other colleges.
"Above all, my favorite part has been relating to others in the class, talking about experiences, and realizing that so many others have felt and gone through what I am going through," Hogan said. "Transitioning from the Marine Corps to college has been easier because of this class. Every college would benefit from having a similar course in their system."