Just last May, Chris Fox walked across the stage at Johnson Fieldhouse to receive his diploma during University of Wisconsin-Stout's commencement ceremonies.
In October, Fox was back on campus in the same building for the university's 35th annual Career Conference. He was recruiting students for Cooperative Education positions as well as full-time jobs for his employer, Greenheck Fan Corp. of Schofield.
Here is a question-and-answer interview with Fox, a native of Wausau:
What did you major in at UW-Stout? Applied social science, with a minor in human resources management and a minor in psychology.
Why did you come to UW-Stout? It has unique majors, with a comfortable campus and a friendly vibe.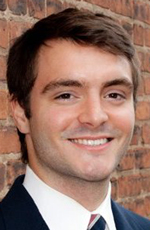 How well did your education prepare you for the work world? Exceedingly well. I learned to work in fast-paced environments and developed critical relationship and consensus-building skills.
How did you come to work for Greenheck? Greenheck was recruiting at UW campuses for a human resources Intern. I was interviewed several weeks later and knew Greenheck was the right organizational culture for me.
What is your current role for Greenheck? I am a human resources assistant. I started as an intern writing job progression for manufacturing engineers, controls engineers and corporate marketing. I led focus groups with managers and vice presidents from diverse business units and regional locations. I support the architectural product and damper business units. Traveling to college campuses to recruit future Greenheck employees is a current focus.
What role did UW-Stout play in you working for Greenheck? UW-Stout and Greenheck have a longstanding relationship. UW-Stout graduates are highly skilled and historically have had an abundant impact on Greenheck's success as the leading manufacturer of industrial air movement and control equipment. We have had continued success recruiting from UW-Stout, and I look forward to my return to the campus. It is humbling to represent an organization of 2,500 employees. Greenheck is growing rapidly and just announced the opening of a new plant in North Carolina, which will significantly increase market share on the East Coast.

What are you planning to accomplish at the Career Conference? I'm recruiting both graduates for full-time positions and students for co-ops and internships. I'll be recruiting for manufacturing engineers, application engineers, supply chain, procurement and information technology.
What advice would you give students who are graduating about the best ways to succeed in the job market? There are two ways to land a professional position: applying online and networking. Networking is significantly more effective. It's critically important to attend career conferences and similar events, as it provides the opportunity to assert your personality and explain key interests and goals. Ultimately, it puts a face to a name.
What are you looking for in students who will stop to talk or who apply at Greenheck? I look for enthusiasm and an eagerness to have an impact on the organization.
About 300 employers were scheduled to attend the two-day conference at Johnson Fieldhouse. More information is available at the website or via a previous news release.