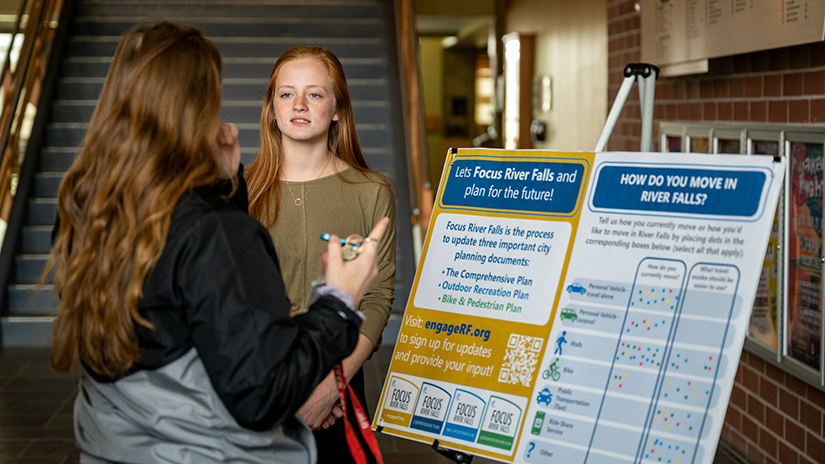 Brooklyn Weller is hoping the city of River Falls will consider more public transportation options to help University of Wisconsin-River Falls students who may not have cars.
Weller, of Rochester, Minn., is a sophomore majoring in criminology and psychology and is also an at-large senator with the Student Government Association. The association has a task force looking into options to return a safe ride program to the university.
"It would be nice if the city added public transportation or rideshares," Weller said. "I think that would give more opportunities for students who need to pick up groceries or go to a drug store."
Weller was one student who had her voice heard thanks to the new student Community Planning Club.
The club started this semester on campus. On April 28, club members encouraged students and staff to share their opinions through a table in the University Center on three plans that will guide the future decision making and investment in River Falls.
The plans the city is updating include:
Comprehensive Plan that will establish visions, goals and direction to guide decision making for the next 20 years.
Bike and Pedestrian Plan that focuses on the system of infrastructure and resources that provide for bicycle and pedestrian movement.
Outdoor Recreation Plan will assess current recreational offerings, complete an assessment of future needs and outline a recommendation plan for future investment.
CJ Sycks, of Andover, Minn., is the president of the Community Planning Club.
Sycks, a junior majoring in conservation and environmental planning, said she and others in her major wanted a club to help learn more career options, have speakers and work on projects outside the classroom.
"This event is to help Community Planning Club members get a feel for what community engagement is," Sycks said.
Christopher Holtkamp, an assistant professor of environmental planning and the club adviser, said the club allows students to socialize and have events related to community planning.
Gathering information for the city of River Falls also helps student voices be heard, Holtkamp said.
"One typically underrepresented group in planning efforts is students," he noted. "Students don't typically attend town hall meetings or answer long surveys. This creates an opportunity for students to provide information."
The group specifically targeted transportation for the event to learn how students move around the city. Students and staff received information to respond and give more feedback on all three of the plans.
The goal is to make students feel more engaged and a part of River Falls, Holtkamp said.
"Students don't always feel like they are a part of the community," he noted. "But they are. They are here for nine months a year for four, sometimes five years."
For students who are part of the Community Planning Club, engaging with other students allows them to take part in a real-life community planning effort.
"They get an opportunity to meet city staff and share their findings," Holtkamp said.
Having a club also opens the door to having members attend state planning conferences, Holtkamp said.
Earlier in the semester, the club held a contest on designing a roundabout.
"It's a way to apply what they have learned in the classroom and engage in a fun activity," he noted.
To learn more about the city's updated plans, go to engagerf.org.
---
Written by UW-River Falls
Link to original story: https://www.uwrf.edu/News/NewCommunityPlanningClubmembersgatherstudentopinionsoncityscomprehensiveplan.cfm