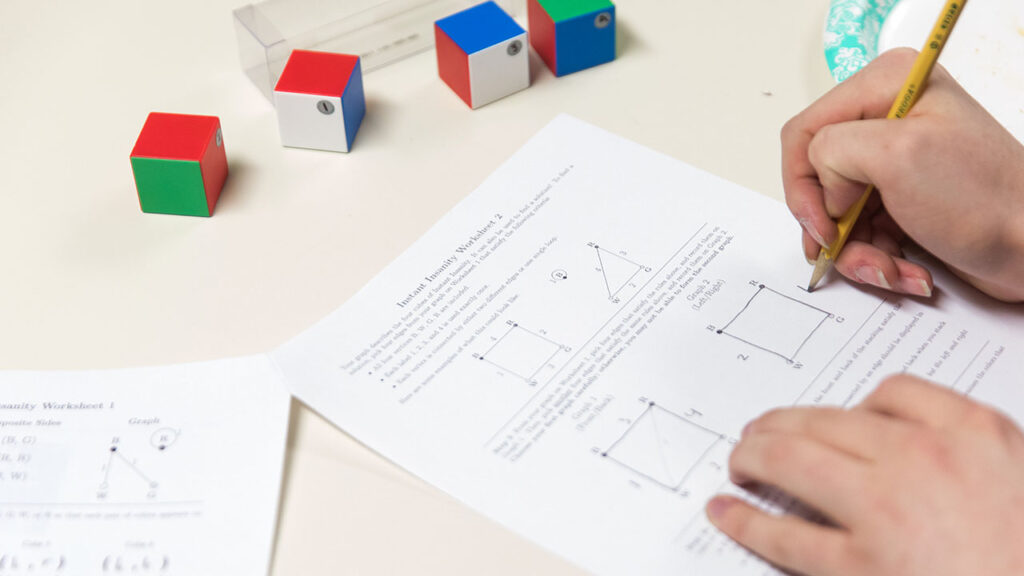 The University of Wisconsin-Platteville is helping to address the critical shortage of qualified math and science teachers in Southwest Wisconsin by partnering with local school districts and STEM teachers to implement a "grow your own" program. The program was created by Dr. Tim Deis, professor of mathematics at UW-Platteville, and Dr. Jodean Grunow, senior lecturer in UW-Platteville's Department of Mathematics, after receiving a National Science Foundation Noyce Capacity Building grant. The program's title, "E's 2 STEM," highlights its guiding objectives – envision, engage, encourage, establish, enumerate, evaluate and empower.
"We have such a dearth of math educators right now," said Grunow. "The shortage is critical. Unfortunately, one of the things that is developing is that people are going into these positions who are ill-prepared for them. Consequentially, students are going to be ill-prepared, and we will again have to re-tool our math skills. This is all happening at a time when mathematics is more important than it has ever been."
Through the new program, Deis and Grunow partner with area high school STEM teachers, who then identify and recommend "students of promise" – those who have an interest in STEM and an aptitude for becoming a potential teacher. Deis and Grunow work with those identified students and their parents to advise them on the advantages of STEM teaching. The high school students, supporting teachers and UW-Platteville personnel form a cohort that supports the students through their senior year. The students also have the opportunity to enroll in two dual-credit education courses, offering them high school and college credit.
The program structure is grounded in research demonstrating that the path to choosing teaching as a career begins in high school, if not earlier.
"Every one of us has had a high school teacher who has made an impact on our life," said Deis. "If there is a kid out there thinking about teaching, they are likely thinking about a high school teacher they have been working with who has made an impact on their lives."
The partnering school districts and teachers are a key to the program's success, said Deis.
"We're taking a page out of the athletics playbook," he said. "In athletics, college coaches have connections with high school coaches, and the high school coach will contact a university about a kid's talent. That's the philosophy that we're following."
Still in its first year, the program has already made big strides. Approximately 40 teachers have expressed interest and they have identified 30 students of promise, 15 of whom Deis and Grunow have already met with.
One of the partnering teachers, Laura Kulcinski, a high school math teacher at Dodgeville (Wisconsin) High School, has seen the shortage of STEM teachers first hand. When a position for a high school math teacher opened for the 2021-22 school year, she said they had only a small pool of applicants apply and were unable to fill the position. The district hired an intern from UW-Platteville to teach two math classes in the spring semester – a solution that Kulcinski said was immensely helpful for the short-term. While she said she still has concerns for the long-term outlook, she is hopeful UW-Platteville's new program will help.
"The program has given us a point for discussion with our students and also gives incentives for students to explore the STEM education field," said Kulcinski. "Also, connecting current high school students with UW-Platteville professors and students majoring in STEM education is beneficial. It puts a face with the UW-Platteville program and our high school students love to hear from UW-Platteville students and their college journey."
Additional partners in the program include Dr. Leigh Monhardt, UW-Platteville professor of education, and Dr. Anguru Premadasa and Stephanie Kernik — partners from UW-Platteville Baraboo Sauk County and UW-Platteville Richland, respectively. For more information on the program, visit www.uwplatt.edu/ease2stem.
Additional teacher testimonials:
"The E's 2 STEM program has afforded me the opportunity to have valuable discussions with students about their abilities in math and science as well as the intrinsic rewards of a teaching career. It has opened the door for students to explore the possibility of teaching, ask questions, and gain experiences before they even leave high school."
–Jamie Jones, high school math teacher, Richland Center
"I feel that the program has opened my students' eyes and made access to college introductory classes more accessible. Where those students would have never thought of taking them in the past, they now feel empowered to start their career path early in their high school career."
–Kirsten Reichmann, high school science teacher, Wauzeka-Steubben School District
"The E's 2 STEM has me very excited about and interested in working with future teachers.  While I have had the pleasure of having student teachers in my classroom, I am hoping to take this to the next level and begin more work with high school students who are interested in teaching.  My goal is to start a future teacher organization in our school district this next school year."
–Cindi Nothem, high school math teacher, Mineral Point
"The program has been helpful in that if I have a student who is interested in entering STEM education, I have a place to direct them to get more info. The amount of information 'out there' can be really overwhelming to someone who isn't familiar with how college works, so it's nice to direct students to a concise resource. It's an added bonus that UW-Platteville is physically so close, too! This gives interested students the chance to go to UW-Platteville for orientation sessions, workshops, classes, etc. more easily."
–Danielle Carlson, high school science teacher, Fennimore
---
Written by Alison Parkins
Link to original story: https://www.uwplatt.edu/news/new-grow-your-own-program-hopes-address-shortage-stem-teachers