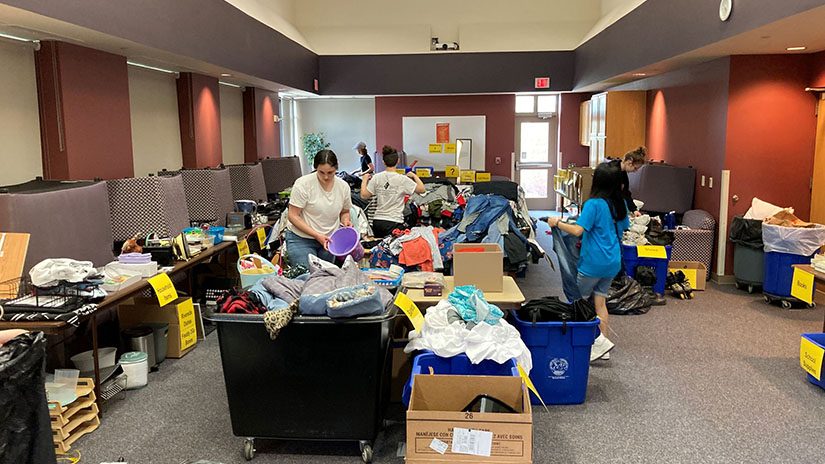 University of Wisconsin-River Falls senior Julia Miller recently folded clothes donated by fellow students as they moved out of student housing at the end of the academic year. The clothing will go to several agencies to help the River Falls community.
"This is a ton of stuff that gets diverted from the landfill and can go to the thrift stores," said Miller, of New Richmond, who is the president of the UWRF Green Team, a student sustainability group. "People can buy items at lower prices saving them money and items get reused that helps limit the amount of new clothes made."
Miller was helping sort donated items at the UWRF South Fork Suites conference room at the Don't Throw It, Donate It! collection.
Students donated clothing, household items, nonperishable food, school supplies, electronics, sporting goods, personal items, books and other items including furniture.
The items were donated to the River Falls Community Food Pantry, Treasures of the Heart, the River Falls School District, and The Closet at Our Neighbor's Place. Some of the nonperishable food items will also go to the two Freddy's food pantries on campus.
Collecting items from students moving out of the residence halls started in 2006. This year is the 14th year of the collection as the program was not available in 2020 or 2021 due to the COVID-19 pandemic.
Bins were placed in student housing for donations from May 4-17.
"It's all about diverting usable items from the landfill," said UWRF Sustainability Coordinator Mark Klapatch-Mathias. "It is also about helping people in need and donating back to the community."
A total of 6,433 pounds of items including 1,439 pounds of food were collected.
The breakdown and items collected included: clothing – 1,630; personal – 85; electronics – 38; books/DVDs/CDs – 61; school supplies – 620; household – 1,652; sporting goods – 21; furniture – 38.
A total of 175 volunteer hours went into the project.
In 2019, the last time the collection was held, 6,241 pounds of donations were collected. Of that, 5,004 pounds were items donated and 1,460 was food donations. Of the items, 1,977 were clothing, 1,859 households, 546 school supplies, 262 books, DVDs and CDs, 167 sporting goods, 102 personal and 91 electronics.
Kaeli Evers, a senior majoring in animal science from Clintonville, recently helped sort donated items.
Evers, an Honors Program student, was using the opportunity to help fulfill required volunteer hours for the program.
"I really like the idea of doing something to be more sustainable," Evers said. "I like that it also gives a way for students to give back to the community."
Evers remembered when she moved out of the residence halls about two years ago and ended up throwing items that someone else might have been able to use because the program could not operate because of the pandemic.
"I really enjoy thrifting, too," Evers said. "There are a lot of environmental impacts with producing clothing, and it is good to avoid usable items going to the landfill."
Evers and Miller said they were both surprised by the number of items donated by students.
"Sustainability is important," Miller said. "Our generation is really concerned about climate change and the water. Doing something helps both for mental health and the feeling that we are doing something to help the world."
In Chancellor Maria Gallo's Listening and Learning Session Report, one of the major themes was to embrace a holistic approach to sustainability. To read the report, go to https://www.uwrf.edu/Administration/upload/22-0062-Listen-and-Learn-Report-Web.pdf.
The Don't Throw It, Donate It! program is a collaborative effort between the Sustainability Office, Green Team student organization and Residence Life.
---
Written by UW-River Falls
Link to original story: https://www.uwrf.edu/News/MovingoutsustainablyatUWRiverFallsStudentsdonateitemstohelpothers.cfm