A $60,000 U.S. Environmental Protection Agency grant will help UW-La Crosse researchers further investigate high levels of lead in the La Crosse River marsh and partner to educate the community about the marsh ecosystem.
Four UW-La Crosse professors — two from Geography & Earth Science and two from Biology — collaborated in writing the grant after initial studies in the La Crosse River marsh over a year ago uncovered high levels of lead contamination in the soil, which could potentially be toxic to wildlife living there.
The grant will allow further analysis of the impact of lead levels in the marsh such as testing the water and life forms living there, including aquatic vegetation, fish, and insects that spend part of their lifecycle in the sediment. Biology Professor Tisha King-Heiden will also study whether the sediments induce any developmental problems with fish.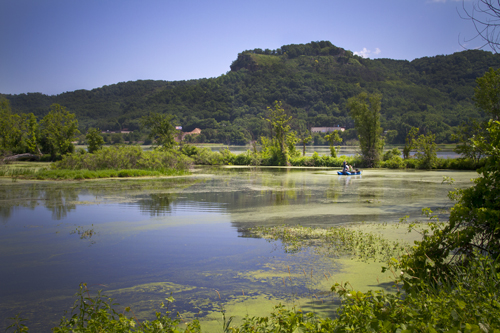 "Now the question is — is this lead just hanging out in the sediment or is it a greater biological concern?" says Colin Belby, professor of Geography & Earth Science.
The grant also allows researchers to increase public awareness and understanding of the marsh through a series of community meetings and outreach events. Two or more public meetings will be held at the EcoPark in fall 2013 to discuss the results of the marsh lead level studies. UW-L professors are also collaborating to offer a "Marsh Science Day" in summer 2013 to educate the public about the marsh and its ecosystem. Exact dates for these events have yet to be determined.
Professors also plan to create signage in the marsh to educate about its history. La Crosse Gun Club trapshooting competitions at the marsh from 1932 to 1963 left behind lead shot, which sank into the muddy waters, explaining today's high levels.
The two-year grant began this July and will be complete by summer 2014 and involves a partnership with the City of La Crosse, the Wisconsin Department of Natural Resources and the Myrick-Hixon EcoPark. The four UW-L professors involved are Colin Belby and Ryan Perroy, both Geography & Earth Science; and Tisha King-Heiden and Gretchen Gerrish, both Biology.
Background on the grant
The Environmental Protection Agency has selected 46 organizations in 32 states and Puerto Rico to receive grants ranging from $30,280 to $60,000, totaling $2.7 million for projects that will contribute to improving water quality and community revitalization. The goal of these Urban Waters Small Grants is to fund research, studies, training and demonstration projects that will advance the restoration of urban waters by improving water quality through activities that also support community revitalization and other local priorities.