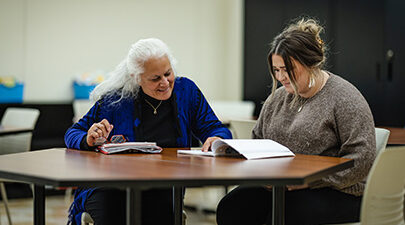 Modern society is far more open about discussing mental health than at any time in the past.
Many mental health professionals believe that the COVID-19 pandemic exacerbated anxiety and depression for a significant population of people.  The fact that mental health concerns are a shared experience has encouraged more of us to open up and seek help.
Additionally, numerous public-facing professionals at the top of their game – including Olympic gymnast Simone Biles, comedian Bobby Lee, and even royals such as Prince Harry – have been quite candid about their mental health struggles.
As such, the demand for well-trained counselors and therapists is at an all-time high.
The University of Wisconsin-Superior has taken notice. Its MSE (Master of Science – Education) in Counseling program is the university's fastest-growing graduate program.
The popularity of this program has contributed mightily to UW-Superior's record number of graduate students, with enrollment up 58-percent since it started in 2019.
Reasons Behind Growth
Jane Howard, M.S.E., L.P., Ph.D., is both an instructor in the program and a licensed psychologist in the state of Minnesota. She is also a UW-Superior alumni.
Over the course of her career, Howard has worked as a therapist assisting children and youth, Indigenous tribes and the homeless population. She also operated a small private practice for a time. She shared her thoughts about the rapid growth of UW-Superior's MSE program.
"People have always needed mental health therapy," said Howard. "But the stigmas are slowly going by the wayside. More and more people in mainstream American society are seeing how helpful it can be. And there currently are not enough therapists to fill the jobs that are available."
Heather Moore is a student in the program, and concurrently works full-time as a middle and high school counselor for the Necedah, Wisconsin, school district. Her duties vary, but include one-on-one meetings with students, assisting with college applications, attending parent meetings and arranging college tours.
Moore has an undergraduate degree in special education, and was granted an emergency license from the Wisconsin Department of Public Instruction to work as a school counselor while she completed her coursework.
Moore concurred with Howard's assessment about the growth of the program.
"There has definitely been more focus on mental health," Moore shared. "School districts are working to provide more support for students regarding mental health, and the need is also being seen by the general public."
Online Courses a Popular Choice
Another reason behind the popularity of the program is the fact that students can now choose to complete their coursework either in-person or online. In fact, for Moore, the ability to select online courses is what prompted her to enroll.
"I worked as a special education teacher for 25 years," she shared. "Being a school counselor was something I had thought about many years ago, but it didn't work into my life, between having two kids and teaching full-time.
"After I was approached about my interest in this position [as a school counselor], I did some research and found out the coursework was now available online," Moore said. "It was easy enough to fit it into my schedule that it became feasible for me."
"Applying for the program was very easy," she added. "The advisors are very helpful. They help set up appointments and help us plan our coursework. And, the professors have made themselves available for answering questions through email and over the phone.
"And I feel like with the online program, the communication we have with other students – such as discussion posts and group work – have increased my understanding of some things and have really helped develop good relationships," she added. "We can bounce ideas off each other."
Versatility of Degree
Students in UWS' MSE program can choose from three "tracks," including:
No matter which track students choose, they have a wide variety of career options after graduation. Counselors are needed in the private, non-profit and government sectors.
Graduates can also work in clinics, they can teach (at the college or master's degree level) or they can choose to open their own practice. Another option is to work in a non-counseling setting, such as the fields of social work or mental health case management.
Howard shared that her students possess a wide variety of undergraduate degrees upon entering the MSE program. "Some of the majors that I've seen include psychology, sociology, health promotion and wellness, criminal justice, art education, biology, and early childhood education," she noted.
While their backgrounds may vary, there is at least one educational requirement needed to enter the program: students must possess an undergraduate GPA of 2.75 or higher.
Support for the Program
UW-Superior is excited about the popularity of the MSE program, and seeks even further growth.
On October 1, 2022, UW-Superior was awarded a contract to work with the Wisconsin Department of Public Instruction to increase the number of culturally competent school counselors trained, hired and working in Wisconsin K-12 schools.
This work will be focused on expanding curriculum and training on culturally relevant mental health, recruitment of minoritized students and expanding the capacity and supports for Wisconsin's regional rural schools.
Rewarding Career
Both Howard and Moore shared that the counseling profession is a highly rewarding endeavor; particularly after completing an education at UWS.
"I've worked with a lot of therapists over the years, and UWS is the best training ground I've seen," Howard said. "We really teach the nuts and bolts of therapy, and how to interact with people in a way that will help them therapeutically."
"As therapists, we are given the honor of people placing their trust in us with their personal stories," Howard added. "They really allow us into their emotional space."
"In this position as a school counselor, you can be there for the kids and really make a difference," Moore shared. "I'm really excited to graduate and continue the work I am doing."
---
Written by UW-Superior
Link to original story: https://www.uwsuper.edu/newscenter/mse-in-counseling-is-uw-superiors-fastest-growing-graduate-program_news5435249