PLATTEVILLE, Wis. — In less than two weeks, more than 120 land owners across the state have contacted Sara Allen, lab manager and research associate of the Tree-Ring, Earth and Environmental Sciences Laboratory at the University of Wisconsin-Platteville, to volunteer their burr oaks for her research in reconstructing patterns of drought in Southwest Wisconsin over the last three centuries from the tree rings of oaks.
The Driftless Oak Project is a two-year project being conducted through the TREES Lab, with funding from the University of Wisconsin Water Resources Institute. With this project, Allen and fellow researchers, guided by Dr. Evan Larson, assistant professor of geography at UW-Platteville, are developing a network of tree ring chronologies, or records of tree growth, across Southwest Wisconsin in order to better understand patterns of drought.
Public interest in the research has peaked in the recent weeks, thanks to "Driftless Oaks," an article written by Allen and Larson that was published in the October issue of the Wisconsin Natural Resources magazine, a bi-monthly magazine that features articles on nature study, environmental protection and outdoor recreation.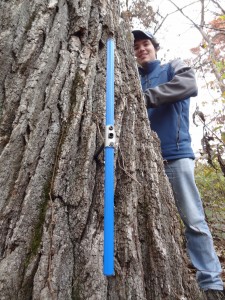 Allen and fellow researchers are using the science of dendrochronology, the study of the annual growth rings of trees and their role as recorders of environmental history, to develop exactly dated records of tree growth. These records are then compared to records of temperature and rainfall. If a strong relationship exists between tree growth and temperature or rainfall over recent years, tree-ring-width data can be used to estimate climate conditions over the life span of the trees.
In the case of the Driftless Oaks project, Allen is hoping to reconstruct patterns of drought in Southwest Wisconsin over the past 300 years in order to better understand how moisture conditions change over time, and what we might expect in the future.
"Southwestern Wisconsin is an agricultural area, and the extreme weather events of the past decade, including the historic flooding of 2008 and drought of 2012, affected crop production and had negative impacts on farmers throughout the region," said Allen. "Looking into historical drought patterns can help us better prepare for possible water deficits in the future by giving us a better understanding of what was happening in this region in the past. Instrumental records of temperature and precipitation for this region go back approximately 100 years, but as of now, our oak chronology gives us a 337-year window into past climate conditions."
To date, Allen and the other researchers have visited 32 sites and collected samples from 310 trees in the region. She has recently begun fieldwork for the fall/winter, and has cored oaks near the Wisconsin cities of Darlington, Argyle and Lancaster, as well as in Yellowstone Lake State Park near Blanchardville.
Allen said that many of the oldest trees they have cored to date have inner ring dates extending into the early 1700s and that a regional pattern is developing.
"Wisconsin's recorded history gives us measurements of rain and temperature for nearly 100 years, but doesn't capture the full range of weather variability in the state," said Allen. "We need a broader perspective. The science of tree rings is giving us that."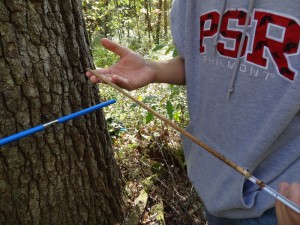 "Since the project began, we have established a 337-year chronology and have discovered that oak growth correlates with summer drought, stream flow and ground water levels," said Allen. "Hopefully, as we begin to better understand historic climate patterns, we will look at our water resources in a different way so that we can use them more wisely."
"This research is contributing toward a longer, more complete understanding of the total hydrological conditions for Southwest Wisconsin," said Larson. "The tree-ring chronologies developed through this project will help inform how all of us use water in the Driftless Area."
Both Allen and Larson are excited about the level of interest people throughout Wisconsin have shown for the project. "The outpouring of calls from people across the state who are volunteering their oaks for sampling shows that people in this area are very connected to the land," said Allen. "They care about it and want to know what they can do to improve our understanding of climate patterns in the face of climate change."
"The article has helped raise the visibility of UW-Platteville, the TREES Lab, and our work across the region," said Larson. "Land owners, hunters, farmers, environmentalists and other outdoor enthusiasts have contacted us to take core samples from their oaks because they are genuinely interested in helping contribute to this research. We are thankful for this amazing show of support for the Driftless Oak Project because it will directly impact our ability to form a more complete picture of climate history in the state and region."
Because of the overwhelming amount of interest in the Driftless Oak Project, Allen and Larson are looking for volunteers who are interested in helping with taking core samples. Those interested may contact Allen at allensara@uwplatt.edu. To read Allen's "Driftless Oaks" article, go to http://dnr.wi.gov/wnrmag/2014/10/Oak.htm.
Written by: Laurie Hamer, College of Liberal Arts and Education, 608-342-6191, hamerl@uwplatt.edu