In the photograph is a mirror. In the mirror, a man with a weathered face and hands wears a pair of eyeglasses and looks approvingly at his own reflection. The picture was made in Uttar Pradesh, a state in northeastern India, but its meaning is felt by students 12,000 miles away at the University of Wisconsin-Whitewater.
"Just understanding how much of an impact I can make and how much I have been taught in the classroom," is the message from the picture, said Hannah Zanow, a marketing and general management student. "It exemplifies what we're doing in Enactus and, really, it's putting what we have learned from a textbook into the real world."
Zanow is among seven students in the campus chapter of Enactus whose efforts result in vision screenings, eyeglasses and cataract surgeries for people like the man in the mirror, and jobs for the motivated 18-year-old women who visit villages to perform eye exams, fit eyeglasses and refer people to clinics and hospital for surgeries. Uttar Pradesh, literally "Northern State" in India, has one of the highest rates of blindness and visual impairment in the world.
Enactus is a global nonprofit with student-run chapters and a mission to apply business principles to do good. Students determine a need they can respond to in an entrepreneurial, innovative way. Above all, these business-infused projects must become sustainable and, in a few years, stand on their own with the model created and refined by the students.
"What you can see is that you are helping somebody else," said Jason Jaworski, an information technology major and Enactus president. "What you don't see is the 'head fake' that while you are helping somebody else, you are learning project management, supply chain, human resources and how to manage a team. It all comes together here."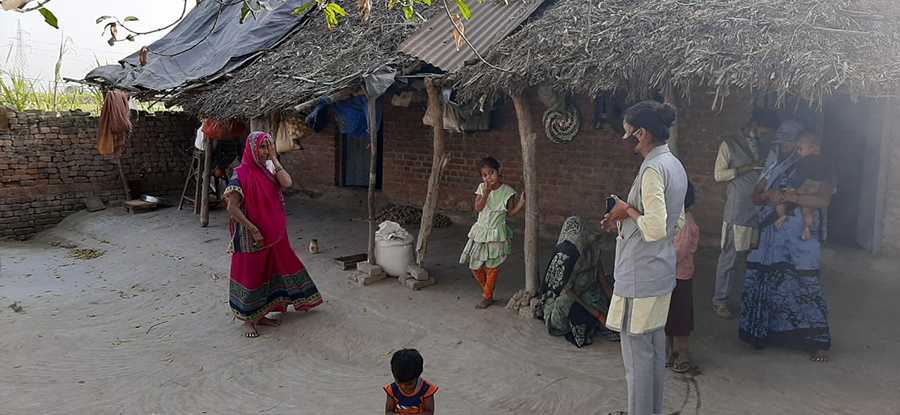 'Shakti' means empowerment
The students call their project "Shakti," a Hindi term meaning strength and empowerment. UW-Whitewater Information Technology and Supply Chain Management Professor Choton Basu said Shakti incorporates partners and best practices from several years of supporting similar efforts in Africa where vision screeners were reaching into remote areas doing eye exams and diagnostics with cell phone technology.
Enactus' principal partner in the effort is Combat Blindness International (CBI), a global nonprofit working in India and other key locations in the world. Central to Shakti is a unique initiative funded by CBI since 2014, the Certified Ophthalmic Paramedic (COP) training program at Dr. Shroff's Charity Eye Hospital in Delhi. Another partner, CleaVision, provided technology support for data collection during the vision screenings.
The eye hospital, which opened in 1927, trains the COP workers and hires them to assist its ophthalmologists. For the past 1-2 years, the hospital hasn't had enough jobs to employ all the workers it trains at that skill level. Those trainees, all of them women, have become the critical link in an outreach effort to combat blindness.
Last September, CBI funded the Shakti initiative and challenged the UW-Whitewater Enactus team to develop a scalable, self-sustaining business model to employ the workers and to help create a business spinoff. Applying the first Shakti business model, the program recruited eight of the COP trainees, upscaled their training over ten days and deployed them to villages where they performed vision screenings. Local health officers provided logistics and safety and helped connect the screeners with people needing vision services.
During a 12-day period in March, the eight Shakti screeners conducted eye exams for 2,841 people, dispensed more than 200 eyeglasses to correct vision and completed more than 500 referrals of patients to clinics for more critical cases and surgery.
'25-20-24'
Most blindness and vision impairment cases in Uttar Pradesh are curable with corrective lenses and cataract surgery. When a Shakti vision team identifies someone who needs cataract surgery, the person is referred to a hospital for what the Enactus students have branded a "25-20-24." That means the patient's eyesight can be restored for $25 with a 20-minute cataract surgery in less than 24 hours.
But there's more to this than meets the eye. All of the Shakti vision screeners are young women with incredible personal stories. When they walk into a remote rural village, residents see two young Indian professional women in a region where the status and options for women historically have been limited. In addition, the Shakti model upscales their training and duties, opening doors for them to higher education and career choices.
In a recent virtual meeting where it was Monday evening in Wisconsin and Tuesday morning in India, Enactus students met several of the Shakti workers and listened to their stories. Advisors and Enactus partners in the meeting asked questions about expanding the program. Over the next few years, Basu sees the potential to employ more of the workers and help many times more people while refining the business model to make Shakti self-sustaining. CBI has committed to fund and rapidly upscale Shakti and to begin testing the business model in other parts of the world.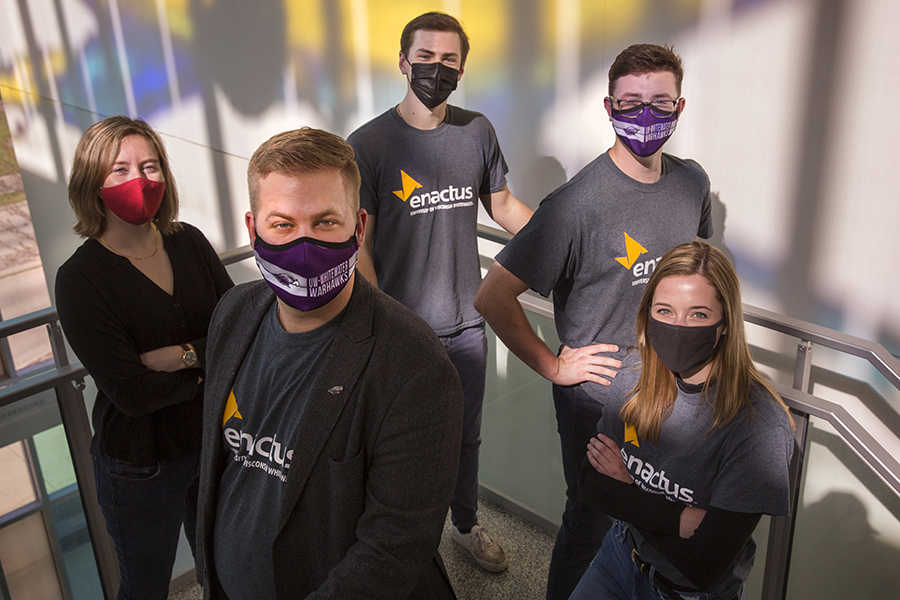 Young people get it
"Everyone should be paying attention to two dimensions – experiential learning and social impact," said Basu. "Talk to any young person and they get it. This is about applying what you are learning in a manner to balance people, planet and profit. Universities, businesses and particularly 'big brands' should be watching this dramatic shift in the way the next generation looks at the world."
On campus, Enactus and other student organizations this year have taken a hit in membership from the COVID-19 pandemic, but Shakti has attracted a core group of kindred spirits who bring critical skills. Along with Zanow and Jaworski, are Chase Boudreau, a finance and Spanish major; Katie Childs, creative writing; Grayden Gruchow, supply chain and operations management and Spanish; Collin Olsen, accounting; Jonathan Schreurs, finance, and accounting; along with their advisors Basu, marketing lecturer John DeGraff, and Mark Johnson, executive director of the Whitewater University Technology Park. Another advisor, Balaji Sankaranarayanan, associate professor of supply chain management, joined the team this spring.
"This is a group of students from UW-Whitewater in rural Wisconsin teaming up with global partners to make an impact on people's lives in India halfway across the world," said Jaworski, who regarded it all with a sense of wonder even before his team won the national Enactus Exposition last month. As U.S. national champions, the team will represent the United States among 34 teams from around the world in October at the Enactus World Cup.
Beauty in a business model
Childs heard about Enactus in her entrepreneurship class in January and jumped in. A transfer student, she taught English and studied social entrepreneurship for five months in India in a program with her previous college. Childs' writing skills were put to work producing a video about Shakti for the national exposition.
"I have a special place in my heart for India," said Childs. "I don't have a lot of business background, so I've been trying to listen and learn and gain as I go. It's all about helping communities and individuals learn skills and be able to apply those skills to sustaining themselves and be financially independent. I think that's a very beautiful and amazing model to apply to different problems."
Gruchow said, "The real-world experience we're getting here, I don't think can be replicated in a classroom. We are given the opportunity to try things, to fail, see if they work, and our advisors are there to support us."
One of those real-world experiences came when the students were budget analyzing a list of equipment and they realized they needed input from the workers in India.
"What ended up happening is we took more of an IT stance," said Boudreau: "We ended up looking a little bit larger at the picture and what these young women will actually do with the equipment rather than the equipment itself. We made sure everyone played an integral part and no talents were wasted."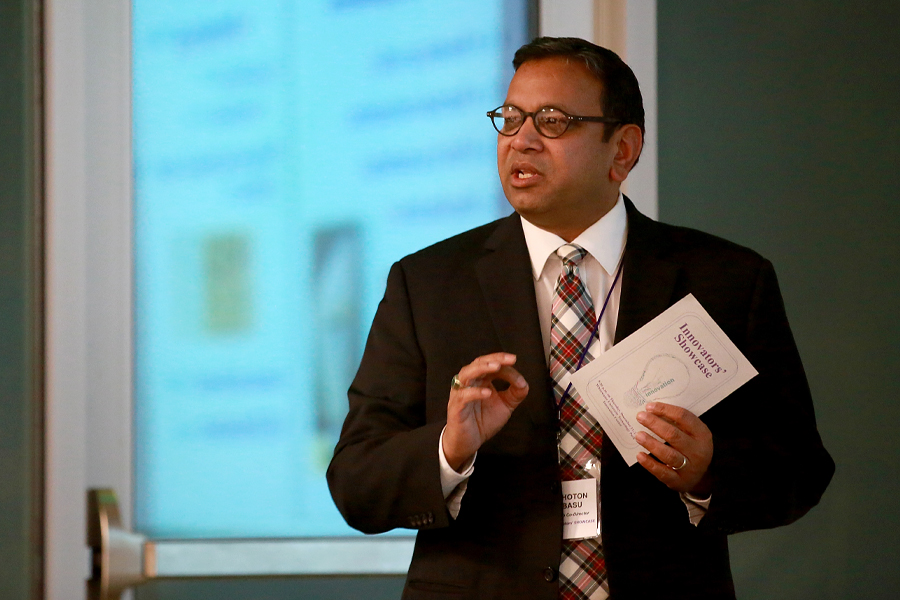 Basu said students coming from top business schools want more from companies than a token website on their commitment to social justice. He's fond of quoting social entrepreneur Bill Drayton: "Social entrepreneurs are not content just to give a fish or teach how to fish. They will not rest until they have revolutionized the fishing industry."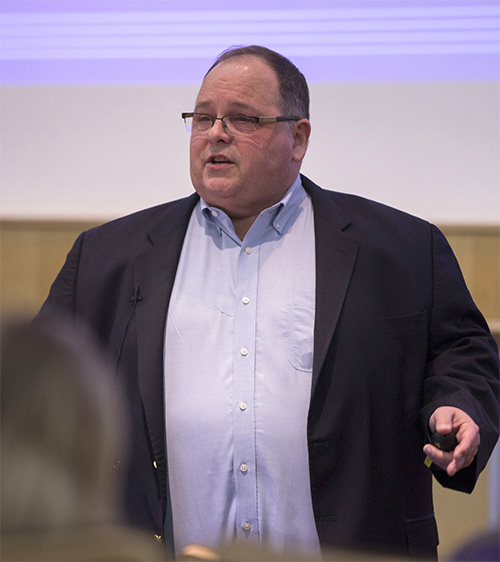 One of Basu's Enactus co-advisors, John DeGraff, marketing lecturer, pictured left, teaches marketing at the university. DeGraff said consumers care more about social impact than ever before and look to interact with businesses who reflect their concern. DeGraff said companies are shopping for graduates who already are social entrepreneurs. After news broke that the team had won the national Enactus Exposition, Basu said potential employers were calling.
"While others might be talking only about the convenience of Amazon," said Basu, "This generation is also looking at the wasteful boxes and plastic packaging. They want to find a way to make this all work in balance, create jobs, satisfy customers but use innovative business models to solve these interesting business problems."
Zanow agreed, "(Social responsibility) is becoming more of a priority that businesses need to have instead of being just an add-on. They (consumers) want to make sure that the company they're working with or purchasing from has environmental goals in mind, sustainable goals in mind and is looking out for a better society to live in."
'Undisputed leaders' of the future
Zanow grew up active in community service in Monticello, along the Sugar River in Green County. In college, her work on an Enactus project on hunger helped win Zanow one of the $2,000 scholarships the Monticello Foundation gives to outstanding local scholars. She's a full-time student, Enactus vice-president of marketing and chair of a social impact committee on the student American Marketing Association chapter.
"I expected to come to a well-known business school and just get a degree but honestly it's been more than that" said Zanow. "Through Enactus I've been able to really expand on those skills and use them for social impact."
Enactus advisors Basu and DeGraff point out that Enactus and the work on Shakti are "above and beyond" the students' required coursework. Basu expects that Shakti has at least three more years of expanding, testing and refining the business model with the goal of making it self-sustaining.
"At UW-Whitewater and other Enactus chapters across the world the students who are truly engaging in these projects will be the undisputed leaders in the future," said Basu. "They will launch the most amazing businesses, influence governments, impact organizations and pave the way to a future that fulfills our role as humans in this planet."
They are, after all, entrepreneurs.