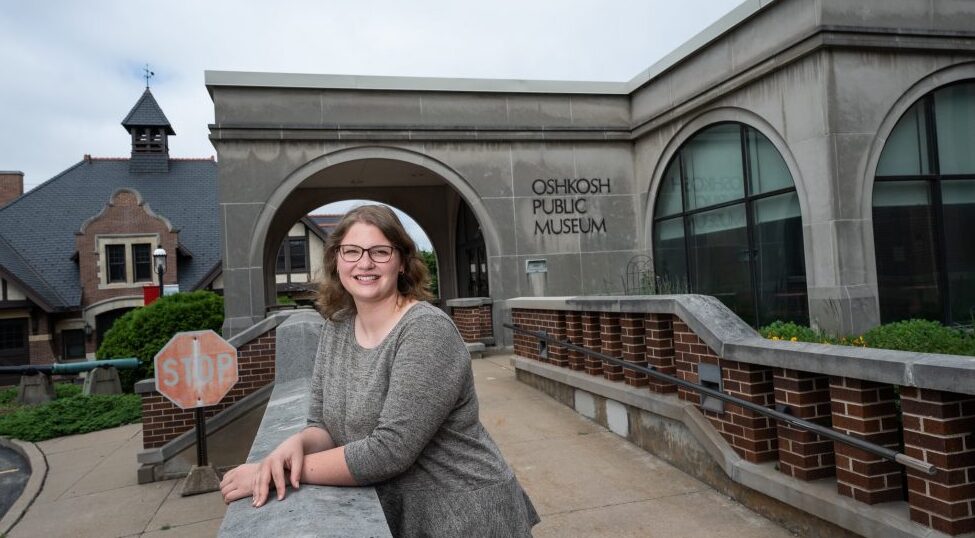 Internships are a great way for students to gain real-world experience and skills within their field of study before graduation.
This summer, senior University of Wisconsin Oshkosh history major and anthropology minor Catie Gullickson is focusing on her future by interning with the Oshkosh Public Museum.
In her role, Gullickson, of Oshkosh, works in the archives to help organize, create and digitize collections so that they are more accessible for the museum and the public. She also creates "finding aids," which describe materials and collections and make them easier to find within the museum's database.
Gullickson said her interest in pursuing an internship with the museum started even before she began attending UW Oshkosh.
"I have a very strong interest in local history, and there's no greater place to interact with that than our city's public museum," she said. "I hoped that I could learn a lot about how museums operate, how they manage history and historical materials and how they present that history to the public."
Oshkosh Public Museum Archivist Amy Fels said that Gullickson is excelling in her new role so far.
"She is doing very well. She is a quick learner and an enthusiastic intern who is eager to tackle any task I present to her," Fels said.
Fels considers internships like Gullickson's to be beneficial for students because it gives them an opportunity to gain hands-on experience and develop skills they wouldn't learn otherwise.
"Internships like this one help students develop an understanding of how museums and archives operate behind the scenes and all the work that goes into preserving collections while also making them accessible to the public," she said. "Learning how collections and information are organized helps interns develop critical-thinking and research skills that will assist them in the future when they're searching for primary source materials for their own research projects."
After starting the internship at the start of the summer semester, Gullickson said she was surprised by just how useful the knowledge and skills she's gaining could be for her future.
"This internship has increased my understanding of archives and archival materials in amazing ways. I came into the internship excited to soak up any knowledge that would come my way, but I didn't quite predict how applicable the things I am learning would be to what I'm doing as a student now," she said.
"As I move on in my career as an academic, the skills I have gained and the experiences I have been a part of because of my internship will help me to be a better researcher and in turn, a better scholar."
Learn more:
---
Written by Amanda Rice
Link to original story: https://uwosh.edu/today/106783/history-major-gains-experience-skills-from-oshkosh-public-museum-internship/