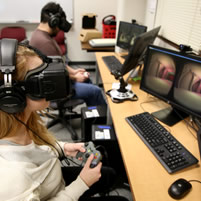 Menomonie, Wis. — Virtual reality technology became a reality during winter break for 16 students at University of Wisconsin-Stout.
Students in the Interactive Environments class worked with the cutting-edge device Oculus Rift as they developed ideas for two video games. The three-week Winterm class, in the new Bachelor of Fine Arts in game design and development-art program, was held in January.
Game prototypes were created with the Unity 3D game engine to be compatible with Oculus Rift software. Students had access to three university Oculus Rift DK2 headsets, allowing them to test their ideas as they created them in a lab.
Oculus Rift is a leader in virtual reality technology. The company was purchased in 2014 for $2 billion by Facebook, which envisions virtual reality as the next generation in computing.
The movements of someone wearing an Oculus Rift headset are tracked in real time, creating an illusion of reality and three-dimensional space; if players turn their heads left or right, for example, the game takes them in that direction, allowing a 360-degree field of view.
Additionally, the headset creates a 3D view wider than peripheral vision, immersing the viewer in the scene.
"It was my goal to both simulate an industry experience and give the students a peek into the future of innovative game development and interactive art," said Dave Beck, who designed and taught the class.
Beck is program director for the new BFA in game design and development-art, as well as the chair of the department of design at UW-Stout.
"By scheduling the class over two 40-hour work weeks and integrating VR headsets into the pipeline of game development, I think we accomplished that goal, while also having a ridiculous amount of fun, which is just as important! Honestly, this experience was a labor of love for myself, and I think for the students as well," Beck said.
Students in the class are majoring in game design and development-art and in entertainment design.
"I see virtual reality as one of the major players in the future of games and interactive art," Beck said. "Since we are always seeking to innovate while also reflecting how the industry works, Winterm seemed like a perfect opportunity to experiment with virtual reality."
Presenting to The Jim Henson Company

Working with Oculus Rift was just one special part of the class. The other part, for the second year in a row, was traveling the final week to Los Angeles to present the video game ideas to The Jim Henson Company, creator of the Muppets and known for films like "The Dark Crystal" and "Labyrinth."
One of the company officials at the presentation was Brian Henson, son of the late Jim Henson.
The students' assignment was determined in part by The Jim Henson Company. They were asked to create video game ideas that could be compatible with the universe created in the company's Emmy-nominated "Farscape" sci-fi television series, which aired from 1998 to 2002. Learn more at www.henson.com/fantasy_scifi.php?content=farscape.
One team of eight students created an interactive game called "Path of the Empyrean Pyre," about a prodigal prince on a spaceship, while the other team created an experience titled "Veridious," about a living, organic spaceship.
"Our goal was to put you in the 'Farscape' universe. We wanted to capture the essence of the TV series," said Hassan Javaid, of Eau Claire, a senior whose "Veridious" team watched all 90 hours of "Farscape" shows before they began work on their game.
Students communicated with officials from The Jim Henson Company via Skype while developing the games, prior to traveling to Los Angeles.
Marisa LeBlanc, of Duluth, Minn., a junior majoring in game design and development, said the class was intense. In two weeks of class time before the trip, students developed ideas for their games and created fully animated, working prototypes.
"We put in full days of work, but we were able to build on a lot of our skills," LeBlanc said.
For a video about the class, go to http://youtu.be/dqQHt3uylaI.
In addition to presenting their video game ideas to The Jim Henson Company, students toured game and animation companies in the Los Angeles area, such as Riot, Nickelodeon and Warner Brothers. They also visited the studio of Eliza Wheeler, a UW-Stout alumna and New York Times best-selling children's book author and illustrator.
Along with tuition for the course, students paid for all meal and travel costs involved with the experience. Beck planned and led the trip through the UW-Stout Office of International Education.
For more information on the BFA in game design and development, go to www.uwstout.edu/programs/bfagdd.
In December, the UW System Board of Regents approved the BFA program. Since 2009, UW-Stout has offered a Bachelor of Science degree in game design and development. Students could concentrate in art or computer science. Now, the university offers bachelor's programs in both disciplines.