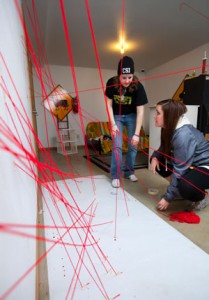 PLATTEVILLE, Wis. – The University of Wisconsin-Platteville Forensic Investigation Program, which first offered a major focused on the documentation and collection of physical crime scene evidence in 2011, will graduate its first three students this month: Amanda Corrigeux of Thomson, Ill., Felicia Folbrecht of Beaver Dam, Wis., and Candace Koch of Juda, Wis. The major, which has experience exceptional growth since its inception, now has more than 150 students enrolled.
Aric Dutelle, associate professor of criminal justice who coordinates the UW-Platteville Forensic Investigation Program, was initially hired in 2004 to create an FI emphasis at UW-Platteville after criminal justice professors Dr. Thomas Caywood and Dr. Joe Lomax saw how popular the field courses were. Growing enrollment in the emphasis and support from administration led to a minor and then a major.
Dutelle said of this inaugural class: "All three of these students showed an interest in and aptitude for the analytical side of crime scene investigation. They are process minded, and also highly motivated individuals."
When Corrigeux first came to UW-Platteville, she had her sights set on processing evidence in laboratories, but after she started taking the FI courses she found that she preferred collecting evidence in the field to laboratory work.
"When I found out the new FI major was being offered I didn't hesitate to change," she said.
Presenting her undergraduate research at the American Academy of Forensic Sciences conference in Atlanta, as well as on campus at the Undergraduate Research and Creative Endeavors Student Symposium were highlights in Corrigeux's student career, as was assisting in the laboratory.
"That really helped me to not only think about what the crime scene processing class would have to do to collect and find the evidence, it also helped me to consider places where evidence might be that I wouldn't have thought to look before," Corrigeux said.
Folbrecht, who is interviewing for positions as a crime scene technician on the East and West Coasts, said she knew she wanted to pursue a career in the FI field by the age of 10. "I grew up watching the crime scene investigation shows on TV and was fascinated with everything involved," she said.
After learning everything from basic evidence collection to the fine details of fingerprint examination, Folbrecht said she knows now that there is a remarkable difference between television and what she'll encounter in the field, but feels well prepared by her coursework and hands-on experiences.
Folbrecht said serving as a laboratory assistant for UW-Platteville's summer Crime Scene to Courtroom Forensic Science Camp three years in a row, and completing a 320-hour internship with the Winnebago County Coroner's Office in Rockford, Ill., where she viewed autopsies, went on calls with the deputy coroners and viewed inquest hearings, were both beneficial.
Koch, who also completed an internship with the Winnebago County Coroner's Office, graduated from Southwest Wisconsin Technical College's 520-hour Law Enforcement Academy in Fennimore, Wis., this summer. UW-Platteville and SWTC have been partners in the academy since the 1990s and many UW-Platteville students complete the training as part of their career preparation.
As a special honor, Koch's academy peers elected her class president and selected her for a leadership award.
All three women also participated in activities and exercises at UW-Platteville's Forensic Investigation Crime Scene House and Forensic Investigation Research Facility, which are both located at the university's Pioneer Farm outside of Platteville.
The FICSH, a 3,000 square-foot facility that includes both residential and commercial space, features closed circuit digital video equipment and two-way mirrors that can be used for non-intrusive observation of training sessions, such as crime scene reconstruction and processing, or simulated interrogations. The FIRF, 1.5 acres of fenced land adjacent to the crime scene house, gives students the opportunity to conduct mock crime scene practicals, such as search methods, clandestine gravesite excavation and other types of training.
"UW-Platteville has a long history of excellence in criminal justice education, and Aric Dutelle has been a creative and passionate recent contributor to that tradition," said Dr. Mittie N. Den Herder, UW-Platteville provost and vice chancellor for Academic Affairs. "He understood the demand and need for a program in forensic investigation to our students and to our region. I congratulate Mses. Corrigeux, Folbrecht and Koch on being the first three graduates of this major and I thank Mr. Dutelle and the entire CJ Department for all their work in creating and delivering this program."
Contact: Aric Dutelle, associate professor, UW-Platteville Department of Criminal Justice, (608) 342-1596, dutellea@uwplatt.edu
Written by: Barbara Weinbrenner, communications specialist, UW-Platteville College of Liberal Arts and Education, (608) 342-6191, weinbreb@uwplatt.edu