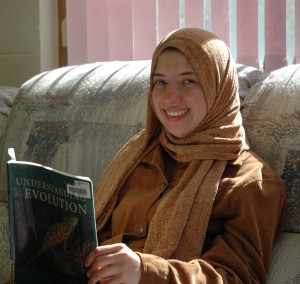 Osama Abdl Haleem describes himself as "a farmer from Boaz," a Richland County village just 10 miles from one of the UW Colleges campuses. He is one of nine children. Because of the size of his family, he said, many of them probably could not have gone to college without an affordable entry point like UW-Richland.
In 2005, UW-Richland welcomed Marryam, who became an honor student. She now is completing a Ph.D. at UW-Madison.
In 2008, UW-Richland welcomed Ahmad, another UW-Richland honor student. Ahmad will graduate in December 2012 with a bachelor's degree in philosophy and biology. He hopes to enter medical school and study rural medicine.
In 2010, UW-Richland welcomed Osama, also following in the honor student footsteps of his sister and brother and also finding the college "open" and "supportive."
Not only did he excel academically, Osama also served as a member of the student senate and as a campus ambassador. He transferred in the fall of 2012 to UW-Madison to continue his studies in linguistics and cultural anthropology.
"I look forward to moving on, but at the same time I'm going to miss this place," he says.
UW-Richland staff will miss Osama, too, but welcomed his younger brother Khalid to campus in the fall of 2012. And there are younger siblings, so this long-term relationship with the family may just get longer.