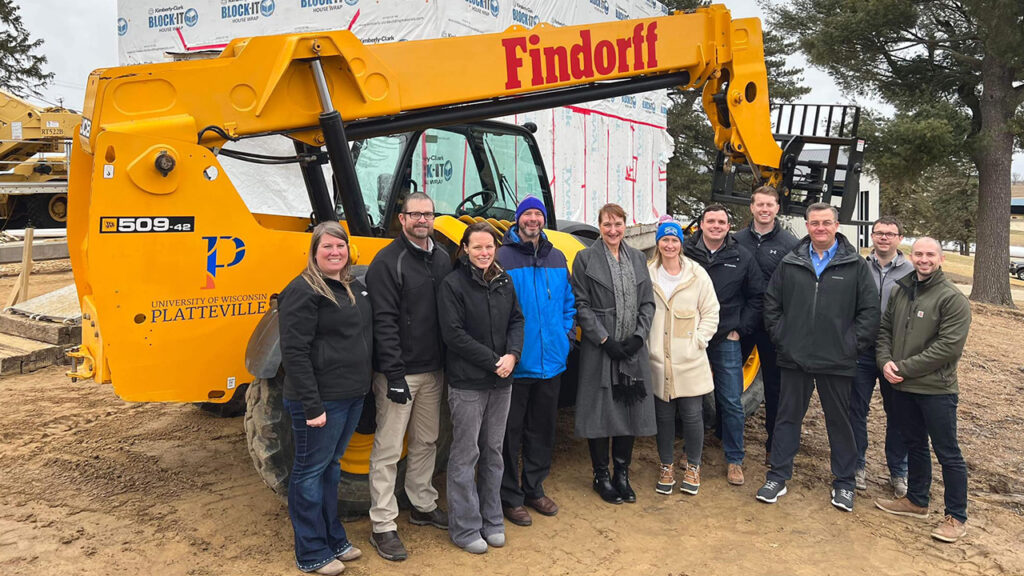 In its latest show of support to the University of Wisconsin-Platteville's Construction Management and Construction Safety programs, Findorff donated a telehandler, to be used in the university's Construction Lab. Officials from UW-Platteville celebrated the arrival of the new equipment last week and remarked on the impact it will have on students' experience in the program.
"We pride ourselves on experiential learning. We pride ourselves on those hands-on experiences, and this construction lab does exactly that," said UW-Platteville Interim Chancellor Dr. Tammy Evetovich, speaking to a crowd of UW-Platteville faculty, staff and students and Findorff representatives at the Construction Lab. "Without the support of our corporate sponsors and donors, I don't think we could do this alone."
Findorff has been a strong supporter of UW-Platteville, recently establishing a new scholarship fund and offering five $1,000 scholarships, annually, to construction management students. Support from industry partners, like Findorff, is crucial to the growth of UW-Platteville's Construction Management and Construction Safety Management programs, said Dr. Charles Steiner, interim dean of the College of Business, Industry, Life Science and Agriculture.
"The construction management major only started three years ago, and we already have 250-plus students majoring in construction management and construction safety management," said Steiner. "It's so exciting to see the growth of this program and we couldn't do that without the partnership we have. The telehandler is a great addition to what [Findorff] does for this program – whether it's scholarships to our students, coming back for construction career day, the construction networking event, attending the career fair or engaging our students in their organizations or in the classrooms."
Jim Martin, vice president of project management at Findorff, praised the program's recent growth.
"What you've done with the program over the past three to five years is really impressive, and that's why we're dedicating resources and why we are excited to be here," he said. "The amount of growth and the amount you've improved the program – whether it's this lab [the Construction Lab] or staff or faculty, the student population, the quality of students – all of that is impressive and everyone should be proud of the program. That's why we want to invest for years to come in this program. Thank you for providing great students, great co-ops, interns and full-hires. We have some of our best employees come out of this program."
The new telehandler will be used in UW-Platteville's one-of-a-kind Commercial Construction Lab, which provides students with the opportunity, each semester, to build a two-story commercial building from architect- and engineer-designed plans, and the Road and Infrastructure Lab, which provides students with the opportunity, each semester, to build a roadway including underground structures from civil engineered plans.
"I don't think people realize how significant a donation of this magnitude actually is for all of us," said Zach Wynstra, a senior majoring in construction management. "With the amount of knowledge we learn in the classroom, having a donation like this will help us carry that knowledge over."
Findorff's support is part of UW-Platteville's recently launched Construction Lab Campaign. For more information about the campaign, visit www.uwplatt.edu/Construction-Lab-Campaign.
---
Written by Alison Parkins
Link to original story: https://www.uwplatt.edu/news/findorffs-equipment-donation-enhances-construction-lab