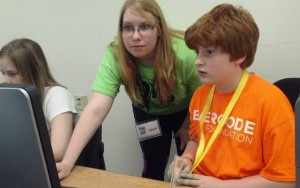 School is NOT out — at least not all summer— for some 600 middle- and high-school students who will participate in camps offered this summer through the Blugold Beginnings program at UW-Eau Claire.
The Science, Engineering, Technology and Math (STEM) Camp, which runs June 14-19, is the first of eight Blugold Beginnings camps to be offered on campus through mid-August. The camps are offered in partnership with numerous area businesses and organizations, said Jodi Thesing-Ritter, UW-Eau Claire associate dean of students and Blugold Beginnings program founder and director. Camp participants are from school districts throughout the Chippewa Valley as well as from Milwaukee.
"Blugold Beginnings is thrilled to work with so many area partners in providing these summer camps," Thesing-Ritter said. "Together, we can be that much more effective in serving our youth, keeping them excited about learning during a time of year when educational experts tell us that 'summer slide' in knowledge and skills retention can happen."
The STEM Camp, offered in partnership with the newly formed Evercode Foundation and the University of Wisconsin-Extension's Wisconsin 4-H Youth Development, includes a two-hour code camp each morning as well as robotics activities each afternoon, in addition to team-building, field trips and other activities on campus and in the community.
During the STEM Camp, volunteers leading campers in the morning coding activities include employees from local companies JAMF Software, Satellite Six and Wisconsin Independent Network; Evercode Foundation leaders; and UW-Eau Claire faculty, staff and students. Representatives from the three companies and UW-Eau Claire comprise the Evercode Foundation Board.
The STEM Camp's robotics activities are made possible through a partnership with UW-Extension's Wisconsin 4-H Youth Development, which provided computers to be used by camp participants, and donors including Northwestern Bank that funded the purchase of robots.
The JAMF Nation Global Foundation funded lunches for STEM Camp participants and bus transportation for field trips to JAMF Software, Satellite Six and WIN. The campers will get a firsthand view of working in the technology sector during visits to the three companies and the UW-Eau Claire computer science department.
UW-Eau Claire students, many of them former participants in Blugold Beginnings programs, will work as counselors during the summer camps.
Area companies realize a benefit from Blugold Beginnings programs, including the summer camps, which promote a college-going culture among area youth, especially those who are underrepresented, low-income or first-generation college prospects, Thesing-Ritter said.
"Many hands make for light work when we team together to reach these youth as early as possible, showing them what they can achieve through education and inspiring them to pursue a college degree," Thesing-Ritter said.  "Ultimately, through these collaborative efforts we're helping to create a highly qualified pool of talent for the future for area business and industry, and we're preparing the future leaders of our communities."
— Julie Poquette