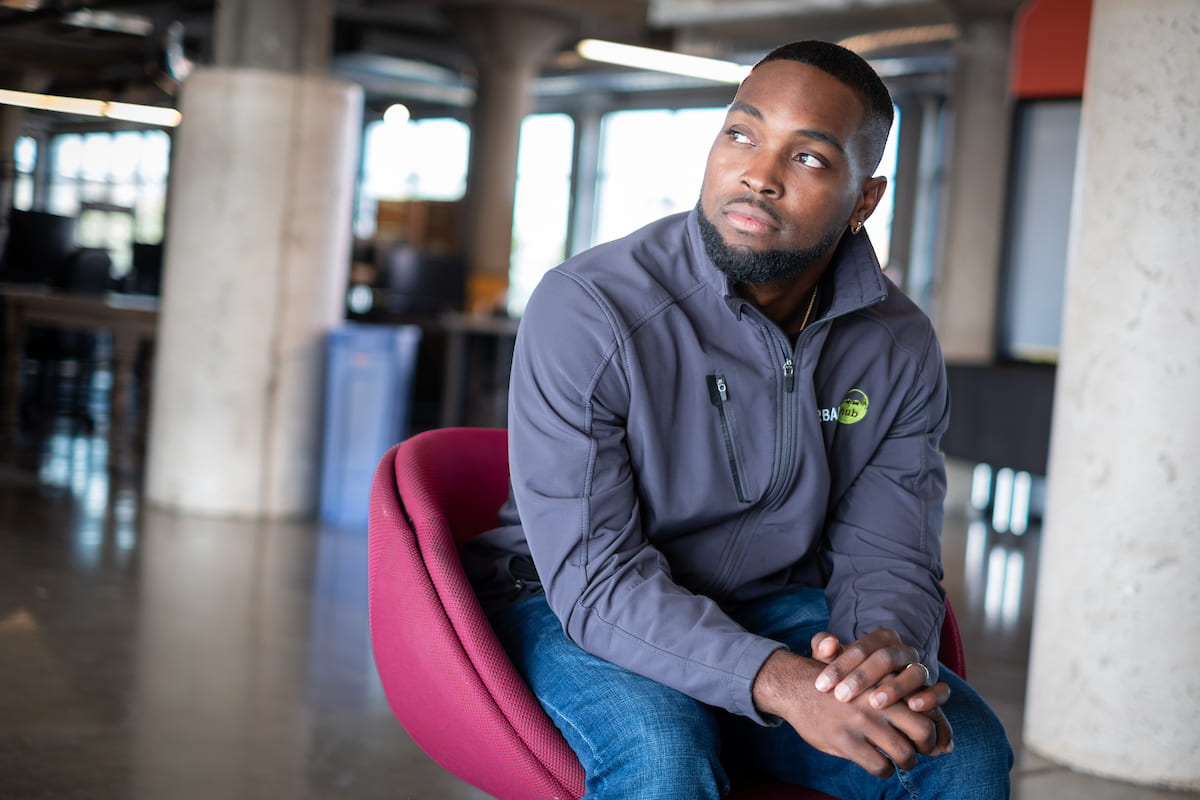 Lamarr Banks is not just a people person; he's an entrepreneurial people person with a passion for business models, ideas, and technologies. As the Urban Hub Community Manager for the Greater Green Bay Chamber's Economic Development team, his role involves developing entrepreneurial programming and making connections between diverse personalities, opportunities, and resources.
"I grew up in a rough part of Milwaukee, and we didn't have a lot of resources," Banks shares. A move to Green Bay during high school made the dream of college more attainable, and even as a first-generation student, he always had a knack for finance. "I would say I was always like that. And that really comes from… I'm the oldest of five, so I've always been someone that had to lead."
While he first pursued a major in human biology, finance resonated more with Banks, leading him to graduate from UW-Green Bay with a degree in Finance. His first job after college was as a teller at Nicolet National Bank. Recognizing real estate as a great way to build wealth, he became an assistant property manager and eventually found his way to the Urban Hub through the Greater Green Bay Chamber.
Urban Hub tenants aren't the 'send in a cover letter and wait for a response' type, but personalities that share similar traits of audacity, creativity, and tenacity.  What they often lack is the necessary resources or connections to move their projects beyond the planning stage. That's where Banks steps in. "There are a lot of people out there working for businesses with dreams they don't act on because they don't know how, or they think it's too hard," Banks says. "My motivation stems from my desire to promote fairness and compassion in business opportunities."
Launched in 2020, the Urban Hub is a modern co-working space in downtown Green Bay that unites entrepreneurs, innovators, and aspiring business figures with the resources they need to thrive. Banks' role is somewhat of a matchmaker between clients and opportunity. "It's a cool and unique space, especially for the Green Bay area," Banks says.
And business has been good. The Urban Hub has executed successful programs like The Blueprint-Green Bay startup accelerator, which provides mentorship, technology training, and the opportunity to secure seed funding. The program has deployed $100,000 in grant funding to nine startups and has touched hundreds of community members in the Greater Green Bay area and the surrounding region.
Clearly, networking holds significant importance for Banks. "I've always been someone who leads by learning from all different types of people and ages, using what I learn to help others," he emphasizes.
Networking ties back to Banks' own upbringing and fuels his desire to empower underrepresented groups. "The underrepresented groups that the businesses serve, I love helping them even more because I feel like a lot of times those underrepresented groups come from places that lack resources," Banks explains. Through Urban Hub programs like The Blueprint, which launched in 2021, he aims to support and empower these groups, ultimately helping them grow their businesses and contribute to their communities.
Considering himself a "student of life," Banks reflects on his motivation, drawing from his own experience in an underprivileged community. He believes he can play a part in the success of businesses from similar backgrounds. "So when I wake up, I'm like, okay, today is another day where I'm going to be able to help a business do this or that. I can't be everything or do everything, but I can contribute to their success."
A recent lesson life has taught you?
Failure is a learning opportunity: Failure is not the end of the world. It doesn't always feel good, but it's truly an opportunity to learn from your mistakes and use that knowledge to grow and improve.
How has education opened doors?
Education helped broaden my perspective and enrich my personal and social life. It helped me with critical thinking, problem solving and communication skills, which are useful in all walks of life. This helped me get the role I have today and I'm sure those skills will propel me into my next role.
What's educations biggest challenge?
I'm going to say changing educational needs.  The needs of learners and the job market are constantly evolving, and education systems must adapt to keep pace. This requires ongoing investment in professional development for teachers, curriculum development, and educational technology.
At UW-Green Bay, we believe that every person has the power to Rise. No matter who you are, where you're from, or what you want to be. We invite you to read more Rise Stories about people from all walks of life who are blazing a brighter future for our region.
---
Written by Michael Shaw
Link to original story: https://news.uwgb.edu/featured/07/24/bank-on-lamarr/