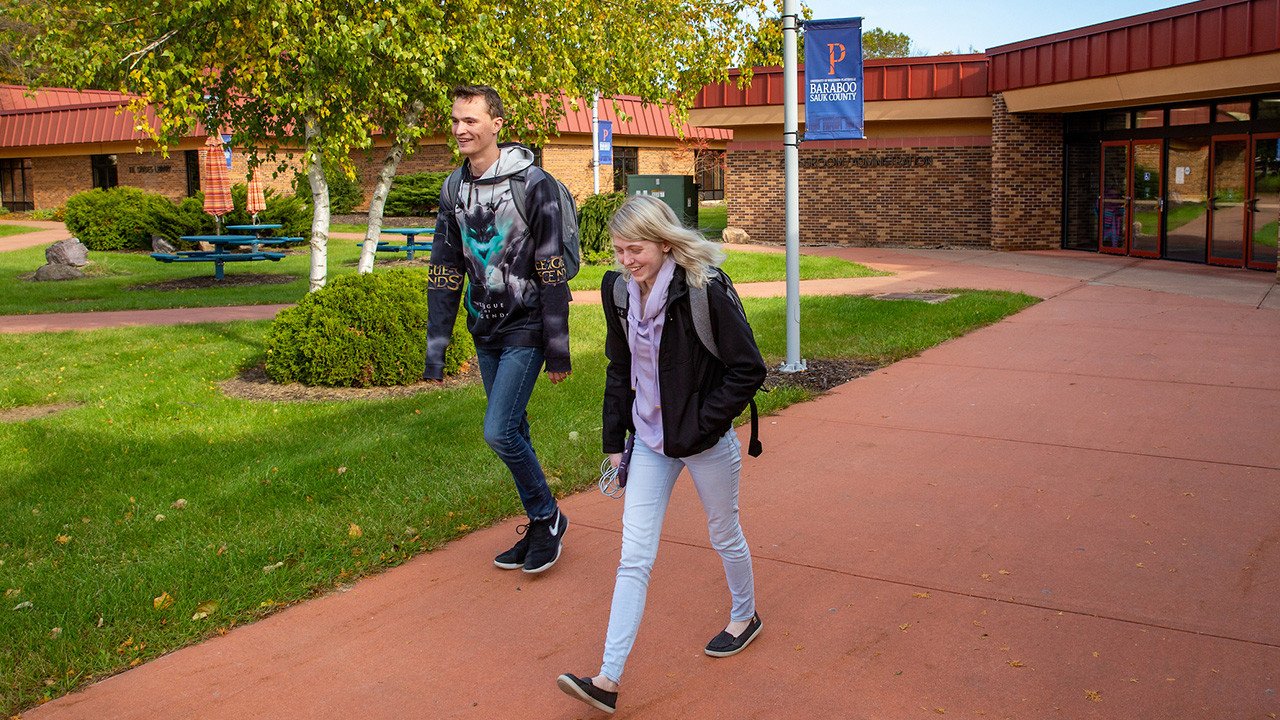 The University of Wisconsin-Platteville is now offering students the opportunity to earn a Bachelor of Business Administration in management on the UW-Platteville Baraboo Sauk County campus, making it the first bachelor's program to be offered at either of UW-Platteville's two branch campuses.
"We know that some students in the Baraboo area are place bound," said Dr. Les Hollingsworth, director of UW-Platteville's School of Business. "As much as they would love to earn a bachelor's degree, that forces them to do one of two options: go entirely online or pick up and move somewhere, and a lot of students don't have the option to pick up and move. This will allow us to better meet their educational needs. We are bringing the four-year university to them."
Business leaders in the Sauk County area have expressed their excitement for this new offering, hoping that it draws more students who plan to stay and work in the area long term.
"I am thrilled to hear that UW-Platteville Baraboo Sauk County is adding a BBA to its offerings," said Bryan Fiene, a 1980 graduate of then UW-Baraboo Sauk County and a 1983 graduate of UW-Platteville. As director at Robert W. Baird and leader of the Fiene Heitzkey Group, he works with clients around the country, including large and small businesses in Sauk County.
"I think the fact that this degree will be offered in Sauk County, which has some of the state's most successful businesses, is an amazing resource for the students and businesses alike," said Fiene. "The culture is truly unique here, and the businesses feel the same about hiring kids from their area. If the kids love it here, they stay long term with the employer and the opportunities are massive. From national household names like Culver's, Mueller and Wollersheim, to local manufacturers, farm implement companies, co-operatives, insurance and finance companies as well as a massive tourism industry, Sauk County is a great place for a career in one of the friendliest and most beautiful settings in the world."
Current sophomore and associate degree student Katelyn Zajicek, from nearby Portage, Wisconsin, said she is pleased to have the opportunity to possibly continue and earn a UW-Platteville Bachelor of Business Administration at the branch campus she has grown comfortable with.
"The classes are small, and you get to know your professors and actually have them for multiple classes," said Zajicek. "I've been considering other universities to finish my degree, but I think, especially if the bachelor's degree had been available [at the branch campus] when I started, I wouldn't have spent that time thinking about other programs and would have been focused on staying with UW-Platteville."
The program will be offered in a hybrid format, with some classes every semester fully in-person on the Baraboo Sauk County campus and some classes fully online. Graduation requirements also include an internship which, at UW-Platteville's main campus, has converted to a full-time job offer for students over 80% of the time.
Enrollment for the program is currently open for the fall semester. For more information and to apply, visit www.uwplatt.edu/program/business-management.