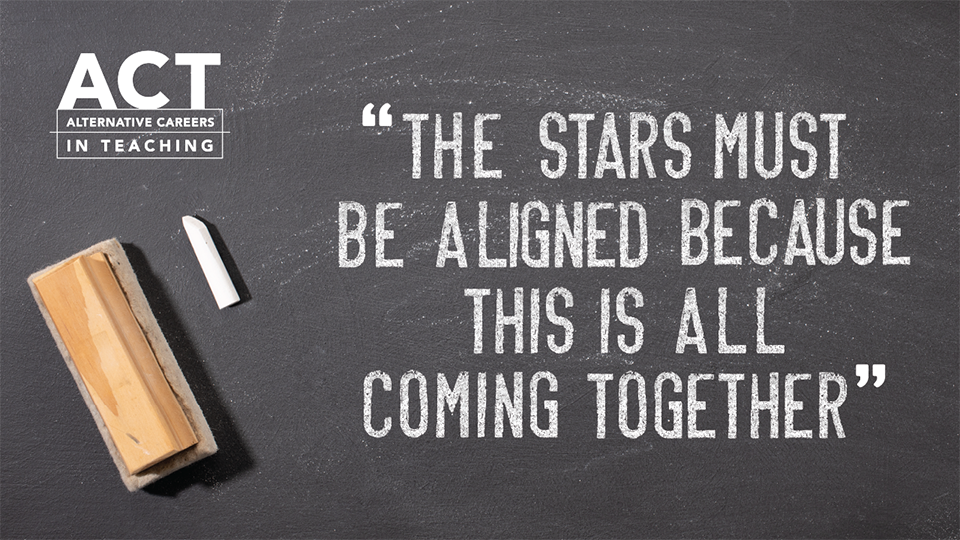 "The stars must be aligned because this is all coming together."
Michael Czerwinski remembers that line well. It was written to him in an email by Tammy Ladwig, then the director of the Alternative Careers in Teaching (ACT) program at the University of Wisconsin Oshkosh, back in January. It came as part of an exchange that began when the Milwaukee man reached out to the University in hopes of enrolling last minute in the ACT program, initiating a major life change for the 58-year-old.
Czerwinski had a 27-year career in marketing and advertising end abruptly early in the pandemic. After months of fruitless job hunting, he decided enough was enough—it was time to change course, go back to school and become a teacher.
In a way, it was time to embrace what might always have been his calling: education.
Fast-forward to late August and, less than a year after firing off that first email to UW Oshkosh, he's in front of classrooms full of students, teaching math at St. Thomas More High School in Milwaukee.
In just seven short months, the results of a "gut-wrenching decision" leading to a major life change are clear.
The stars must have been aligned.
It all came together.
"Sometimes I have to pinch myself," said Czerwinski about a week before students began filing into St. Thomas More for the first day of school. "I'm sending photos to my friends of this classroom, and they've all had the same reaction. Generally, they're like, OK Michael, we know you and we knew you were going to end up on your feet eventually but holy cow, this thing is happening right away. This is real."
A leap of faith
It took half a year of silence from prospective employers to bring Czerwinski to a crossroads.
"I don't know if it's because I'm an older guy or I was looking for a higher-level position, but I just wasn't getting any responses to any of the many job openings I applied for," he said. "For six months I just applied for job after job after job and didn't hear back from a single one. By the time I got to the end of the year, it was in December, I just decided I had to make a life decision to say I'm going to go back and get back on track to what I really wanted to do from the start. And that was to teach."
His search for the best route to a teaching license led him to the ACT program at UW Oshkosh's College of Education and Human Services. The program lays out a pathway to a teaching license in Wisconsin. It's designed for adult learners with a bachelor's degree or higher who are looking to become middle or high school teachers. So, as Czerwinski put it, people in his exact situation.
Before beginning his marketing career, Czerwinski studied physics at the University of Chicago and earned master's and doctoral degrees from the Rensselaer Polytechnic Institute in New York. He thought he was then in the early days of a career in higher education and, at the time, envisioned a future as a college professor.
But the Chicago native wound up moving back to the Midwest to marry his high school girlfriend, and he spent more than two decades in a far different industry—only to find himself this year with the opportunity to, in a way, get back on the path on which he'd started.
Finding an ally
With a tight window before the start of a new semester, Czerwinski sent off a hopeful email to the ACT program that Ladwig answered. She remembers it well. It was a Friday evening and he included his phone number. She called him soon after and listened to his story.
"In our conversation it was clear he was on a new professional trajectory that was to give back to the community and the stars were aligned," she said. "We conversed multiple times that weekend and within a week his paperwork was approved and he was admitted and taking courses towards licensure within that month."
Czerwinski said he was sold from the start on UWO because of how Ladwig sprung into action.
"She couldn't have been more helpful, more friendly, more proactive," he said. "Not only did she get me in the program, she got me in right away. Classes were starting in a week or something like that. … It really made me feel like OK, this could happen and I have an ally."
Despite already having landed the new job, he still has to finish the program. He's taking two classes this fall—on top of the full-time teaching job—and will be observed in the classroom to fulfill the student teaching requirements.
It all happened faster than he imagined and follows months of doing odd jobs for friends to pay the rent. Over the summer he's played the role of local handyman, repairing decks and painting houses.
"I'm surrounded by friends and family who are nothing but supportive and that's been great," he said. "It's a win-win. They've been giving me all these projects they've been meaning to take care of."
That's the lifestyle he thought he was in for through the rest of the year and into 2022. The expectation was if all went as planned he'd be getting his big break next summer and then starting a new gig next fall. But then came the St. Thomas More opening, a few successful interviews and—what do you know?—the career reboot was fast-tracked.
"It really is a dream job," he said. "I'm so thankful for this opportunity."
Learn more:
by Shane Nyman | Sep 15, 2021 | Education and Human Services, Features, Stories