A day to remember, and to build upon. 
That's how friends and family of Truman Lowe described Monday's building dedication ceremony at UW-La Crosse — a chance to honor the late Ho-Chunk artist and UWL alum, and to inspire current and future Native American students to pursue their passions. 
The Truman T. Lowe Center for the Arts, as it is now called, is the first UWL building named after a person of color.  
It's a fitting tribute to a man who spoke softly and avoided the limelight, but who knew the significance of Native representation in art, education and American life. 
"Truman was very soft-spoken, unassuming and modest. He was a sculptor, but if you asked him what he did, he'd say he made sawdust," said Jo Ortel, a professor emerita of art history at Beloit College. Ortel was close friends with Lowe and authored the book, "Woodland Reflections: The Art of Truman Lowe." "He was also always mindful of the significant milestones for Native America … and this most certainly marks a significant milestone. Truman would be very pleased." 
After his graduation from UWL in 1969, Lowe built an extraordinary resume as an artist, educator and art curator. 
He experimented with art of all kinds — painting, ceramics, glassblowing, jewelry-making and more — but became widely celebrated for his large art installations. These sculptures were often constructed from natural materials and explored Ho-Chunk culture through a contemporary lens. 
Lowe's art was exhibited worldwide, including in Europe, Africa, South America and major galleries across the United States. In 1998, his sculpture "Bird Effigy" was selected for a yearlong exhibit at the White House. 
As a professor at UW-Madison, Lowe shared his artistic gifts with thousands of aspiring artists. He spent 30 years in the university's Art Department — serving as chair from 1992 to 1995 — and was the coordinator of the university's Native American Studies Program. 
Lowe was admired not just for his creations, but for his keen artistic eye and knowledge of art history. 
In 2000, those qualifications helped him become the curator of contemporary art for the Smithsonian National Museum of the American Indian in Washington, D.C. — a position he held until 2008. 
While Lowe's ambition and talents carried him to high places, he came from humble beginnings.
He grew up in Black River Falls — poor in material possessions, but rich in familial bonds and Ho-Chunk tradition. The youngest Lowe child by 13 years, he was groomed from an early age to be the first in the family to attend college. 
Tonia Lowe, Truman's daughter, said the encouragement Lowe received from his family altered the course of his life. 
"My dad was a baby, but they decided he would be the one to go to college — the only person who didn't have a say in it," Tonia joked. "It's funny how it happened, but what a difference it makes growing up knowing you should go to college."
Lowe's time at UWL was riddled with challenges. He changed majors. He dropped out briefly to work and save money. He spent seven years working toward his bachelor's degree. 
Those experiences not only displayed Lowe's perseverance — they showed him the importance of supporting students, especially Native students, through the ups and downs of their college education. It's something he remembered as a college professor. 
"He took those lessons of how important encouraging words were … and turned it into a superpower," Tonia said. "He was so good at it. He did it in his own way. He'd disarm you with his sense of humor, and he knew the exact right thing to say at the exact right time." 
Ryan John Crain Sr., '18, a demonstration grant administrator with the Ho-Chunk Nation, said Lowe is an inspiration not only to people who knew him, but to everyone who has seen his example. 
"A life of service has created a domino effect that will inspire indigenous youth for years to come," Crain said. "Truman's name being placed on the front of this building is historic. Representation matters. Let me say that again: Representation matters." 
Monday's ceremony was attended by dozens of Lowe's friends and family members, university leaders, public officials and community members. 
It began with a blessing from Ho-Chunk Nation Traditional Chief Clayton Winneshiek and traditional Ho-Chunk music from the Thundercloud Singers. It ended with an unveiling of the new signage and a reception. 
Lowe's family also announced the creation of the Truman T. Lowe Scholarship for Native American Students, an endowed scholarship for indigenous and descended students launching in 2023. 
"Nothing would make him happier," Tonia said, "than to encourage Native students to continue their education indefinitely." 
About the building
The Truman T. Lowe Center for the Arts opened as the Fine Arts Building in fall 1974. 
The building housed the university art gallery, theatre and recital hall, and hosted music, art, theatre and speech communication courses. (Speech communication courses are now held in Centennial Hall.) 
During the 20th anniversary celebration in 1994, the building's name was changed to the Center for the Arts. 
It currently houses the School of Visual & Performing Arts, which includes the Art, Theatre and Dance, and Music departments.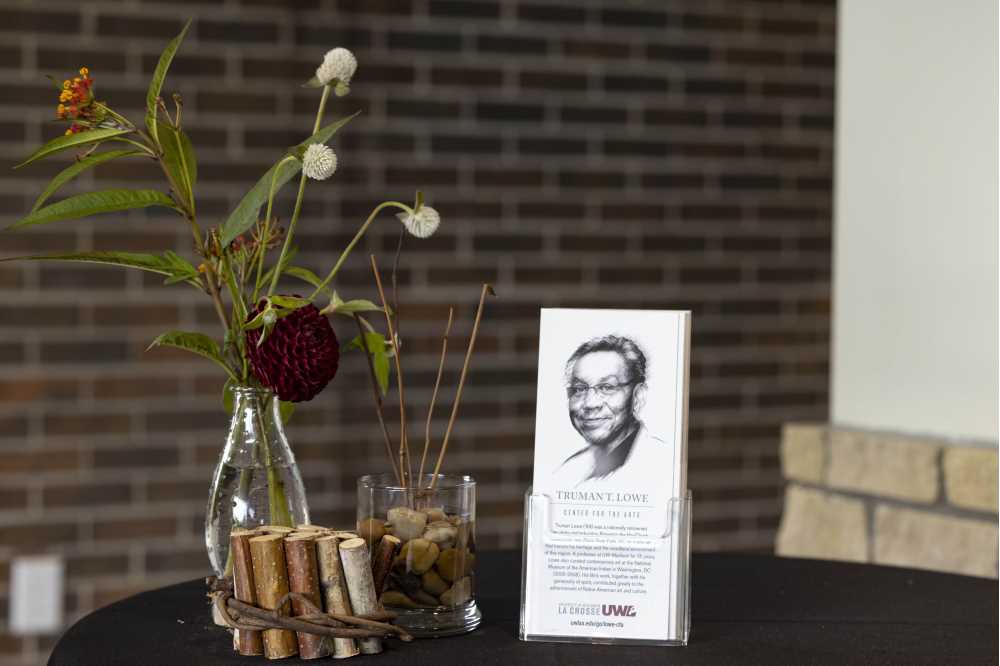 ---
Written by UW-La Crosse
Link to original story: https://www.uwlax.edu/news/posts/a-tribute-to-truman/