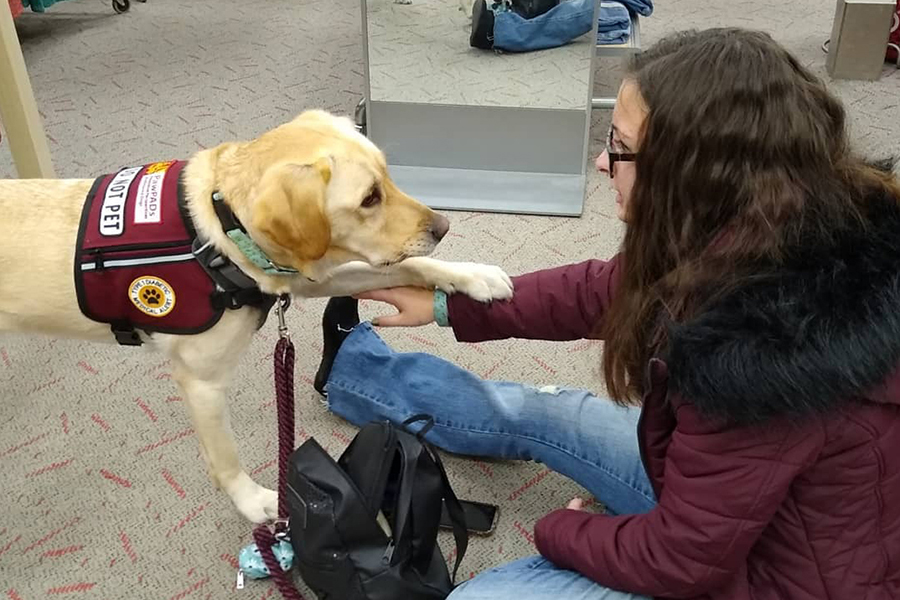 If you've been lucky enough to have a dog, you understand the bonds they form with their humans. They learn our routines and sense our moods. Ever eager to please, they try hard to behave and follow our rules.
But have you ever been so in tune with a dog that she warned you about having low blood sugar?
That's exactly what Abbey Karnes' service dog, Darby, does for her. The incoming University of Wisconsin-Superior student and her canine companion have built a following of over 2.2 million fans on TikTok. The duo's entertaining posts help provide awareness about Type 1 diabetes and educate people about life with a service dog.
"It's been so cool to grow a community on TikTok," Karnes said. She grew up in Grand Rapids, Minnesota, and was diagnosed with Type 1 diabetes at 12. "Everything I knew was turned upside down." The situation was worsened by the fact that she didn't have many peers to turn to for advice. "To be able to be that role model for kids out there is so cool."
Karnes used her diagnosis as a means of motivation.
"I actually am happy it happened to me because it made me a stronger person," she said. "I don't want it to stop me from living life the way I want to."
Fueled by this determination, Karnes excelled academically and beyond. She acted in plays and performed on the competitive dance team. She started taking Postsecondary Enrollment Option courses at Itasca Community College, earning enough credits for an associate's degree and more. She earned a presidential scholarship and won a student leadership award.
Her love of self-expression took on the form of visual arts, from drawing to watercolor painting to henna tattooing. She never thought it could be a career path until one of her professors encouraged her to share her work at the Minnesota College of Art and Design's Portfolio Day.
"That gave me the confidence to pursue this," Karnes said.
Karnes decided that after finishing up her general coursework at ICC while living at home, she would pursue a degree in fine arts. She was excited about going to college to live on her own for the first time, but she was also understandably nervous.
"I was very anxious about having to manage diabetes on my own," Karnes said. "There's a lot of slipups that can happen that are very dangerous."
Karnes uses an insulin pump and closely monitors her blood sugar levels to prevent serious complications from hypo- or hyperglycemia.
"I try to do my best to manage it, but things happen," she said. "It can be very exhausting."
In search of extra support, Karnes found a solution: service dogs trained to detect high or low blood sugar. Scientists believe dogs can monitor blood sugar levels by smelling chemical changes in our bodies.
In June 2020, Karnes went to Pawsitive Perspectives Assistance Dogs in Lakeville, Minnesota, for a training camp. She met several dogs, but bonded right away with Darby, a soft, yellow Labrador Retriever with big floppy ears and big brown eyes.
"I came across Darby and fell in love with her," Karnes said. "Darby seemed really in tune with me."
When Karnes went to put Darby in her crate to work with another dog, Darby voiced her protest, to everyone's surprise.
"If you know Darby, she does not bark. Everybody in the room was like, 'Darby's barking?' That was when everybody knew that we were a pair, that Darby chose me."
Darby was two years old at the time, and had already had extensive training to prepare her to become a diabetic alert dog. If she senses Karnes' blood sugar is too high or low, even from across the house, she will come up to her right away and nudge her leg.
Karnes will then put out her hand for Dr. Darby Dog's diagnosis.
"She'll either bump it up with her nose for 'high,' or she'll paw it down for 'low,'" Karnes explained. "She can alert my blood sugars before my devices can pick up on them. It's amazing. It's very important for me because if I pass out it could be hypoglycemia, and hypoglycemia acts really quickly. I could be dead in a matter of minutes."
Darby will bring Karnes a bottle of juice if her blood sugar is low. If Karnes passes out, Darby knows to seek help from a nearby human. Perhaps most importantly, she offers unfailing moral support. During stressful emergency room visits or medical procedures, Darby is always by her side.
"I get really nervous about being in the hospital, and I don't like needles at all," Karnes said. "The few times I've been in the ER, she gets to come in there with me. She knows deep pressure therapy. She'll lay across me to calm me down. She is amazing."
Karnes shares it all on TikTok, entertaining and educating fans around the world. Her account provides a window into her relationship with Darby and a real-life look at daily life with Type 1 diabetes. Content ranges from fun dance challenges with Darby to more serious posts about the realities of using an insulin pump.
"I post every single day," she said. "My goal is to raise awareness."
Karnes will soon start posting her TikToks from the UWS campus, as she is set to begin classes this fall. Thanks to her PSEO credits, she'll come in as a junior majoring in fine arts.
She wanted a friendly, welcoming college on the smaller side, not too far from her family in Grand Rapids or her doctors and brother in Duluth. She needed flexible dining options because she also has Celiac disease. Above all, though, she had to find a school that would welcome Darby.
She found all that and more at UWS.
"I loved the campus," she said. "It seemed very nice and calming when I visited. UWS has been very accommodating to my disabilities, which has been so nice. Everybody I've met seems very friendly."
Naturally, Darby will live with Karnes and accompany her around campus. Karnes is working with campus security to set up a system in her room that will allow Darby to push a button for help in case of an emergency. It will be the perfect way to start living independently, but with Darby as a furry safety net.
Karnes is already thinking ahead to her next steps. She's considering earning a master's degree with the goal of becoming an art professor. For now, though, she's looking forward to the next chapter, with Darby by her side.
"I'm excited to see that I can be independent and that I'll still have people watching out for me. I'm excited to feel safe."
---
Written by UW-Superior
Link to original story: https://www.uwsuper.edu/newscenter/a-girls-best-friend_news5083866