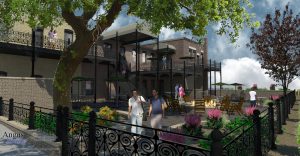 A storefront in the heart of downtown Janesville is about to be transformed as part of a major renovation project spearheaded by University of Wisconsin-Whitewater alumni.
Quint and Rishy Studer are welcoming entrepreneurs to participate in the Janesville Business Challenge — an open competition to start a new business in the city. The winner will receive $25,000 in startup cash and an estimated $25,200 in reduced rent, including a rent-free first year, bringing the total prize to more than $50,000.
The site — known as Block 42 — is located at 117-123 N. Main St. on the Rock River.
"We want this new business to draw even more people downtown," said Bekki Kennedy, daughter of the Studers and organizer of the competition. "Janesville is a vibrant, dynamic community on the cusp of great growth. Quint and Rishy have deep roots in Janesville and believe Block 42 can help move the downtown forward."
The Studers — who managed a similar urban renewal project in Pensacola, Florida, where they reside — are tapping the talents of the university as they look for the perfect tenant to occupy the Janesville space.
During the months of June and July, UW-Whitewater faculty and staff will mentor potential applicants, helping them craft business plans, conduct market research and develop financial statements and projections.
"Our faculty and staff are committed to regional engagement and the development of new enterprises," said John Chenoweth, dean of the College of Business and Economics. "As an entrepreneurial campus and dedicated community partner, we are excited to support the Business Challenge, the competitors and the downtown Janesville economy."
"Quint and Rishy feel incredibly strong about the quality of education that students receive at UW-Whitewater," Kennedy said. "It was a natural fit for them to collaborate with faculty in the university's respected business programs to serve as mentors and judges in the competition."
Kennedy said the winning entrepreneur will also benefit from a duo of new businesses that will move in next door, creating a destination shopping and culinary experience. Bodacious Brew will operate as a specialty coffee and tearoom by day, and in the afternoon and evening, it will specialize in wine and cheeses.
Bodacious Olive will operate as a boutique food shop that will sell specialty olive oils and balsamic vinaigrettes, salts and seasonings, artisan breads and pastas, kitchen gadgets and other grocery items.
"It's important for potential applicants to keep in mind that we want the new businesses to complement one another," Kennedy said.
The competition officially kicks off at a launch event at 6:30 p.m. Tuesday, May 31, at the Janesville Performing Arts Center, 408 S. Main St. The deadline to submit an application is Aug. 1, with the winner announced Aug. 29. Learn more at www.block42janesville.com.