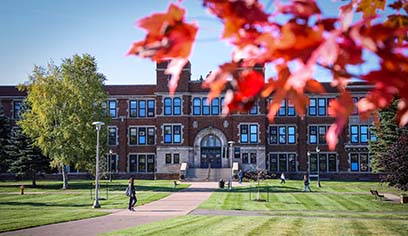 The University of Wisconsin-Superior's Center for Community Engaged Learning has received a $35,000 grant from the Tommy G. Thompson Center on Public Leadership to host a speaker series titled, "Bridging Civic and Public Health during a Pandemic."
The speaker series, which will take place throughout the 2020-21 academic year, will include four speakers, featuring at least one elected public state official, who will explore the intersections of public health emergencies, citizenship and leadership. The series will cover historical lessons from previous pandemics and opportunities that have emerged from the current public health emergency and a message of hope and practical application. The speakers and topics will strategically build on each other's content and seek to answer the question, "How can we emerge from a public health emergency civically stronger, together?
The first event will be held noon, Tuesday, Sept. 22,  online via Zoom. Dr. John M. Barry, author of the prize-winning and New York Times best-selling book,"The Great Influenza: The story of the deadliest pandemic in history" will present, "What we can learn from history: the 1918 pandemic."
"We are so grateful to the Tommy G. Thompson Center on Public Leadership for the grant to host this timely, dynamic speaker series that will provide our region with thought-provoking, inspiring stories of how to become and emerge stronger from the COVID-19 pandemic," said Jenice Meyer, community engagement & strategic partnerships senior officer. "Students, campus and community attendees will be provided with practical examples and a message of hope that is so needed right now."
Event details, registration and future speakers will be announced at uwsuper.edu/calendar.