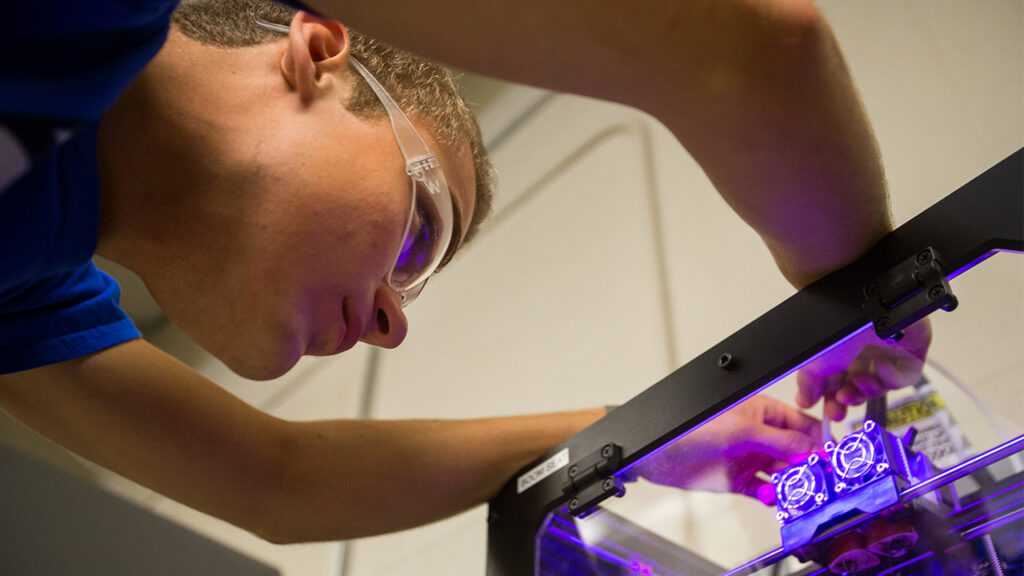 Already known as a hub for creativity and innovation in the tri-state region, the University of Wisconsin-Platteville will soon be offering additional services to budding entrepreneurs throughout the region with the launch of Pioneer Prototyping Services. In March, UW-Platteville was awarded an Entrepreneurship Support Grant from the Wisconsin Economic Development Corporation in order to create the infrastructure needed to help rural entrepreneurs turn their product ideas into prototypes.
"We have really great capabilities – both in equipment and talent – at the university for innovation, problem solving, prototyping and fabrication, which is only going to be made better with the new Huff Innovation Center in Sesquicentennial Hall," said Dr. Jodi Prosise, professor and chair of UW-Platteville's Department of Mechanical Engineering. "We also know that there are tons of innovators in our community, but when they have ideas, they have to go hundreds – maybe thousands – of miles and pay a lot of money to get prototyping services. We'd like to be able to enrich our region by supporting entrepreneurs and innovators."
As the largest employer in Southwest Wisconsin and a major provider of STEM talent in the Wisconsin workforce, UW-Platteville is uniquely suited to offer these services. UW-Platteville was awarded a federal Economic Development Administration grant last year to fund the IDEA Hub of Southwest Wisconsin, in partnership with the Southwestern Wisconsin Regional Planning Commission, to develop a pipeline of entrepreneurs in the rural area. The opening of Sesquicentennial Hall next fall, with its 20,000-square-foot Huff Innovation Center – slated to be one of the largest makerspaces in the Midwest – will continue to fuel this entrepreneurial culture.
Since the awarding of the grant last spring, faculty, staff, and students from UW-Platteville, as well as industry partners, have been working with Creative Adventure Lab in Dubuque, Iowa, to generate ideas for implementation plans. Four faculty have been chosen to participate in Creative Adventure Lab's Innovation Champion program in order to learn how to lead internal innovation processes and strengthen UW-Platteville's culture of innovation. These champions will then serve as mentors to the entrepreneurship support teams – groups of students and faculty who will work directly with entrepreneurs on their concepts and create functional prototypes.
"As a student-centered institution that is really well-known for hands-on STEM education, it's exciting that we are going to be able to provide students with the opportunity to work on real projects for real innovators in our community outside the classroom," said Prosise.
Pioneer Prototyping Services will begin taking clients this fall. Visit www.uwplatt.edu/huff-innovation-center for more information.