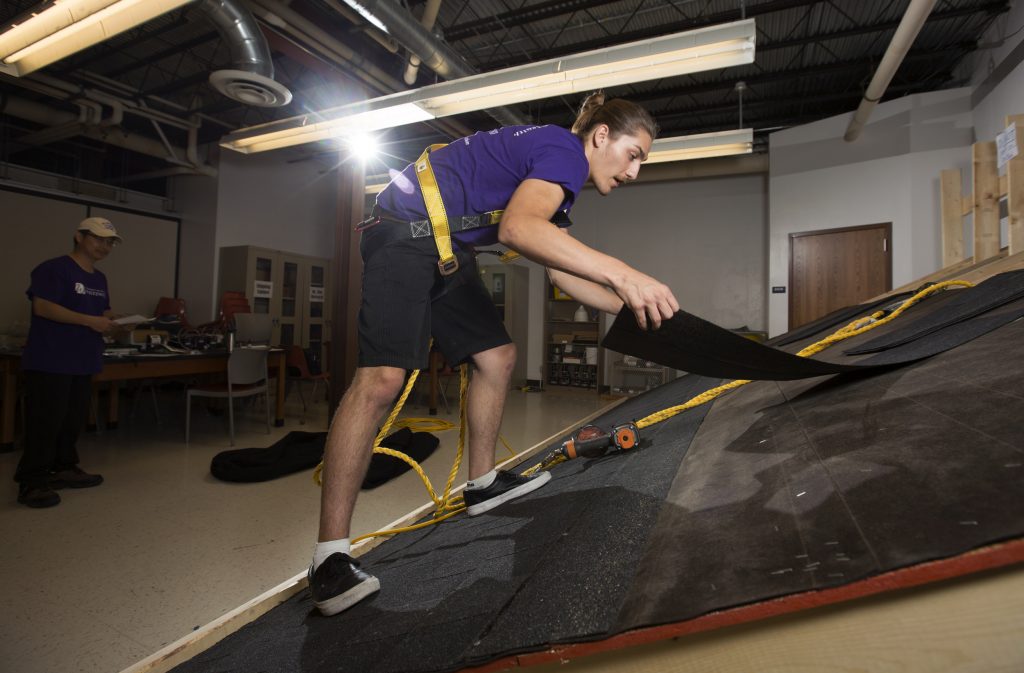 If you visited the University of Wisconsin-Whitewater campus gardens to appreciate the late-summer abundance and took a slight detour to the lower level of the Ambrose Health Center, you'd be met with an unexpected sight: a full-scale model of a residential roof built inside of the building, in a spacious room that houses the Occupational and Environmental Safety and Health Lab.
And in the OESH Lab you might find Connor Carrington, a senior from Cambridge majoring in occupational safety with a double emphasis in construction safety and environmental management, strapping on a safety harness, clambering up on the roof and installing shingles. Carrington is participating in a research project that aims to test whether a roofer's stance has an effect on workplace accidents, both muscular-skeletal injuries from repetitive motions and injuries that could result from falls. The answer could provide important safety cues for the residential construction industry.
"One of the main reasons for fatal injuries in residential construction is falling from a height, most commonly due to a loss of balance," explained Sang Choi, professor of occupational and environmental safety and health. "The human body and foot are designed to operate on a flat surface. Once they adapt to the pitched slope of a roof, there's a sensory adaptation when they move back to a ladder or scaffold — and that's when people tend to lose their balance and fall."
According to Choi, roofing is one of the most hazardous tasks in the U.S. construction industry, which employs about 7 million workers every year. Workers in the residential roofing industry are more than three times more likely than other construction workers to experience fatal injuries on the job, mainly due to fall-related incidences. And when workers are injured, in addition to any suffering and financial burdens that result, their families, employers and the society at large may also pay a cost.
Choi's research is exploring how three different working postures that roofers employ — kneeling, bending and side-sitting — affect postural instability and fatigue. As part of his research, he is measuring the rate of perceived loss of balance, or RPLB — also known as the Choi scale. The research is possible due to a College of Business and Economics research grant that allowed Choi to purchase the materials and fabricate the residential roof structures, which will continue to be used for at least two courses — construction safety and occupational ergonomics — in the near future.
"One of the features of the OESH lab is the adjacent classroom, which allows us to introduce a safety concept and then immediately walk over and have the students put what they learned into hands-on practice," said Choi.
The lab and classroom are part of the university's growing occupational and environmental safety and health program, which enrolls about 170 undergraduate and more than 90 online graduate students and is geared to address a "massive shortage of safety graduates," according to Associate Professor Todd Loushine, who coordinates the program's required capstone internships.
"Our students have ample opportunities for internships and a very high after-graduation placement rate," said Loushine. "The amount of job prospects is impressive, but some students hesitate to move away from southeastern Wisconsin, so acquiring a job may take more time for them."
An integral part of the summer research project, which involves 20 minutes of hammering roof shingles in a given working posture before stopping to measure the results on the test subject's body, is the personal fall arrest system, or safety harness. Because harnesses can be cumbersome and force roofers to dodge ropes as they work, some workers resist wearing them.
Not Carrington, however, who once had ample opportunity to consider the safety harness's value. On a jobsite in northern Wisconsin, he and a coworker were jolted from the bucket of a boom lift at the maximum working height of the platform — 180 feet — and fell six feet before their harnesses caught them.
Because they were on a farm "in the middle of nowhere" and another boom lift needed to be located and transported to the site to rescue them, the two dangled 174 feet above the concrete below for several hours before they were freed. Carrington suffered a concussion when his head hit the boom as he swung, and his colleague eventually lost consciousness and had more serious injuries because of the restricted blood flow to his extremities. The accident was eventually found to have occurred because a part had been replaced with the wrong part.
Carrington, who is the current president of the Student Safety Organization, admits that he's one of the few in his program who brings both construction experience and a harrowing first-person account of a major workplace accident to the classroom.
"I was an average student in high school, but I'm excelling in this program," he said. "And if I can prevent one person from looking at the pavement for three hours…."
The inspiration for Choi's residential construction research was also found high above the ground. As a doctoral student at Western Michigan University in Kalamazoo in 2002, Choi grappled with a newborn daughter who could only sleep while being driven in the car.
"I drove Christina around and around the town that year," said Choi.
Kalamazoo was in the beginning of a housing boom at the time, and construction sites were everywhere. One day Choi, who will still looking for a research focus, looked up at the "roofing guys" and started thinking.
"It turns out there aren't many U.S. universities who do research on construction ergonomics," he said.
His eventual dissertation was titled, "Psychophysically Derived Work Frequencies Associated with Roof Shingling Operations Involving Change in Grade." After receiving his doctorate, Choi joined the UW-Whitewater faculty in 2003.
Choi plans to publish the results of the summer roofing research in the National Safety Council's Journal of Safety Research. Carrington, who will embark on his capstone internship with a construction firm next summer, looks forward to a career ensuring nobody else experiences the view from the top the same way he did.