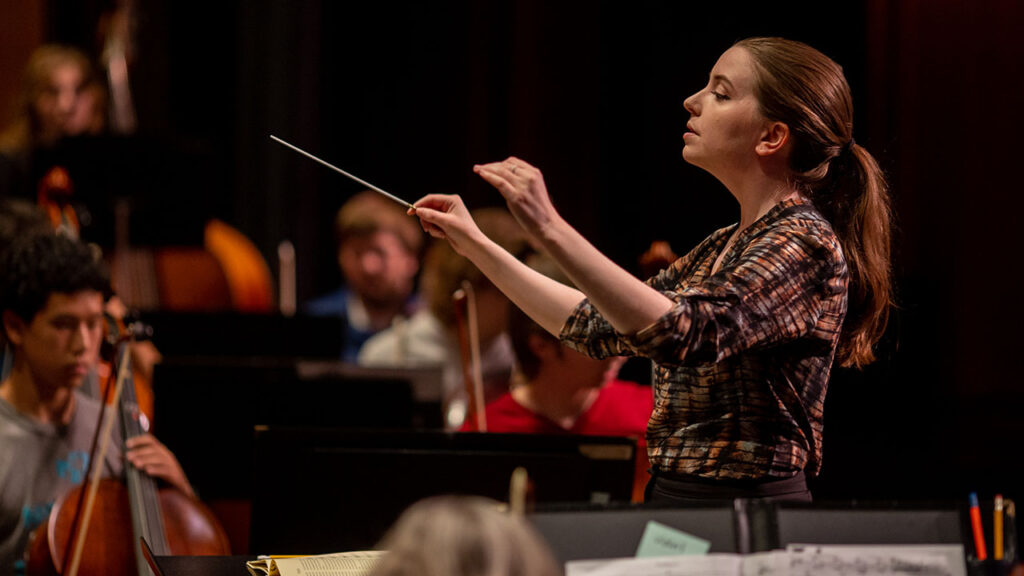 Megan Maddaleno is beginning her first full academic year as director of orchestral activities at the University of Wisconsin-Platteville and said she is looking forward to expanding the UW-Platteville Symphony Orchestra and enhancing its presence in the Platteville community.
Maddaleno joined the UW-Platteville Department of Performing and Visual Arts last February. As a trained violinist, she earned her undergraduate degree in music education from Webster University, in St. Louis, Missouri. She served as director of orchestras at Columbia Public Schools in Missouri, before eventually continuing her education. She earned her master's degree and is in the process of finishing her doctoral degree – both in orchestral conducting — from the University of Iowa.
"I am forever an academic at heart, and I love teaching and working in higher education settings," she said.
Maddaleno, who is the first female director of orchestral activities for UW-Platteville, said she is excited to bring a new perspective and is looking forward to challenging the symphony orchestra members this year.
"Just in the past couple of months, I have seen their attention to detail and musicality grow, and I am excited to see what this upcoming year has in store for ensemble students and the program as a whole," said Maddaleno.
The UW-Platteville Symphony Orchestra is typically composed of up to 60 members – a mix of students, faculty and community members. Maddaleno said the orchestra is hoping to expand and include young adult and high school students who are looking for symphonic experience and performance opportunities.
"I strongly feel that music belongs to everyone, not just musicians who study at top conservatories," said Maddaleno. "I'm so excited to see such a wide array of majors, backgrounds and life experiences that comprise this ensemble. Previously, at University of Iowa, I directed an ensemble comprised of non-music majors, faculty, UI Hospital staff and community members, and it was my favorite course to teach because they were taking time out from their busy schedule to make music. This is a similar culture to UW-Platteville. A large portion of students are engineering or computer science majors, and it's so humbling and encouraging to see them devote time to make music, work on team building skills by playing in an ensemble and learn something new.
The UW-Platteville Symphony Orchestra's first concert of the season is scheduled for Sunday, Oct. 30 at 6:30 p.m.
"Repertoire for this concert will include Edvard Grieg's surreal 'Peer Gynt Suite No. 1,' Aaron Copland's profound 'Fanfare for the Common Man,' and Ludwig van Beethoven's sensitively brilliant 'Piano Concerto No. 1,' performed by UW-Platteville Director of Piano Studies, Dr. Kaju Lee," said Maddaleno.
At the annual Holiday Gala, on Friday, Dec. 2 and Saturday, Dec. 3, the Symphony Orchestra will collaborate with the Southwest Academy of Ballet Arts to perform excerpts from Tchaikovsky's "Nutcracker." Maddaleno said she hopes to do more collaboration with the community in the future.
"It is vitally important for any ensemble to establish roots within the school and within the community outside of the institution. It's a goal for us to become a pillar in the community so we may reach more people and excite them to experience live music once again."
Maddaleno hopes to grow the UW-Platteville Symphony Orchestra in the coming years.
"UW-Platteville has a well-established presence of bands and choral ensembles, and the orchestra is currently growing and developing," she said. "But, in the short amount of time I've been here, just by concentrating on challenging the students, finding their potential and giving them solid pedagogy, their level has already significantly increased. I was impressed to see that they come prepared to every rehearsal and are up for any challenge. They are excited to make music, and they are eager to learn and perform at a high level. I truly think there is a large trajectory for growth in this ensemble – both in size and level in musicality."
For more information about joining the UW-Platteville Symphony Orchestra, contact Professor Maddaleno at maddalenom@uwplatt.edu. Find upcoming performances at www.uwplatt.edu/events. Tickets can be purchased at the University Box Office on the lower level of Ullsvik Hall or at tickets.uwplatt.edu.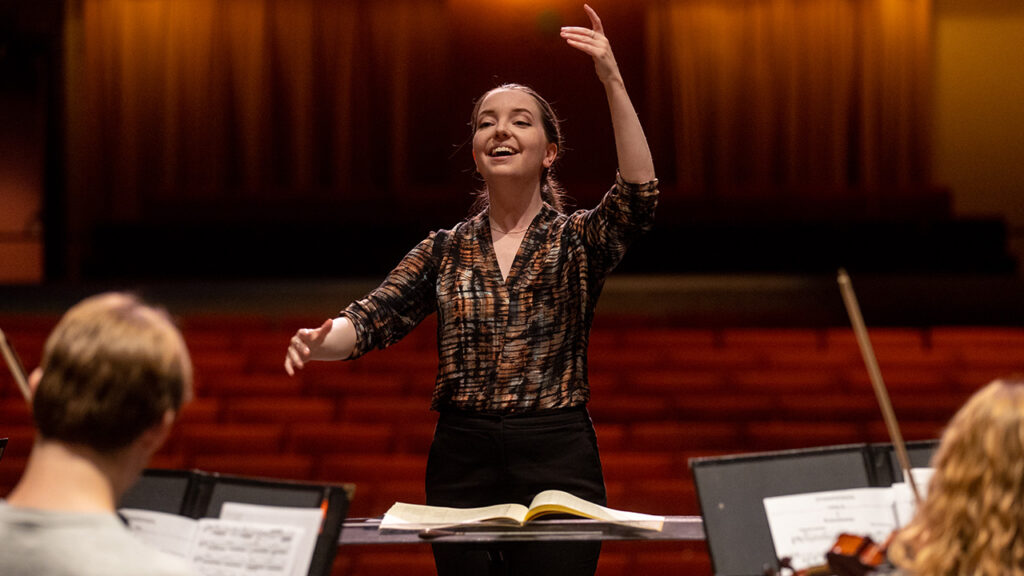 ---
Written by Alison Parkins
Link to original story: https://www.uwplatt.edu/news/new-director-looks-reinvigorate-orchestral-music-community