The Joys of Teaching and Learning:
Intersecting Identities & Pedagogies
---
Dr. Rosalyn LaPier | 2019 Keynote Plenary
TEACHING AND LEARNING AS ACTIVISM:
A Conversation Between Generations
In the past two years, one in five Americans protested in the streets or participated in a political rally, revealed a 2018 Washington Post-Kaiser Family Foundation poll. But less than half of those who showed up identified as "an activist." Who and what is an activist? And what role does higher education play? Does activism just happen in the streets? What is the future of scholar-activism in higher education?
Dr. Rosalyn LaPier (Blackfeet/Metis), an award-winning Indigenous writer and environmental scholar at the University of Montana, will join in conversation with her daughter Abaki Beck (Blackfeet/Metis). They will draw from their own experiences, representing two generations and vantage points, to address the nexus of teaching, learning and activism.
Dr. LaPier draws from her research on Native American activists for City Indian, writing about her Blackfeet community in Invisible Reality (strengths-based research), to her own activism such as organizing the first March for Science in Washington, D.C. that resulted in more than 1 million people marching in 600 cities. Abaki, now a graduate student, is an emerging scholar-activist whose writing has appeared in Bitch and Yes! Magazine, among others, and has conducted an award-winning food sovereignty project on the Blackfeet Reservation in Montana. She is founding editor of the social justice Website POC Online Classroom.
---
Dr. Rosalyn LaPier is an award-winning Indigenous writer and ethnobotanist with a Ph.D. in environmental history and a B.A. Degree in physics. She studies the intersection of traditional ecological knowledge (TEK) learned from elders and the academic study of environmental history.
Growing up on the Blackfeet reservation in Montana, Dr. LaPier learned about ethnobotany from her maternal grandmother Annie Mad Plume Wall and her aunt Theresa Still Smoking. She splits her time between living in the heart of Salish country in Missoula, Montana and the Blackfeet reservation. Hear her story on Spark Science.
As an activist she advocates for both Indigenous and Western science-based decision making. LaPier's longtime passions include the revitalization of Indigenous languages and traditional ecological knowledge. She is the founder of Saokio Heritage, a co-author of the Indigenous Science Statement, and an organizer of the March for Science in 2017, the largest day of science advocacy in history, with over one million participants in 600 cities worldwide.
Dr. LaPier is an Associate Professor of Environmental Studies at the University of Montana and a Research Associate at the National Museum of Natural History, Smithsonian Institution. She received the 2018 George M. Dennison Presidential Faculty Award for Distinguished Accomplishment at the University of Montana. LaPier is the author of two books, a Blackfeet language lexicon, several book chapters, academic journal articles and dozens of general audience articles and commentaries. Her writing has appeared in The Conversation, Washington Post, High Country News, Grist, Huffington Post, Associated Press, TeleSUR, Univision, Indianz.com and other venues. She is currently working on her third book, Plants That Purify: The Natural and Supernatural History of Smudging.
Dr. LaPier  joins her daughter Abaki Beck for a conversation about undergraduate research on the Blackfeet Reservation. They address how their identities as Blackfeet and Metis women intersect with their academic work.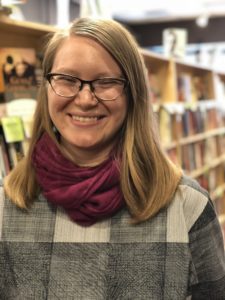 Abaki Beck is a first-year public health graduate student at Washington University in St Louis. She earned her B.A. with honors in American Studies from Macalester College in 2015. After graduation, she served as an Udall Congressional Intern in the office of Congresswoman Betty McCollum (D-MN) before being hired as a full time staffer assisting with health, education, and Native American issues.
From 2016 to 2018, Abaki was the research coordinator for an oral-history project on Blackfeet traditional foods and food sovereignty. The goal of this project was to preserve elder knowledge of traditional foods, educate tribal members, and improve community health. For this work, she received the 2017 National Indian Health Board's Local Impact Award, was a Nominated Changemaker at the White House United State of Women, and was presented with the 2016 Forward Montana Foundation 25 Under 25 Award. She has also spoken at several national tribal health conferences. The report she authored from this research is integrated into an undergraduate course at the University of Montana and in a graduate course at Montana State University.
In her spare time, Abaki is an intern for Washington University's Prison Education Program, founding editor of the social justice education website POC Online Classroom, and writes freelance. Her writing has appeared in Bitch, Aperture, the Establishment, Yes! Magazine, the zine Survivance: Vol. II Indigenous Poesis, and other media. She is Blackfeet and Red River Metis.
Dr. Rosalyn LaPier's keynote plenary is made possible by UW System Administration's Office of Professional and Instructional Development (OPID).
Abaki Beck's keynote plenary is made possible by the UW System Women's and Gender Studies Consortium with support from UW-Madison's University Lectures.
---
Twitter-Enhanced Fishbowl Discussion: Intersecting Identities & Pedagogies
Facilitator – Diane Treis Rusk, Ed.D. Director, Academic Programs and Student Learning Assessment, UW System
We invite you to engage in a dynamic and unscripted dialogue – in a fishbowl.
The rules are simple.
The fishbowl consists of a few chairs situated in the center of a larger circle. Only people sitting in the fishbowl speak; those sitting on the outside observe and actively listen. Participants in the outer circle may join the fishbowl by sitting in the empty chair after which someone in the fishbowl voluntarily leaves the fishbowl. There is always one empty chair in the fishbowl.
Our fishbowl discussion includes a digital sphere of communication inspired by Jesse Stommel, founding editor of Hybrid Pedagogy. We will have a Twitter-enhanced fishbowl. If you prefer to engage digitally, we invite you to bring a hand-held device or laptop.
Questions to launch our fishbowl:
How does your identity inform your pedagogy?
How does your identity inform how you communicate/interact/relate to your students?
How can we engage all students and their identities in the classroom in a meaningful way?
---
First Nations Cultural Landscape Walking Tour
with Aaron Bird Bear
Humans have lived along the shores of Waaksikhomik (Where The Man Lies, known today as Lake Mendota) in Teejop (Four Lakes, known today as Madison) for at least 12,000 years. Since 1848, or the last 1.5% of the human story of Teejop, the demography of Teejop changed from a 99% Ho-Chunk world to a 99% non-Native American population. Similarly, during the last 1.5% of the human story of Teejop, the ecology of Teejop rapidly and radically changed from oak savanna and wetlands into a largely non-indigenous urban forest built upon landfill of the former wetlands of Teejop.
UW-Madison is likely the most archaeologically-rich university campus in the United States with 12,000 years of human settlement. The Waaksikhomik shoreline features 11 archaeological mound sites and at least 28 human habitation sites (with Archaeological Site Inventory numbers), including:
Natatorium Building (DA124) & Eagle Heights Residences (DA1234): 8,000 year-­old village site.
Picnic Point (DA122): 3,000 year‐old village site. Picnic Point is almost entirely workshop sites, and habitation and burial site.
Porter Boathouse (DA1238): site of "prehistoric archaeological materials distributed over virtually all of the area…If these materials are in undisturbed condition, it is likely that the site would be eligible for listing on the National Register Historic Places." (UW Crew House Archaeological Survey Engberg Anderson Project No. 955544).
Kronshage Hall (DA1238) is built upon an ancient village.
Prior to campus construction, Conical,Linear and Effigy mound groups were located at:
Bascom Hill: North Hall (DA819), Bascom Hall (DA5873), and Muir Knoll Overlook (DA1208).
Observatory Hill:  Agriculture Hall (DA820).
This walking tour will begin at Dejope Residence Hall at 8:30 a.m. Participants can use the free 80 Bus that circulates around campus to get to Dejope Residence Hall from anywhere on campus. The 80 bus arrives every 10-15 minutes. Bus stops at State and Langdon Streets and the Memorial Union on Langdon and Park Street are the closest to the conference and hotels.
The walk is 1.2 miles long and includes the steep Observatory Hill and Bascom Hill. It will end at Memorial Union in time for our keynote plenary – Teaching and Learning as Activism: A Conversation Between Generations with Dr. Rosalyn LaPier and her daughter Abaki Beck.
First Nations Lunch
Cracked wild rice salad, with nuts, dried fruit, and vinaigrette made with local maple syrup
Smoked trout dip with veggies
Chokecherry shredded pheasant
Cranberry barbecued bison meat balls
Fry cakes
Blackberry compote with corn bread, basil, and honey
Aaron Bird Bear (Mandan, Hidatsa, and Diné Nations) is the first director of tribal relations and Assistant Dean for Student Diversity Programs in the School of Education at the University of Wisconsin-Madison. Bird Bear oversees academic programs serving pre-college, undergraduate, and graduate students in the School of Education, including the American Indian Curriculum Services (AICS) unit supporting the integration of the history, culture, and tribal sovereignty of the 12 First Nations of Wisconsin into PK-16 education. With UW–Madison likely being the most archaeologically-rich campus in the United States, AICS offers place-based learning through a First Nations Cultural Landscape Tour examining the 12,000-year human story of the shores of Waaksikhomik (Lake Mendota).  Bird Bear received his Educational Leadership & Policy Analysis MS degree from the School of Education University of Wisconsin-Madison.
Closing Circle Talk
An open discussion & feedback session with Rosalyn LaPier & Abaki Beck