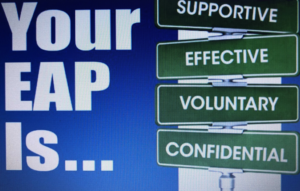 Mental health is a critical part of overall health. Everyone faces challenges in life that may impact their mental health. If life challenges are making it difficult for you to cope, or you're experiencing anxiety or depression, reach out to the Employee Assistance Program (EAP) for mental health support.
The EAP is available twenty-four hours a day, 365 days a year to help you connect with a counselor either in-person or virtually to discuss your concerns. Counseling through the EAP is confidential and solution-focused with the goal of bringing measurable improvement to the situation. The EAP provides employer-paid mental health and other well -being resources for UW System employees and their household family members.
Grief and Loss Support: Grief and loss are difficult emotions that most everyone experiences. The past few years have been especially difficult. Your EAP can help you work through the emotions that may be causing you distress.
Financial Support: Financial struggles can be a significant source of stress. EAP financial advisors can address your specific concerns and help you determine solutions for managing your financial situation. Take advantage of this free service.
Daily Living Support: Stress associated with daily life can be overwhelming. Whether you're looking for a cleaning service, realtor, new gym, dog walker, day care options or a moving company, contact the EAP. The EAP will conduct a search and present their findings to you so you can evaluate your options.
Legal Support: Seeking legal advice can be time consuming and expensive. Through the EAP, you have access to creating wills, and a free 30-minute legal consultation with an attorney with expertise in your matter. If you choose to retain the attorney, there will be a 25% reduction in the hourly rate.
Resources: The EAP webpage includes contact information and resources.