With 13 universities across 26 campuses, the UW System offers countless opportunities to connect you with internships, mentorships, service opportunities and more. Explore these resources to find the professional experience you are seeking.
Featured Opportunities
Virtual Career Treks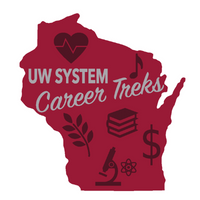 UW System Career Treks offer a unique chance to learn about a company of interest, any job or internship opportunities they have available, and what they might look for in candidates that apply. Attend a Virtual Career trek to engage with industry professionals, expand your network, and increase your awareness of career possibilities.
Virtual Career Treks are being hosted every Tuesday at 2:00 p.m.
Job Resources
AIESEC develops the leadership potential of youth through experiential learning, volunteer experiences, and professional internships.
IAESTE is an exchange organization that provides students in technical degrees (primarily Science, Engineering, and the applied arts) with paid, course-related, training abroad and employers with highly skilled, highly motivated trainees, for long-term or short-term projects.
In Wisconsin - Learn about the opportunities Wisconsin offers for business, career, and personal success.
UW Career Centers
Select a University

Use the dropdown box to begin.

Use the map or dropdown box to begin.

UW-Eau Claire

UW-Eau Claire offers students high-impact learning experiences in addition to a first-rate classroom experience. The Advising and Career Center offers students a one-stop for career exploration and major selection, as well as assistance with internship and job search.

Career counselors are available to help students identify and apply for internships. At UW-Eau Claire, each student develops a foundation for active citizenship through our Service-Learning 30-hour requirement for graduation.

Fast Facts (2014-15)

96% job placement rate for graduates with 53% of employed graduates staying in Wisconsin after graduation
Median income for a graduating Blugold is $43,854
Host 200+ employers on campus each year for events

Campus Career Contact:
Staci Heidtke
heidtksl@uwec.edu
715.836.2261

UW-Green Bay

Career Services at UW-Green Bay facilitates the career development & future success of our students. We guide students in understanding their career & academic choices, and we teach the career development process & professional skills students will need for their future success.

We also assist students in securing post-graduate employment, internships & admission into graduate & professional schools. We are dedicated to providing personalized, direct assistance to help students manage their careers.

Fast Facts

Less than 2% of graduates still seeking employment at the close of our First Destination Survey
60% of graduating seniors report completing an internship prior to graduation (not including social work field placement/student teaching)
12,000+ full-time positions and 3500+ internships posted annually to Phoenix Recruitment Online

Campus Career Contact:
Linda Peacock-Landrum
peacockl@uwgb.edu
920.465.2163

UW-La Crosse

The UW-La Crosse Career Services guides students through the process of defining their interests, goals and pathways to career success.

Several tools are available to our students, including Internships & Job Search (resume, cover letter, interviewing skills and search assistance), Graduate School Assistance (advice on the graduate student application process), Handshake (online career resource lists internships and jobs) and Career Events (hosting nearly 250 employers and graduate programs each year).

Fast Facts

All 10,000+ students have access to Handshake
7,000+ full time positions and nearly 2,000 internship positions posted each year

Campus Career Contact:
Becky Vianden
career@uwlax.edu
608.785.8514

UW-Madison

Career Services Center

UW-Madison offers a wide variety of services to our students. Offices are decentralized, so please visit each school or college website for specific services.

Campus Career Contact:

UW-Milwaukee

Career Centers

Services include: Choosing Majors, Researching Careers, Decision Making, Skill Development, Career Advising, On- and Off-Campus Jobs, Internship support, Co-op Programs (Engineering), Resume Development, CV Development, Career Fairs, On-Campus Recruiting, and Interviewing Strategies. Presentations on these services are provided for Student Organizations and classes. Click for additional support, such as job postings, Mock Interview Modules, and assessment tools.

Career Services Contact:
Career Planning & Resource Center
pantherjobs@uwm.edu
414.229.4486

UW-Oshkosh

Career Services Center

University of Wisconsin Oshkosh Career Services has unique programs and services that give students a competitive edge as they search for internships and careers.

Fast Facts

UWO graduates' median salary is $43,959
Job placement rate for graduates includes:

79% employed full-time
6% employed part-time
7% continuing education
8% "other"

321 employer relationships for job or internships placements for UWO students
100% of undergraduate student body registered in UWO career portal

Career Services Contact:
Jodi Kalmus 
kalmusj@uwosh.edu
920.424.2181

UW-Parkside

Advising & Career Center

We provide career advising which will engage you in self-assessment, career research, goal setting, job search strategies, career progression, and reflection. Advisors can assist you with resumes, cover letters, personal branding, and interview preparation. Individual advising sessions integrate career planning strategies and guidance specific to your professional goals, skill-set, and knowledge.

Campus Career Contact:
Renee Young-Trego
Director, Advising and Career Center
900 Wood Road
Kenosha, WI 53141-2000
youngtre@uwp.edu
262-595-3243

UW-Platteville

Academic & Career Advising Center

The Career and Professional Development Office offers many personal and career development services to assist you. Whether you need to schedule an appointment for a resume or cover letter, search employment opportunities, participate in a mock interview, or ask career-related questions, we can help. By hosting Handshake as our job/internship search platform, our students have access to tens of thousands of positions and thousands of employers. 

Fast Facts

80% placement rate for graduates, including full-time employment, continuing their educations, volunteering or doing military service
90% of those reported they are in fields related to their major

Career Services Contact:
cpdo@uwplatt.edu
608.342.1183

UW-River Falls

Career Services is a student-focused office providing comprehensive career planning services to UWRF students and alumni. By providing expertise, resources, and support, we empower individuals to make and implement well-conceived career plans. The career exploration process is facilitated by Career Services.

Fast Facts

92% of recent graduates are employed or continuing education 
88% of graduates work in Wisconsin or Minnesota
55% of graduates completed at least one academic internship, practicum, or student teaching placement

Career Services Contact:
Melissa Wilson
career.services@uwrf.edu
715.425.3572

UW-Stevens Point

Our mission is to provide comprehensive career/life planning & job search services linking education & the world of work for UWSP students & alumni.

One unique program for qualified juniors & seniors is the Career Ready Internship Program (CRI). With financial assistance from a Great Lakes Community Investments grant, the CRI Program connects UWSP students with high financial need to paid internships with businesses & nonprofits that complement their majors.

Fast Facts (2014-15)

92% of graduates reported job placement within six months after graduation
CareerPoint currently has 3,294 active registered student users, 765 CRI Program active student users & 5,966 active employers

Career Services Contact:
Sue Kissinger
skissing@uwsp.edu
715.346.3226

UW-Stout

Career Services Office at UW-Stout serves all students. Our services include individual appointments where career counselors meet with students to discuss career and professional development topics, including resume development, interviewing skills, and job search strategies. We manage a highly successful Co-operative Education and Internship program as well as offering several career events, programs and networking opportunities.

First Destination Outcomes 18-19

Fast Facts (2018-19)


98.8% employed or continuing education within six months of graduation

84% knowledge rate 
57% employed in Wisconsin
83% Employed related to their major have a median salary of $48,000

1,038 students enrolled in Co-op/Intern program:

Average salary of nearly $16/hr
55% employed in Wisconsin
*30% of Co-op students who graduated in 17-18 accepted professional job offers from their co-op employer

Career Services Contact:
Bryan Barts
bartsb@uwstout.edu
715.232.1469

UW-Superior

We provide career counseling and major exploration, resume, and cover letter reviews, mock interviews, job search assistance, Handshake support services, annual career fairs and events, free gently used professional clothing in our Career Closet, and more!

Fast Facts (2013-14):

Job placement rate for graduates includes:

91% of graduates enter the workforce or continue their education
85% of graduates are in a career related to their major

Career Services Contact:
career@uwsuper.edu 
715.394.8024

UW-Whitewater

The Career and Leadership Development department serves students in three functional areas: Career Development (including internship and employment strategy), Co-Curricular Engagement and Leadership Development, and Identity and Cultural Development. As the sole career center on campus, we work in the space between students, employers, and faculty, with the goal of enhancing the interaction of all.

2016-17 Recruiting at UW-Whitewater pdf

Fast Facts

97% graduate placement rate (includes full-time employment, continuing ed, volunteering, or military)
10 employment strategy-related course sections offered, enrolling 670 students
2,200 on-campus interviews are conducted annually in our Bailey Interview Center
9,000+ jobs and internships posted on Hawk Jobs

Campus Career Contact:
Brian Bredeson
bredesob@uww.edu
262-472-1471
Partners & Professional Associations
Our partners are located throughout Wisconsin to help you on your career journey. They offer a wide range of resources that will help pave the path to your future. Search job opportunities, post-graduate careers, resume and interview preparation, and more by following the links below.