The agg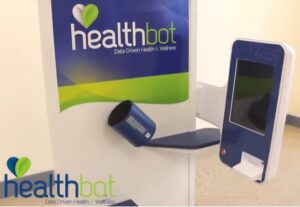 regate wellness report from WebMD for the 2021 calendar year indicated that the top three health risks for UW-Whitewater participants of the Well Wisconsin Program were BMI, blood pressure, and sleep. For this reason, and with the support of wellness grant funding from the Department of Employee Trust Funds (ETF), UW-Whitewater added a Healthbot Wellness Station to their University Center to help employees better manage their health.
The Healthbot Wellness Station will allow employees to monitor their blood pressure, heart rate, body mass index, and weight. Employees can create a free, confidential account to track their data over time or use the machine as a guest.
Congratulations UW-Whitewater for taking another step toward a culture of well-being!
Review the Healthbot Overview Video to see how the wellness station works.