The 2020 OPID Spring Conference on Teaching & Learning will be held at the Memorial Union located on the University of Wisconsin-Madison campus with scenic views of Lake Mendota.
800 Langdon St.
Madison, WI 53706
Registration will be at the Memorial Union, Annex Room on the second floor. 
Complimentary wireless internet is provided in all meeting spaces.
Lodging Options
Madison, WI
Lodging for the 2021 Spring Conference on Teaching and Learning will be located near the Memorial Union. Room blocks will offer discounted rates to all UW conference guests. A limited number of rooms are available at each hotel.
Overnight Parking Allowed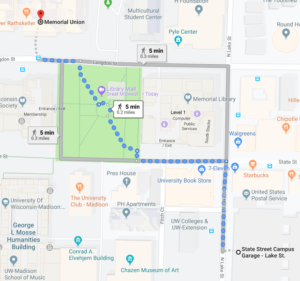 Walking distance on this map is not the true distance from each hotel to the Memorial Union, ie. both the Edgewater and the Hampton Inn & Suites are a 12 minute walk (0.6 miles) to the Union; Madison Concourse Hotel is a 14 minute walk (0.7 miles). Lowell Hall is 1.5 blocks from the Union and Graduate is slightly farther down across Langdon Street.