In addition to operational support of SFS, there are also various ongoing projects that UWSA will undertake to further enhance the system, improve business processes, and/or meet regulatory requirements. The page is dedicated to keeping the users of SFS informed of goals, timelines, and progress for each of these projects.
If you have ideas for future projects that the SFS Operations team should consider, please email UWSA Problem Solvers.
Project Updates
(as of May 2017)
WISER – the New WISDM
Current efforts are focused on enhancements to WISDM along with a new look and feel. Enhancements include the ability to review multiple years of data, open more than one browser instance, and improved ability to personalize the application. Design is in progress now, but WISER has begun rolling out. Portions of WISER which have been rolled out can be accessed via the menu in WISDM or at https://wiser.wisc.edu/.
Data Warehouse
We're working on development of two new datamarts within our warehouse, "AP/PO" and "PCard". The "AP/PO" data will consist of UW expenditures and will include vendor, purchase order, funding, and other key information related to payments made. The PCard data contains detailed information about our PCard charges (AKA level 3 data as received from US Bank). Once the datamarts are created, standard reports, dashboards, and ad hoc queries can be created for analysis and feedback. Much is yet to be determined with requirements and design in progress.
The PCard datamart has been implemented to date. Queries and reports are currently being generated and can be accessed via the Hyperion Interactive Reporting tool. Feedback regarding useful queries and reports is always needed and wanted. Contact ProblemSolvers with any suggestions.
Once completed, we'll use feedback related to these tools / data sets to help determine a strategic direction for SFS reporting.
Shared Vendor File
Currently in SFS, each institution has its own set of vendors specific to the Business Unit. The Shared Vendor File Project will consolidate all vendors in SFS to a shared vendor, used by all institutions. This will assist with reporting expenditures across the University of Wisconsin System.
eProcurement
eProcurement, or "ePro", is a requisitioning tool for SFS which is currently implemented for UW System Administration. Business units that would like to implement eProcurement should contact UWSA Problem Solvers.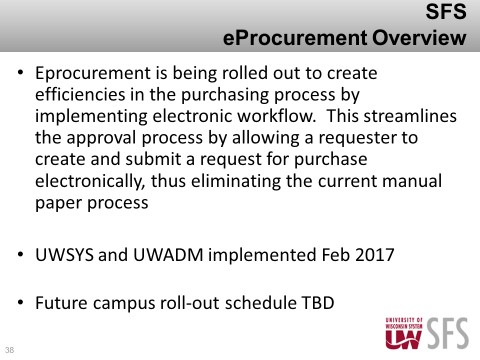 Cash Management
The Cash Management module in SFS is being implemented for bank reconciliations.
AJE Ledger
An additional ledger is being implemented to streamline reporting for the UW.
BI Publisher
Crystal Reports is no longer supported by Oracle as of PeopleTools 8.55. All Crystal Reports have been converted to BI Publisher, including checks.
Archiving
As the data in SFS increases over time, system performance is impacted. A project is underway to archive data more than 10 years old. This data will still be available in the datamarts for querying.
Matching
Matching is PeopleSoft's method for ensuring an organization's payments are released to its vendors only when a particular criteria is met
If a purchase order is flagged for matching, the matching process can perform three types of comparisons:
–2-Way Matching – Compares Vouchers and Purchase Orders
–3-Way Matching – Compares Vouchers, Purchase Orders, and Receipts
–4–Way Matching – Compares Vouchers, Purchase Orders, Receipts, and Inspections
2-Way Matching has been implemented for UW-Milwaukee and UW System Administration. If your institution has an interest in implementing Matching, please contact UWSA Problem Solvers.
SFS Road Map
Please note that this road map is subject to change due to regulatory requirements, changing priorities, or other factors, and that this represents our most current plan for the SFS Application over the next four years.