About
Keynote Speakers
Curtis J. Bonk
Today anyone can learn anything from anyone else at any time.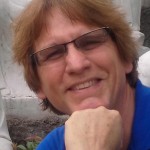 Sarah Horton
Improve quality of life through good design.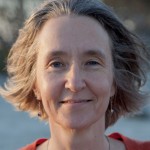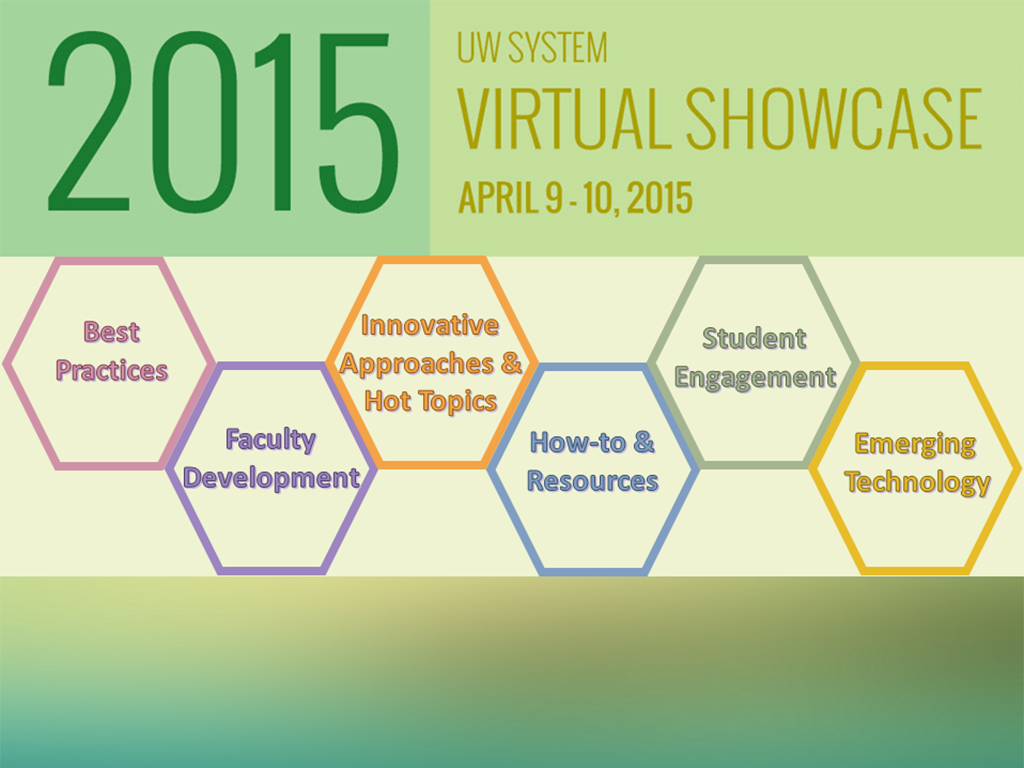 View Session Recordings
Did you enjoy the sessions and wish to view them again, or did you miss a session that you wanted to attend?  The recordings of showcase sessions are now available to be freely viewed.  To access the recordings, click on the "Thursday Schedule" or "Friday Schedule" tabs above, and then click on the appropriate session "Archives" link.
About Presentations
Presenters of the educational sessions are culled from educators from across the University of Wisconsin system representing all 26 campuses and the University of Wisconsin Extension.
Keynote Speakers
Dr. Curtis Bonk. Thursday, April 9, 2015
Look left, look right, look back, and then look dead-on straight ahead…what do you see? Of course, the air is filled with e-learning opportunities as well as talk of educational transformation. So much news. So much progress. Each second of the day, dozens of learners discover shiny learning nuggets previous unknown. Each week, thousands of schools, universities, corporations, and government offices announce strategic plans for e-learning. Every month, hundreds of new online courses, programs, and certificates are offered. Year after year, research reports and meta-analyses indicate that there are undeniable positive benefits of online teaching and learning. The world of technology-enhanced learning, is looking up, up, up. But wait a minute. It is no time to be content. It is not time to relax and just let the "inevitable" future unfold in front of our eyes. No! We must all jump in and help build the changes we want to see. Besides, there are hundreds of millions of people who cannot wait. They need access to a more free and open education today–one with high quality content, interactive and engaging tasks, and motivating technology use. This is a land of where nature (i.e., technology) meets nurture (i.e., pedagogy). It is time you joined in to build the future. Those attending this talk should be cautioned to check their hearts and credits cards at the door since this will be an emotionally-packed talk intended to make you act.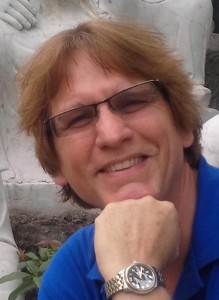 Curt Bonk is Professor of Instructional Systems Technology at Indiana University and President of CourseShare. Drawing on his background as a corporate controller, CPA, educational psychologist, and instructional technologist, Bonk offers unique insights into the intersection of business, education, psychology, and technology. He received the CyberStar Award from the Indiana Information Technology Association, the Most Outstanding Achievement Award from the U.S. Distance Learning Association, the Most Innovative Teaching in a Distance Education Program Award from the State of Indiana, and, in 2014, the Mildred B. and Charles A. Wedemeyer Award for Outstanding Practitioner in Distance Education. A well-known authority on emerging technologies for learning, Bonk reflects on his speaking experiences around the world in his popular blog, TravelinEdMan. He has authored several widely used technology books, including The World Is Open: How Web Technology Is Revolutionizing Education(2009), Empowering Online Learning: 100+ Activities for Reading, Reflecting, Displaying, and Doing (2008), The Handbook of Blended Learning (2006), and Electronic Collaborators (1998). His latest book, Adding Some TEC-VARIETY: 100+ Activities for Motivating and Retaining Learners Online (2014), is freely available. See Bonk's homepage for his archived talks and Web resources. Curt can be contacted at: cjbonk@indiana.edu or curt@worldisopen.com.
Today anyone can learn anything from anyone else at any time.

Dr. Curtis Bonk
Sarah Horton. Friday, April 10, 2015
We typically define accessibility as compliance with standards. For those with responsibility for digital accessibility, compliance can seem daunting, if not impossible. So many factors that influence accessibility fall outside of central control. What about third-party software used to provide central services? What about content provided by faculty and students? What about all the software in use that isn't even known of, never mind supported, centrally? The digital campus of most colleges and universities is loosely governed, making campus-wide adherence to accessibility standards a challenging goal in higher education.
What if, instead of standards compliance, we define accessibility as making a commitment and demonstrating progress? In this scenario, accessibility would begin with a clear, institution-wide commitment to providing digital resources that people with disabilities can use successfully. The accessibility commitment would be central to the mission of the institution—an abiding core value. Next would be establishing a baseline defining the current state of accessibility and then improving accessibility in current resources, while at the same time laying the foundation to include accessibility in all new resources. Individuals responsible for accessibility would be equipped with the knowledge and skills to successfully meet their obligations. A coordinated program with continual assessment would show progress toward achieving accessibility.
In this way, accessibility becomes a process that focuses on people and targets success.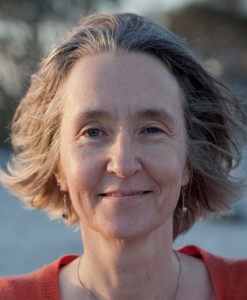 Sarah Horton started her career in interaction design in 1991 at the Yale Center for Advanced Instructional Media, creating award-winning interactive instructional software. She was an instructional technologist at Dartmouth College for 11 years before becoming Director of Web Strategy and Design. In this role, she was responsible for planning and developing Dartmouth's digital environment, leading a team of user-experience professionals responsible for web and media design, development, and production. More recently, Sarah was Web Strategy Project Lead at Harvard University, responsible for strategy and user experience design for the Harvard Web Publishing Initiative. Sarah is currently Director of Accessible User Experience for The Paciello Group.
Improve quality of life through good design

Sarah Horton
Thursday Schedule
(K) Keynote – (B) Best Practices – (F) Faculty Development – (H) Innovative Approaches & Hot Topics – (?) How-to & Resources – (E) Engagement of Students – (T) Emerging Technologies
Schedule for Thursday, April 9, 2015
Time
Session
8:45 – 10:00 AM
I am Not Content: The Future of Education Must Come Today (K) Dr. Curtis Bonk Archives
Session 1
Session 2
Session 3
10:15 – 11:00 AM
A Discovery-Focused Approach to the Instructional Laboratory in Biological Sciences (B) Presenter: Jeffery D. Fritz, Ph. D. UW-Marshfield/Wood County
Effects of Student Listening Practice on Identification of Perceptual Voice Characteristics in Dysphonic Voices (B) Presenters: Sharyl Samargia and Scott Wojtanowski, UW-River Falls
Leveraging Brightspace's Student Success System for Learning Analytics (H) Presenters: Renee Pfeifer-Luckett, UW System, Dan Voeks, UW-Madison, Dylan Barth, UW-Milwaukee
11:15 – noon
Students, Take Ownership of Learning Outcomes! (B) Presenter: Larry Schankman, UW-LaCrosse
Using Twitter to Engage Students in Scholarly Discourse (B) Presenter: Justin Davis and Linda Wawiorka, UW-Parkside
Bringing Remote Guest Speakers Into The Classroom (?) Presenter: George Krueger, UW-Platteville
1:00 – 1:45 PM
Online Access for All: Effective Online Course Delivery for Students with Intellectual and Developmental Disabilities (B)
Motivating students through achievements in Brightspace (D2L) (E) Presenters: Dylan Barth and Nicole Weber, UW-Milwaukee
Using Kaltura/MyMedia in Brightspace (?) Presenter: Michael King, UW-Stout
2:00 – 2:45 PM
E-Service Learning (B) Presenter: Elizabeth Simpson, UW-Whitewater
Maximizing Engagement and Learning for ALL Students (E) Presenters: Renee Chandler, UW-Stout
Using Web Tools and Desire2Learn Components as Formative Assessments in Blended and Virtual Environments (?) Presenter: Mary Churchill, UW-Superior
3:00 – 3:45 PM
Engaged For 5 Years: An Online Orientation for Distance Learners (B) Presenter: Yunhong "Tom" Tu, UW-Superior
Leveraging the Power of Collaboration to Develop an Online Professional Development Model (F) Presenters: Ryan Anderson and Terry Tao, UW-Extension, CEOEL
English Composition: Grading in the Digital World (?) Presenter: Cheryl Brickner, UW-Stevens Point
4:00 – 4:45 PM
WordPress for Engaging Students in Collaborative Research and Writing: A Case Study in Introduction to Women's & Gender Studies (E) Presenter: Dong Isbister, UW-Platteville
A Beginner's Guide to Blackboard Collaborate (?) Presenter: Karla Farrell, UW Colleges and UW-Extension
Using the Course Calendar to Manage Your Course (?) Presenter: John Hollenbeck, UW Colleges Online
Session Descriptions
Biological science courses typically are offered with both lecture and laboratory components instructing students in basic course concepts and developing basic laboratory techniques. Often, in an effort to assist students, laboratory sessions are simplified into stand-alone units that are largely passive exercises and may feel divorced from the process of discovery. In an effort to enhance laboratory practice and relevance, I have altered the laboratory sessions in introductory biological science courses from many single, stand-alone sessions into a multi-faceted exercise that requires students to develop laboratory techniques needed to resolve the exercise, and engage in the process of scientific discovery. During this process students determine the procedures, protocols and time-line needed to resolve the hypothesis under consideration as they apply multiple laboratory skills over several sessions. In developing a discovery- focused laboratory, the instructor must select topics of relevance, and of sufficient scope, to allow students to experience and practice core laboratory techniques. The reward for students is experience of scientific discovery process and development of laboratory technique. In sum, this approach to laboratory study draws on the role of human curiosity in motivating the learning process.
University of Venus: Curiosity and the Ideal (Academic) Workplace
The case study for this approach is an introductory microbiology course. Students are supplied with the required laboratory resources, instructed in basic concepts of microbiology, and challenged to isolate and identify each bacterial species from a cocktail containing many types of bacteria. Sufficient resources and training are provided to the students, they, through use of course materials and computer-based instructional resources, must determine the laboratory protocols and the coordination of these protocols to successfully complete laboratory assignment over 8 laboratory sessions. Overall, students have found this approach to laboratory learning engaging, challenging and fun.
Faculty often ask why it's necessary to post learning outcomes in syllabi, reasoning that, "students don't read them anyway." Granted, students have been conditioned to ignore any information that's not absolutely needed to pass exams. Yet, instructors have the ability to breathe life into outcomes by designing a series of metacognitive exercises that challenge students to track their own progress towards outcome achievement. This presentation will suggest easy-to-implement strategies for coaching students to take ownership of course outcomes and embrace a culture of reflective practice.
One suggested strategy involves a continuous process of reflection on 4-5 essential questions throughout the term. Whether formally—in a portfolio, journal or learning log—or just in their thoughts, students align learning outcomes to course readings, activities, discussions and assessments. In effect, faculty empower students to take ownership of their own learning.
Through continual reflection, students learn to recognize that student learning outcomes (SLOs) aren't merely bureaucratic requirements that instructors are obliged to post in their syllabi, but self-assessment tools that encourage them to apply what they've learned in the course to life after graduation (e.g. facts, methods, or perspectives on how the world works).
Students with intellectual and or developmental disabilities (I/DD) are incredibly underrepresented in higher education degree-seeking programs. Due to lacking compliance of Section 508 standards and poor practices in Universal Design for Learning (UDL) strategies in an online delivery format, there are increased challenges for I/DD students to gain access to associate's and bachelor's degree programs. Research has shown that due to the massive underrepresentation of I/DD students in associate's and bachelor's degree programs, underemployment, unemployment and lack of competitive wage opportunities are a consistent barrier for individuals with I/DD to gain independent lifestyles. Institutions of higher education have been motivated in creating accessible virtual classrooms for physical, visual, motor and auditory related disabilities, however, web accessibility is rarely reviewed for intellectual or developmental disabilities because of an assumption that I/DD students are not interested in obtaining post-secondary degrees. Recent studies have shown that this assumption is inaccurate and I/DD students are willing and able to earn degrees in post-secondary institutions. This presentation will discuss how utilizing universal design in learning principles in an online educational setting will engage higher education administrators, faculty, instructional designers and academic support staff to create a more inclusive learning environment that will allow I/DD students to practice and have exposure to necessary skills in web-based information delivery systems. Increasing access and inclusion to online educational opportunities for I/DD students promotes employable skills in competitive wage settings to reduce underemployment for a specific population.
Service learning is a powerful tool to foster critical thinking, engage your students, and promote civic engagement. E-service learning is a service learning program or project conducted online. This format allows students limited by work obligations and geography to participate. This session will introduce some formats for online service learning, some common partnerships, and the practices of other faculty.
To prepare new students to be successful online learners, University of Wisconsin at Superior Distance Learning Center started to offer a 100% online, student self-paced orientation program delivered in the Desire2Learn (D2L) Learning Environment in 2010. The user-friendly and user-centered design of the program made it's possible for the students to acquire an authentic online learning experience transferable to the upcoming online courses they will be taking. The students not only learn how to use different D2L tools by actually using them to complete different assignments, but start building connections to the campus and program as well as useful learning and academic support resources. As the instructional designer and lead instructor for the orientation program, the presenter will share what he learned in the past 5 years and how this orientation program helped the UW-Superior's online program become one of the nation's top ranked online Bachelor's Programs.
Recognizing that technology is an important and integral component of learning and teaching, educators in different disciplines have utilized various forms of media to deliver information and engage students. They have also discussed benefits and limitations of using technology in instructional activities. With a focus on a specific form of media WordPress, this presentation aims to further explore how use of media may foster or impede student learning in some classes and discusses the implications of using social media in pedagogical practices.
The presentation is based on a Scholarship of Teaching and Learning (SoTL) project that aims to engage students in Team-Based Learning by using WordPress as the medium of a collaborative project in Introduction to Women's and Gender Studies. It discusses pros and cons of using of WordPress and blogging student teamwork, collaborative research and writing by providing quantitative and qualitative assessments and the instructor's reflections.
Although perceptual analysis of voice is commonly used for assessing voice disorders and tools used for perceptual analysis are valid and reliable, it has been under scrutiny due to individual listener variability. Authors have suggested accurate perceptual voice assessment requires "extensive professional experience" which raises important questions regarding how much listening practice is needed to best train students in perceptual voice assessment. Listening practice is a common tool used in training students however, no direct investigations have been done to determine the amount of practice needed for students to enter the profession and competently conduct perceptual assessments in patients with voice disorders.
To determine the amount of practice needed to improve graduate students' perceptual assessment skills of breathiness, strain, roughness and overall severity in patients with dysphonia, second year graduate students in the Department of Communicative Sciences and Disorders at UWRF were recruited and randomly assigned to three groups: no practice (0 samples per week), low frequency practice (5 samples per week) and high frequency practice (10 samples per week).
Audio samples were delivered to students in these groups using Kaltura MediaSpace in the quizzing tool of the University's course management system, D2L.
Student ratings of 10 preselected samples were used as a baseline; the same samples were used as a probe after the 5 week intervention phase. Students practiced listening to randomly assigned voice samples for a 5week intervention phase, during this phase, immediate feedback was provided after they listened and completed the CAPE-V form for each practice sample to ensure the practice was meaningful.
With the advancement of technology and the struggle for engagement in classrooms, it is more important than ever to engross students in rigorous, scholarly communication. All too often, classroom conversations become mundane and a regurgitation of assigned readings. Using Twitter can engage students in deeper thought and allow the freedom to synthesize new ideas as well as freely express opinions. Students are now more adept than ever to using smart phones and mobile devices to engage in the world around them. Now is the time to engage students by showing that we, as educators, care enough to bring education to them. It is time we start to dive in and show our students how they can use this social media powerhouse to build a professional learning network, engage and share in scholarly discourse as well as develop their digital literacy. With Twitter, students can begin to connect the world around them with the concepts they are learning in the classroom. These connections are what takes the theory we teach and creates concrete connections to material students only deem abstract. This presentation will show how I, an instructor in the Institute for Professional Educators Development, have used Twitter and the necessary technology to create a running feed of my Twitter as a widget on my homepage in Desire2Learn. I will explain how I incorporate Twitter into my syllabus and online discussions to encourage scholarly connections to the world and allow students to present their ideas from their findings on Twitter. By using hashtags, my class has been able to communicate more thoughtfully and engage in conversations beyond class time and class material. After having incorporated Twitter in my Education class for a semester, I will discuss the qualitative feedback from students regarding their feelings toward the social media integration.
Gamification in higher education continues to draw the attention of instructors who wish to engage and motivate their students to learn more effectively. PBLs—Points, Badges, and Leaderboards—are common approaches for introducing game elements into courses, and badges in particular are "being increasingly used as a rewards system for learners" (2014 NMC Horizon Report 42). In our presentation, we will showcase our use of badges—which we call "achievements"—in both a blended undergraduate business writing course and an online undergraduate/graduate foundations of research course at UW-Milwaukee. The purpose of using achievements in our courses was to reinforce the habits that make our students successful and to reward students for consistent performance on activities and assessments. Students could earn achievements by attending class regularly, visiting the course site daily, interacting in online discussions beyond the minimum, earning high marks on assignments and quizzes, participating during in-class discussions, and winning in-class games. If students earned a set number of achievements throughout the semester, then they received extra credit for the course that was applied to their final grade. We used the Brightspace (D2L) Grades area to visually display the achievements that students earned as well as the remaining available achievements. In this session, we will also discuss our process for creating badges, our methods for tracking student progress, the survey data collected from students, the lessons we learned, and the future directions for achievements in our courses.
There is a rapidly increasing range of academic diversity in higher education, yet many instructors continue to assume that traditional instructional strategies and course designs meet the needs of all learners. How do you ensure that all students are engaged and learning within the online learning environment? The Universal Design for Learning (UDL) framework firmly supports the idea that "one size does not fit all" when it comes to teaching and learning. The UDL approach considers the widest possible range of learners during the initial design of curriculum, reducing the need to make time-consuming modifications later. This is done through multiple means of representation of content, multiple means of expression, and engagement.
This presentation will focus on how student choice and scaffolding are used in an online course in order to allow students to demonstrate their knowledge and skills in a multitude of ways. A critical consideration in course design was to maximize the learning outcomes for all learners without lowering standards or expectations. Participants in this session will see how the instructor has utilized Universal Design for Learning (UDL) in her decisions to allow students choices in how they demonstrate mastery of the course objectives. A foundational framework for design considerations will be provided as well as specific examples of tools used to motivate students, assess their learning, and track progress throughout the course.
What would happen if three organizations joined together to develop a professional development model that was focused on sharing successful online teaching practices from the perspective of faculty members? This presentation highlights the collaboration of three institutional partners: University of Wisconsin-Extension, Division of Continuing Education, Outreach & E-Learning; University of California, Irvine, Distance Learning Center; and University of Washington, Professional & Continuing Education. These three organizations are part of a larger group of institutions committed to working together on a wide range of online learning initiatives. Representatives from the three universities met to develop a platform for faculty to share their online teaching experiences with other faculty. The result is a collaborative website that showcases how experienced online faculty design, develop, and teach online courses. A collection of instructional overview videos and topic-focused interview videos and tip sheets provide answers to the following questions:
Where do I start?
What happens to my lecture?
What will my course look like?
How do I communicate with my students?
How do students communicate with each other?
How do I check for understanding in an online course?
How do I grade online discussions?
How do I keep students engaged online?
In this session, we will demonstrate creating a Blackboard Collaborate meeting in the My UW System portal and D2L. We'll also talk about the basics of moderating a meeting.
Implementation of learning analytics has the potential to optimize learning environments for teachers and students alike. Learning analytics leverages digital data to help instructors effectively monitor student learning activity and subsequently provide more timely and frequent personal interventions. Five UW System schools (Madison, Platteville, Colleges Online, Green Bay, and Milwaukee) have been engaged in an early stage pilot of Brightspace's Student Success System (S3). S3 is predicated on robust predictive algorithms and produces sophisticated data visualizations. S3 allows for: i) identification of predictors of course success; ii) early identification of at-risk students; and iii) establishment of early and frequent interventions strategies.
This virtual session will provide a high level overview of the Student Success System including model creation and data visualization; talk about evaluation results of the 3-year pilot; and discuss lessons learned for future application of learning analytics.
Bringing guest speakers into the classroom can be a challenge due to travel restrictions, time and scheduling issues. The use of D2L Online Rooms allows guest speakers to conduct classroom presentations from their desk. Another advantage is that the presentation can be recorded and used for other classes. This presentation will cover the strategy, use, issues and benefits of using this technology.
Kaltura/MyMedia is a new instructional technology tool available for students and instructors, in Brightspace (D2L). Instructors are using it to deliver lecture capture, flipped classrooms, and screen recording demonstrations for distance education students. Students are using it to deliver presentations and participate in BrightSpace discussion forums.
Kaltura/MyMedia can process and hold various types of media. This repository can be personal or shared in a Brightspace (D2L) course. Instructors can record mini lectures from their web cam, do screen recording for demonstration, voice over a PowerPoint, or upload previously created video. These videos and are stored in the instructor's own "My Media" repository and can be placed in a variety of the instructors courses.
We will showcase various ways Kaltura/MyMedia is being used at the University of Wisconsin-Stout to enhance student learning and engagement, and provide ideas and strategies for instructors to consider for incorporating video into their teaching practice.
Looking for alternatives to written papers and quizzes as formative assessments? Interested in using technology that won't cost anything? While the available opportunities are endless, they can also be overwhelming. As teacher facilitators, we quickly understand that students do not always know more about technology than we think. In this session, the presenter will demonstrate how she has used technology in both online and on-campus courses as the basis for formative assessments. Primary focus will be placed upon using Web 2.0 tools and Desire to Learn Components. Examples of student work will be shared.
Assessment is a key component for university accreditation. The Desire 2 Learn (D2L) IPad Grader App is a valuable tool for instructors that can provide digital examples of student achievement, along with accompanying hand-written feedback, necessary to meet the standards required for university course assessment. Through the IPad Grader App, an essay uploaded to the D2L Dropbox by the student can be accessed for grading electronically. The IPad Grader App has two important grading functions-handwritten grading and/or grading with text and toolbar options. These allow the instructor to grade written work in a few simple steps and return the graded assignment to the student with important feedback, without collecting cumbersome hard-copy essays. Have you thought about how you will collect data for course assessment? Do you want to critique documents digitally? Have you explored the tools D2L has created to provide feedback digitally? This presentation will take you step-by-step through the D2L grading process for written material demonstrating the functionality of this digital media.
One of the key factors in student retention is helping them not get behind in class. There are a number of course deadlines through each semester that students need to track. Fortunately, Brightspace provides an easy way to provide students access to those deadlines. This is the Brightspace Calendar Tool. Each Activity Tool in Brightspace has a way to set the beginning and ending dates. These dates, once set, automatically appear in the student's Brightspace Calendar, and are accessible in a number of locations both inside and out of the class. In addition, important dates can be added directly to the calendar. The presentation will give an overview of how the Brightspace Calendar works inside of the learning management system from both the instructor and student perspective. This will include generating a calendar, publishing it and subscribing to it from a variety of calendars and devices. The Manage Dates tool will also be covered extensively. This lesser known Site Resource gives a complete overview of all course elements and allows dates to be set directly in a single interface. More importantly, it allows a set of dates to be modified in one step. If a Dropbox was due on Monday in the fifth week of the Fall semester, Manage Dates can change that date to the fifth week of the Spring semester. Setting dates seems both simple and bothersome. By the end of this presentation it will be an essential part of every course in Brightspace. Handouts will be provided.
Friday Schedule
(K) Keynote – (B) Best Practices – (F) Faculty Development – (H) Innovative Approaches & Hot Topics – (?) How-to & Resources – (E) Engagement of Students – (T) Emerging Technologies
Schedule for Friday, April 10, 2015
Time
Session
8:45 – 10:00 AM
Defining Accessibility (K)
Sarah Horton
Session 1
Session 2
Session 3
10:15 – 11:00 AM
Successes and Failures of Online Instruction (B)
Presenter: Crispin Pierce, UW-Eau Claire
Online Teaching Short Course: Getting Ready to Teach Online (F)
Presenter: Richard Berg, UW-Stout
Creating and Facilitating Discussions (?)
Presenter: Elizabeth Simpson, UW-Whitewater
11:15 – 12 noon
Going Above and Beyond: Using D2L for Online Orientations & Training (B)
Presenters: Amy Williams, Elizabeth Simpson, and Jessica Eddy, UW-Whitewater
The Online Teaching Sharing Community (F)
Presenter: Marya Wilson, UW-Stout
Connections & Collaborations: Using Blackboard Collaborate to Connect Nurses and Faculty in the Northwoods of Wisconsin (F)
Presenter: Christine Vandenhouten, UW-Green Bay
1:00 –
1:45 PM
Assessment Enhancement: Personalization with Vocal Evaluation
Presenter: Kristin Tjornehoj, UW-River Falls
Student Perspectives on Using Technology in Active Learning Spaces: Supporting Both Formal & Informal Learning Environments (H)
Presenters: Carrie Kruse and Sarah Mason, UW-Madison
Collaborating Online Using a Jigsaw Learning Strategy (?)
Presenter: Deanna Schultz, UW-Stout
2:00 – 2:45 PM
Digital Observation Technology Skills (DOTS) Kits: Connecting to Your Community Through Technology (T)
Presenters: Justin Hougham, UW-Extension and Kevin O'Brien, Upham Woods Outdoor Learning Center
Flipping the Business Writing Classroom: Technology Challenges and Successes (H)
Presenter: Paula Lentz, UW-Eau Claire
Using Brightspace Analytics to Improve Retention (H)
Presenter: John Hollenbeck, UW Colleges Online
3:00 – 3:45 PM
Support for the Life Cycle of Student Digital Media Projects: Partnerships, Services, & Spaces (T)
Presenters: Rosemary Bodolay, Carrie Kruse, and Dave Luke, UW-Madison
TeachOnline@UW Madison: Lessons Learned from Faculty Learning Community Pilot (F)
Presenters: Karen Skibba, Kari Jordahl, Jonathan Klein, and Mark Millard, UW-Madison
Defining High Quality Asynchronous Discussion Design & Facilitation Practices (F)
Presenter: Kevin Forgard, UW Colleges Online
4:00 – 4:45 PM
Engaging Undergraduate Students in a Research Methods Course via Planned Smart Phone Usage Exercises (E)
Presenter: Kate Ksobiech, UW-Whitewater
Gamification in D2L (H)
Presenter: Elizabeth Simpson, UW-Whitewater
You Can do This Too! The Virtual Showcase Method for Planning Multi-session Online Conferences (?)
Presenters: Thomas Arendalkowski, UW Colleges and UW-Extension, Molly Immendorf, UW-Extension; Karla Farrell, UW Colleges and UW-Extension; Elizabeth Simpson, UW-Whitewater, Jennifer Hendryx, UW-Oshkosh
Session Description
Online courses should provide a balance of independent, asynchronous workload with regular feedback and connection with other students and the instructor. This presentation will highlight elements such as a video introduction and explicit course calendar that have been helpful, and elements such as having students police themselves for plagiarism in group projects that have not.
A demonstrated need at the University of Wisconsin-Whitewater is the availability of online resources for orientation and training purposes. Over the past few years, the Learning Technology Center (LTC) at UW-Whitewater has worked to meet this need through employing D2L to provide the [mechanism] for online orientations. This presentation will touch on three different instances in which the LTC has used D2L to create orientations: TechQuest, a technology orientation directed at freshmen and incoming students; an online student orientation; and a new employee training orientation. All of these orientations are either brand new this academic year or are currently undergoing revision. We will provide a general overview of each orientation and its history, its current status, and possible assessment. Finally, we will discuss the benefits of using a course management system for orientations as a whole.
Working with online assessment can be personalized with voice evaluation. Enhancing the personal connection with students is important in online instruction. Validation of work and personalized evaluation using voice rather than simply numerical or grading can help the students feel like there is a real teacher behind the course. This kind of personalization can increase the desire to succeed. Voice activation of assessments can increase learning if instruction to review, rewrite or redo an assignment is required with teacher guidance My presentation will showcase the personality that can be displayed and connections with students possible through vocal assessment.
Upham Woods Outdoor Learning Center (a University of Wisconsin-Extension 4-H facility) is refining best practices in digital pedagogies for outdoor education and we are investigating approaches for 'field friendly' applications of digital inquiry tools that provide hands on use of hardware and apps in environmental science education. Strategies and methods for applying field friendly technology in environmental education is an important content area for addressing college and career readiness for youth today. We use mobile digital technologies in our outdoor learning laboratories, doing so through the use of Digital Observation Technology Skills (DOTS) kits. Using digital microscopes, remote sensors, cameras, thermal imagers and trail cameras, this program explores hidden environments, such as habitats, nocturnal wildlife movements, microscopic soil features, and the thermodynamics of living organisms. The design principles for these kits include considerations for power, memory, connectivity, digital artifact keeping and platform neutrality. We employ these strategies in programs that use mobile technology tools to enable deep observation and investigation of natural environments, making the 'invisible' both visible and accessible to exploration and study. Additionally, we adapt these approaches for use state-wide in classrooms, parks, farms and labs. Framing research as experiential education, the benefits of technology in environmental education as well as in outdoor education are tremendous and growing. Acknowledging the pervasiveness of technology and the contextualized relevance of place conscious approaches to education, these trends in education can enliven as well as make accessible to new audiences the potential of field-based science education (Hougham 2013). In developing educational experiences that employ applied research, students should connect as authentically as possible to research opportunities in the areas they live, study, or visit.
The University of Wisconsin-Madison's College Library leveraged campus technology partnerships to develop an adjacency of spaces and services that support student digital media projects from the point of assignment through final production and display. Using examples from our experience, we will provide an opportunity to consider partnerships that allow for services and spaces that bring together media-supported classrooms, software training, equipment check-out, design consultations, help desk assistance, and a showcase event that all support students throughout the steps in creating digital media projects for courses and professional development. In 2012, the computer lab of College Library, already a partnership between libraries and campus IT, was remodeled to include two new instructional initiatives: the Media Studio classrooms and a consultation service called DesignLab, forging new opportunities to connect students, instruction and technology. The Media Studios allow for semester-long courses that involve collaborative digital projects to be supported by flexible room set-up and high-end media equipment. DesignLab offers one-on-one consultations with students to provide guidance on producing and presenting well-designed posters, videos, animations or other digital media. The computer lab location also has a software training classroom that offers student-led technology workshops, a collection of computer and software manuals, a large and varied equipment check-out service, and a help desk that provides point-of-need assistance at all hours in this 24-hour library. Every spring, the libraries and DesignLab sponsor a "Digital Salon" that showcases student work in both an online and in-library exhibition. Each of the steps in the life cycle of a digital project, from assignment to presentation, allow chances to connect spaces, technology, teaching, support and the final projects themselves. The presenters will discuss how other institutions can think about ways they can also find similar synergies between innovative combinations of the above.
Research methods is a challenging course to teach under the best of circumstances, given its content is oftentimes totally unfamiliar to undergraduate students. The lure of distractions via checking smart phones and other devices during class lectures is detrimental to comprehending material in all courses; therefore, adjustments need to be made to assist students in using their devices in a meaningful way during the lectures. Small group exercises/tasks that allow students to use devices is both enjoyable and instructive. Example #1: Students are given a list of 5-10 references in AMA style, and have to convert them to an APA style reference list. This requires students to look up the abbreviated journal titles to get the full names, follow the APA style rules by going to another site, and retype the references appropriately. The group that can correctly provide the revised references "wins" some minor reward. This can be easily converted to a smaller-scale task, depending upon time constraints.Example #2: As a small group, students decide upon a research topic and research question. Each member is then required to locate one relevant academic article as part of the literature review visa an available online resource such as EbscoHOST. Require the students to read the article abstracts, and report on results as a group. A side benefit of this exercise is to show the students how difficult it is to use smart phones for this purpose. Example #3: Assign students dependent variables relevant to the discipline, and have them work in pairs to locate valid and reliable measures via GoogleScholar. Require them to email the instruments to the instructor, who can then pull them up and go through some/all to illustrate the concepts of validity and reliability, and provide students with direction for future assignments using "tried and true" measures.
The Online Teaching Short Course (OTSC) at UW-Stout is intended to help educators more effectively facilitate an online course. Developed and offered by Learning Technology Services, this course assists educators with how to structure and manage the online teaching environment. It provides a basic foundation for teaching online and does not delve deeply into course development and design. Upon completion of the Short Course, participants will have completed course components for inclusion in their online course and developed strategies for facilitating the online learning experience. These include a script that can be used for an instructor introduction video, a syllabus suited for use in an online course, and a discussion board grading rubric. Participants also investigate different non-LMS learning tools that may assist them in their course delivery, such as cloud storage, blogging, video, screen capture, social bookmarking, photo sharing, presentation creation, wiki creation, audio, and live communication. The OTSC is designed for instructors new to online teaching or who would like a refresher focused on managing the online learning environment. Participants should be familiar with the LEARN@UW-Stout (D2L) learning management system prior to enrolling in OTSC. The course, which is offered after the ends of the Fall and Spring semesters, has a three-week timeline, but participants may work ahead if they desire to do so.
Takeaways for this session include:
 • Ideas for replicating this course on their own campus
 • Access to materials used in the course offered at UW-Stout
In recent years, more and more of our faculty members have been asked to teach online courses. While some have brought a wealth of technical skill, many are "learning as they go." Desiring to produce the most effective online educational environment and experience for students and instructors alike, we facilitate a Sharing Community that is exploring instructional practice associated with successful online teaching. Conversations are structured based on topics associated with the Quality Matters rubric, online assessment practices, group presentation strategies, and effective organization of the Learn@UW-Stout platform to enhance student learning. Issues that are discussed range from developing meaningful online learning objectives (student competencies) and assessment practices to evaluating sites for student accessibility. Participants also actively discuss how to creatively encourage learner interaction and engagement.
The Wisconsin Collaboratory for Enhanced Learning (WisCEL) at the UW-Madison campus offers multi-purpose spaces in libraries that support active learning classes as well as informal evening study. WisCEL learning environments feature flexible space, furniture, and instructional technology options. WisCEL is focused on the improvement of the undergraduate learning experience, active learning pedagogies, the use of technology-enhanced course design, and achievement gap closure. The multi-purpose aspect of WisCEL includes a comprehensive options for technology-enhanced formal instruction, self-paced independent and group study, tutoring, and even social events. In the fall of 2014, WisCEL reached out to students who use the space to hear about their experiences, both during classes and as part of general library study use. The presenters will share video-recorded interviews with students focused on their comments regarding technology. After a brief overview of how the active learning environments are designed and supported in their multiple uses, the presenters will facilitate a discussion on what we learn from student reactions to the role of technology in such spaces. How does is foster collaboration? What is the effective use of technology in classes? What makes this kind of space a good general study space? What connections can be found between the class use and informal use of technologies? Given our role as learning technology professionals, what can the learners tell us to help inform our work? Learn from the student experience in WisCEL at UW-Madison to improve technology-enhanced learning spaces at your institution.  http://wiscel.wisc.edu
This presentation addresses my experience in flipping my Advanced Business Writing class's formal research report assignment. I flipped the unit because the traditional lecture-discussion format resulted in my students spending more time negotiating the logistics of group work outside of class than they did writing the report, and of course the grades were not good. Further, students became frustrated and saw the assignment as just another group project. Using the flipped model, students do the group work in class and work through the traditional lecture material outside of class. Initially, the major issues in flipping the classroom were finding a way to engage students with the material and to have them be accountable for learning the material before coming to class. To address these issues, I used Articulate's Storyline software to develop several interactive online lectures on the various aspects of report writing. Before each class, students work through a tutorial, which contains several interactive assessments. Students' scores on the tutorial automatically import to the D2L grade book. Class time is used for group work—gathering information; generating, evaluating, and organizing information; writing; and editing. During class time, I also consult with each group and help students with content and writing issues. The flipped classroom has been helpful in meeting the objectives of the report assignment. Students find that they are better able to manage their time when they have regularly scheduled group meetings and are then able to do individual work outside of class. They also enjoy the online tutorials. Grades have improved, and students' writing has improved as well. The biggest challenge in flipping the classroom has been finding a reliable and efficient way to track students' completion of the tutorials in the grade book.
When instructors transition from teaching face-to-face to online, they experience many challenges. They may be uncomfortable learning new technologies, or need assistance aligning objectives to assessments and learning activities, managing workload, creating a positive learning community, and engaging students. Adding to these challenges, teaching online requires different pedagogical strategies than those typically associated with classroom-based courses. A cross-campus committee of instructional designers at UW-Madison piloted a year-long collaborative learning community called "TeachOnline@UW" to try different strategies and support models to help faculty to plan and teach quality online courses. For example, this committee realized that in order to transform teaching practices and help instructors move beyond online lectures, videos, quizzes, and discussions, it was important for instructors to be part of a learning community to work on their own courses and share ideas with colleagues while learning new strategies. Therefore, the committee developed high-quality online course experiences that showcased Quality Matters standards, various technologies, and strategies that were practical and encouraged new ways of thinking about course design and teaching. As "online students," instructors explored research-based pedagogical and technological approaches to develop their online course design and facilitation skills through a variety of online learning activities. This included engaging discussions and activities that helped the faculty participants begin their course design and build online learning communities. The online units were followed by face-to-face sessions where the participants collaborated with a team of colleagues to collaborate on their course planning and share experiences and strategies. This session will share an overview of the program, activities utilized to engage instructors, results based on participant feedback, and lessons learned from the learning community model to prepare faculty for the challenge of online course design and teaching.
Gamification is the application of game elements and game-like thinking to course materials to encourage active learning and deepen student engagement. Gamification can improve student motivation, inspire increased interactivity in your classroom, and allow you to reward successful completion of learning outcomes in new ways. Models of gamification, along with simple yet creative ways to add gamification techniques to your D2L course, will be discussed.
Discussions in D2L are a form of asynchronous interaction between the members of a class. When designed properly, discussions build a learning community, encourage critical thinking, and help your students apply the material they are learning. This session will introduce you to some best practices in designing and facilitating discussion in D2L and will include sample discussion prompts you can adapt for your course.
Pursuing a Bachelor of Science in Nursing (BSN) degree is no easy feat when balancing work, family, and the demands of coursework. Faculty from UW-Green Bay's Professional Program in Nursing used an innovative approach to assist students living in northern Wisconsin to fulfill their dreams of earning a BSN. Historically the UW-Green Bay nursing program offered classes in northern Wisconsin each semester but low student enrollment threatened to cancel these courses. Employing Blackboard Collaborate (BBC) to offer RN to BSN courses was the perfect solution for the nursing program known for its innovative use of technology. UW-Green Bay's nursing program partnered with NWTC-Marinette and Nicolet College in Rhinelander to offer RN to BSN courses on their campuses. Both northern campuses offer associate degree programs in nursing making this a perfect collaboration. To assist rural students who are often reluctant to take online courses, UW-Green Bay nursing faculty employed BBC within the D2L course platform to connect students from these 2 distant campuses. Faculty physically attend class each week, alternating between the Marinette and Rhinelander campuses. Students attend class each week in their preferred location. When faculty are remote, students engage the BBC technology on their home campus with assistance of technology staff. The result is an effective partnership between faculty, students, and technology support staff from NWTC- Marinette and Nicolet College campuses. Students gain valuable skills and confidence in the use of technology. Faculty develop skill in using the technology facilitate conversations about contemporary healthcare issues. Since offering courses in the northwoods, many students realized their dream of earning a BSN. Blackboard Collaborate is an effective tool to connect rural students while ensuring efficient use of resources (i.e., faculty and technology) to enhance the education of nurses from Wisconsin's most remote areas.
Have you ever used a strategy in a face-to-face classroom and wondered how it could be used online? This session will provide an overview of the jigsaw strategy which involves students working in "home" and "jigsaw" groups to learn material and present it to their peers. The presenter will explain the steps in the process of using the strategy and demonstrate its use in an online graduate education course.
A key mission for UW Colleges Online is to increase student retention in courses. Unsuccessful online students report they were not successful in completing the course because they got behind and could not catch up (Fetzer, 2012). Other reasons include technical difficulties, motivation, and a perception the online course was too difficult. Learning management systems provide analytical tools that notify instructors and/or educational institutions when a student is struggling. UW-Colleges Online is developing retention strategies to use data from these analytics to improve student success. The purpose of this presentation is to show the analytic tools being employed in courses, and how those tools are supporting the College's core mission. The presentation will begin with an overview of what analytics are and are not. It will discuss how data is collected, and what it says and does not say. A sample course will be used to illustrate what Brightspace collects and how it is presented. This part of the discussion will focus on the User Progress tool of Brightspace. The proactive use of analytics will then be discussed, and participants will be show how data can be paired with Brightspace's intelligent agents to automatically generate student communication based upon given data rules. Participants will also be given strategies for using Brightspace's conditional release functions to create targeted feedback and control progress through learning materials. Examples for UWC Online's course designs will inform this discussion. Finally, examples of how students can us analytics will be presented, including a dashboard widget that sums their progress and time spent on task while learning. Instructors and designers will be shown how to set up analytic tools to better keep students informed of their progress.
With the proliferation of the use of asynchronous (or threaded) discussions in fully online or blended courses, it is important for educators to consider how the design and facilitation of discussions enhance student learning and mastery of course learning outcomes. Several questions may be raised that are worth consideration as faculty utilize asynchronous discussion activities in their courses. For instance, when interacting with students through asynchronous discussion prompts and responses, what sort of learning is taking place? Are discussion prompts engaging learners? Are learners internally or externally motivated to actively participate in discussions? And, are the discussions congruent with course learning outcomes? In this presentation, participants will be provided with information on key and recent literature that investigated the design and delivery of asynchronous discussions, and asked to share some of their ideas of what makes a high quality online course discussion. In addition, the facilitator will present examples of asynchronous discussion prompts for the group to critique and serve as illustrations of poor and high quality practices with hopes that all attendees will have a better grasp on how to best create and facilitate an asynchronous discussion activity. Through the session, participants will be presented with a list of practices and principles that they may utilize to create and deliver high quality asynchronous discussions in their online courses.
How do you organize a full-fledged online conference? Most of the advice out there focuses on how to deliver a single online presentation. What about multi-session events? Join the planners of the LTDC Virtual Showcase as they share their experience in designing and delivering a large, multi-day webconference with multiple simultaneous tracks, dozens of presenters, and hundreds of attendees.
FAQ
Attendee Information
The conference is scheduled for April 9 and 10, 2015.
No. Anyone with a computer and an internet connection can attend.
It is free to attend the Virtual Showcase.
No, but it is recommended. Registering in advance will ensure that you will be informed of schedule changes and other important updates.
Presenter Information
Unless you are one of the keynote speakers, probably. You can apply as a co-presenter with someone affiliated with the University of Wisconsin.
The deadline for submitting education session proposals has been extended to February 13, 2015.
We will notify presenters of selected education sessions in late February.
Technical Information
We will be using Blackboard Collaborate.
A complete list of education sessions, descriptions, and links to the virtual conference rooms will be posted on the Sessions tab as it becomes available.
Yes. Sessions will be recorded and links to the archives will be posted on the Sessions tab after the conference.
Committee
The committee is comprised of representatives from across the University of Wisconsin system. Representatives are:
Karla Farrell – Chair
University of Wisconsin Colleges and Extension Central IT
Thomas Arendalkowski
University of Wisconsin Colleges and Extension Central IT
Molly Immendorf
University of Wisconsin Extension Cooperative Extension
Jennifer Hendryx
University of Wisconsin Oshkosh
Joshua Krohn
University of Wisconsin River Falls
Stacy Leno
University of Wisconsin Superior
John Oppenheimer
University of Wisconsin Madison Continuing Education
Elizabeth Simpson
University of Wisconsin Whitewater
Paulina Gardner
University of Wisconsin Colleges and Extension Central IT