Starting Point
Start in the Credit Transfer Wizard section. Select the Course Wizard option from the graphic in the middle of the page.
Step 1: Pick your UW or WTCS Campuses
As shown in the graphic below:
Select UW-Green Bay from the "Transfer From" pulldown menu. (A)
Select UW-Milwaukee from the "Transfer To" pulldown menu. (B)
Click on the "Next Step" button. (C)

Step 2: Pick a Department
The "Department" pulldown menu shows a list of departments (or areas of instruction) at UW-Green Bay. Pick "HIS – History". (A)
Click on the "Match All Courses" button. (B)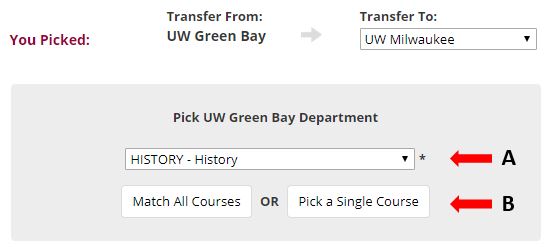 **This list contains only departments for which transfer course information has been provided to TIS by the transfer school.
Step 3: Interpreting Your Transfer Report
Follow the link above to a sample Transfer Report with explanations of the different areas. Your department lookup report will have different information.