Together, the 26 UW campuses have over 9 million unique items (over 17 million volumes) available to students, faculty, researchers, and the greater Wisconsin community. The UW Libraries' vision of "One System, One Library" allows for an extensive, yet efficient collection in times of increasing library costs. While each UW campus has its own library collection and staff, some decisions are made at the UW System level by the Library Program Director and various committees.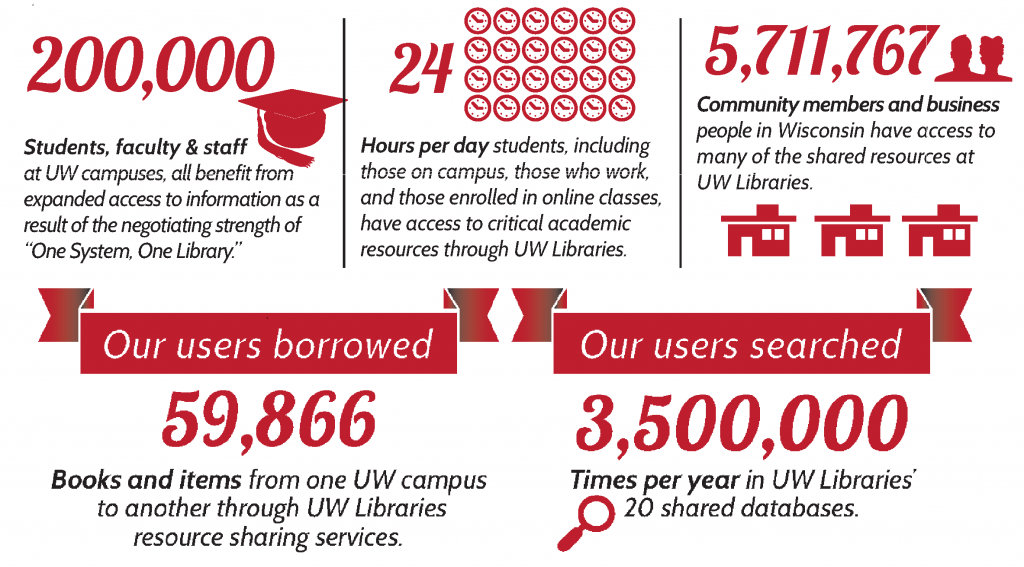 For Wisconsin Residents
The UW Libraries' resources are available not only to students, faculty, and staff, but also to all Wisconsin residents. Patrons not affiliated with UW can use print and online resources within the UW libraries and, in some cases, obtain a library card to check out materials. More information can be obtained by contacting the UW library you are interested in visiting.
Resource Sharing
Students at each UW campus can request books from other campuses' collections and receive them within 2-3 business days; they can also go to any UW campus library to check out books with their student IDs.
Systemwide Administration
The UW System Library Program Office supports library staff, students, faculty and researchers on the 26 University of Wisconsin campuses by coordinating and managing system-wide shared collections and services. The Council of University of Wisconsin Libraries (CUWL) provides a forum for library and information technology planning within the University of Wisconsin System.