42nd Annual Faculty College 2022:
Teaching  & Learning with a Social Justice Lens
THE OSTHOFF RESORT AT ELKHART LAKE, WI
MAY 31-JUNE 3, 2022

Plenary Speaker
Dr. Lisa Brock
"You can be diverse without being inclusive. You can have inclusivity without equity. You can have equity without justice. Social Justice requires a deep inquiry into the systems that create oppression, and its aim is to eradicate them. In order to do that we must develop transparent life-affirming imaginaries, institutions, and communities."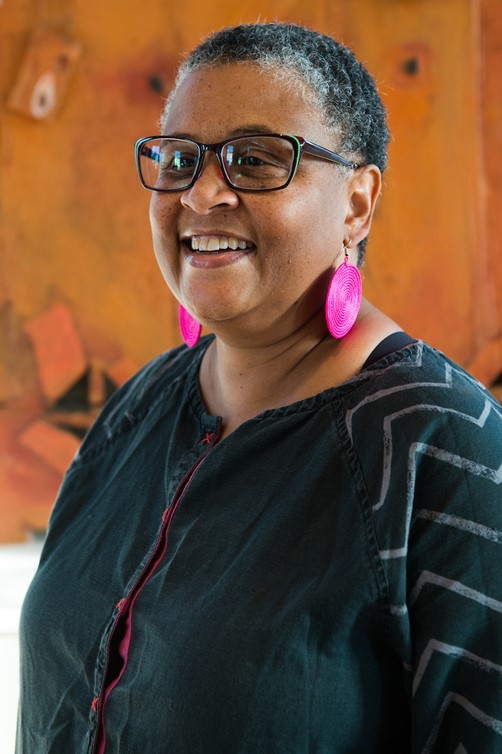 Lisa Brock (aka Doc Brock) is a retired professor and activist who has spent her life in social justice movements and over thirty years in higher education. She fought for girls' rights in her middle school, sat-in for the first African-American studies course in her high school, organized against police abuse in college and became a leader in the anti-apartheid movement in graduate school. She holds a B.A. from Howard University and a master's and doctorate in History from Northwestern University. She was a Fulbright-Hayes researcher in Europe and Africa and spent ten years as founding Academic Director of the Arcus Center for Social Justice Leadership at Kalamazoo College.
As an academic leader, she has led consequential and transformative changes on every campus that she has worked, especially in the area of curricular diversity, equity, belonging, and inclusion. She has engaged in this work at universities, liberal arts colleges as well as arts institutions. Brock has exceptional skills in social justice management and is currently working with conscious business and community leaders who wish to make a social justice impact.
While a specialist in Transnational Black Studies, Brock has a wide range of knowledge in all areas of oppression and resistance. She develops workshops and trainings with widely diverse groups that are prepared to take a probing look at racism, anti-racism, other forms of oppression, and social justice. These workshops intentionally center the voices and experiences of those most impacted by injustice but are created with the idea that all people, no matter their identities, ages, genders or sexualities can become anti-racist social justice agents of change. Doc Brock inspires regular people to make what the late Congressman John Lewis called "good trouble" for justice.
Dr. Brock's role at Faculty College is to lead participants in an unpacking of unconscious privilege and bias, overt and covert racism, and power relations in teaching and learning. By using a social justice lens, we will examine oppression, intersectionality, and ways to teach that first, do no harm while inspiring all students, staff, and faculty to embrace liberation thinking and work in solidarity with each other. University teams are encouraged to bring big and small challenges they face in centering issues of racism and other oppressions in their work. We will talk, share, and think about courageous ways to enhance our ability to lean into a more just teaching and learning practice.
University Teams
Angie Stombaugh- Lead
Cindy Albert
Bryan Brown
Damir Kovacevic
Chris McGinley
Sarita Jayanty Mizin
Jim Seliya
Kaia Simon
Katrina Rothrock
Christine Vriesema
Nichole LaGrow- Lead
Clifton Ganyard
Mary Gichobi
Michelle McQuade Dewhirst
Dinesh Yadav
Kristin Koepke- Lead
Ashley Edwards
Whitney George
Edward Kim
Bryan Kopp
Val Krage
Kristina LaPlant
Taylor Miller
Nese Nasif
Yevgeniya Turov
Sarah MacDonald- Lead
Ke'Andra Hagans
Kimberly Hernandez
Kristine Lize
Kim Omachinski
Sarah Riforgiate (Interim CATL Director)
Connie Schroeder
Xianwei Van Harpen
Nicole Welk-Joerger
Rona Wolfe
Samantha Larson- Lead
Karl Boehler
Jessica Brandt
Durmus Camlibel
Paisley Harris
Beth Johnson
Matthew Ringenberg
Kyle Steele
Houa Xiong
Amber Handy- Lead
Fabrice Conte-Wiliamson
Maria Franshaw
Erin Hillard
Qinghua Luo
Rebeccah MacKinnon
Terry McGovern
Cathy Mossman
Shannon Prince
Natalia Taft
Regina Nelson- Lead
Sameer Ahmed
Kara Candito
Dong Isbister
Lucie Kadjo
Gana Natarajan
Raymond Pugh
Shan Sappleton
Douglas Selent
Irfan Ul-Haq
Cyndi Kernahan- Lead
Geoffrey Force
Rebecca Haley
Chris Hergenrader
Tamara Kincaid
Erik Kline
Ann Lawton
Dan Paulus
Rhonda Petree
Mitra Sadeghpour
Valerie Barske- Lead
Laura Anderson Mcintyre
Brett Barker
James Berry
Jessica Bowers
David Dettman
Lauren Gantz
Jodi Olmsted
Saemyi Park
Krista Slemmons
Erin Speetzen (Interim CITL Director)
Sylvia Tiala- Lead
Jodie Bray
Keith Gilland
Abhi Ghosh
Oai Ha
Sharon Hansen
Anne Hoel
Kenny Mullins
Anne Oberding
Abhishek Verma
Kimberly Zagorski
Mary Lee-Nichols- Lead
Stacey Amo
Cherie Dakota
Emilee Howland
Donna Kirk
David Potter
Nicholle Schuelke
Jennifer Vogler
Amanda Zbacnik
Heather Pelzel- Lead
Ken Brosky
Jenna Cushing-Leubner
Lucinda Heimer
Nadine Kriska
Pilar Melero
Alexis Piper
Narendra Regmi
Sue Wildermuth
Courtney Wilt