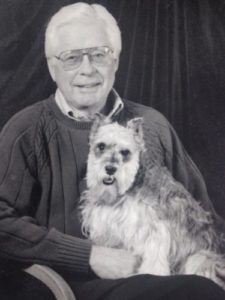 This award was established to recognize and honor the late James R. Underkofler (1923–2015), who served Wisconsin Power and Light (WPL) for more than 48 years – retiring as Chairman of the Board in 1990. He earned his undergraduate degree from the University of Wisconsin–Madison, followed by his law degree in 1950.
His entire career was with Wisconsin Power and Light Co. (now Alliant Energy), beginning as a clerk in the mail room while attending college and ending with his retirement in 1990 as Chairman and CEO. Underkofler was a member of the Rotary Club and UW-Madison's Ye Olde Warre Club. He served his community in many capacities, such as chairing and serving on several boards including the United Way, Meriter Hospital, Nelson Industries, Wisconsin Manufacturers and Commerce, and First Wisconsin Bank.
Underkofler was a staunch supporter of teaching excellence and believed in the importance of connecting public and private educational systems to enhance learning and motivate young minds.  Upon Underkofler's retirement, WPL Holdings and a UW System regent created the Alliant Energy Underkofler Excellence in Teaching Awards as a way to recognize outstanding teachers in the UW System and pay tribute to Underkofler's enduring interest in encouraging and promoting undergraduate teaching excellence.
The Underkofler Award reflects Alliant Energy's strong dedication to education and supports UW System's longstanding commitment to excellence in teaching and providing high-quality education to people from throughout Wisconsin and the world.