UW-LEAD
UW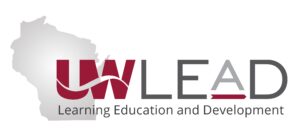 -LEaD or Learning Education and Development is a professional development program designed to enhance communication skills, influence collaboration and deepen employee engagement of UWSA employees. There are two tracks of professional development: one for Organizational Contributors (without direct reports excluding students) and one for People Managers (those with direct reports and/or management-level responsibilities).
At the end of this experience, employees will have deeper understanding of the principle tenets of effective communication, managing change and how their work style preferences influence collaboration. Participants will also be able to identify stressors and develop appropriate strategies for managing stress.
How to Participate or Nominate
Nominations for participation are solicited during open enrollment periods which are announced via email and on the website.
Employees interested in participating should discuss interest with their manager. Upon agreement, both employee and manager should submit during open nominations for the next cohort. Likewise, managers who are interested in having a direct report participate should discuss the opportunity with that employee.
Class sizes are limited to ensure a quality experience.
UW-LEaD participants are notified via email / in writing of their selection. All who are selected to participate, as well as their managers, are asked for a commitment of full attendance at every session in the series to qualify to graduate.
Additional Information
Additional information on participation and nominations is available below. If you have additional questions, contact Mason Aumanstal (maumanstal@uwsa.edu) in UW System Human Resources.