We recently added some new options to make the dynamic event list more flexible. You can now display events in the recent past and display events within a static range of dates.
For example, you may currently display a list of future events on your site. It may be helpful to also include events from the last week so people checking visiting your site just after the event can see the materials from that event. Do this by adding a number to the "Display events that occurred in the previous" field.
Or, you may want a page with links to all of your 2016 meetings. You can now do this by adding a Dynamic event list with Static dates.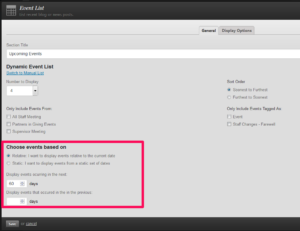 More information