You can now customize how Supplemental and Sub Page Menus behave in mobile and print. Access these settings by editing the Zuse Create module that defines the menu.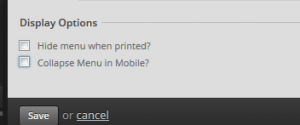 Hide Menu in Print
If a menu's main purpose is navigation, it may not be useful when printed. If a menu is very long, it can add extra pages to the printout.  Check the Hide Menu when printed? option to avoid printing the menu. This will save ink and paper and make your printouts easier to read.
Collapse in Mobile
If you have a long menu in the left side column on your page, for example on the Legal Topics pages, the main content of the page is pushed below the menu when viewing the page in mobile and a visitor is forced to scroll through the menu before they can view the content on the page.
Now, choose the Collapse Menu in Mobile? checkbox to have the menu automatically collapse when the page is viewed in mobile. A chevron will appear that will give site visitors the option to open the menu if they want to. This option is only available when a title is displayed for the menu.
This allows site visitors to view the content of the page easily without having to scroll past the menu.
More Information