Interactive Restructuring Map of the New UW System
Select a University

Use the dropdown box to begin.

Use the map or dropdown box to begin.

UW-Eau Claire

UW-Green Bay

UW-Madison

UW-Milwaukee

UW-Oshkosh

UW-Platteville

UW-Stevens Point

UW-Whitewater

UW-Platteville Baraboo Sauk County

UW-Eau Claire – Barron County

UW-Oshkosh, Fond du Lac Campus

UW-Oshkosh, Fox Cities Campus

UW-Green Bay, Manitowoc Campus

UW-Stevens Point at Wausau

UW-Green Bay, Marinette Campus

UW-Stevens Point at Marshfield

UW-Platteville Richland

UW-Whitewater at Rock County

UW-Green Bay, Sheboygan Campus

UW-Milwaukee at Washington County

UW-Milwaukee at Waukesha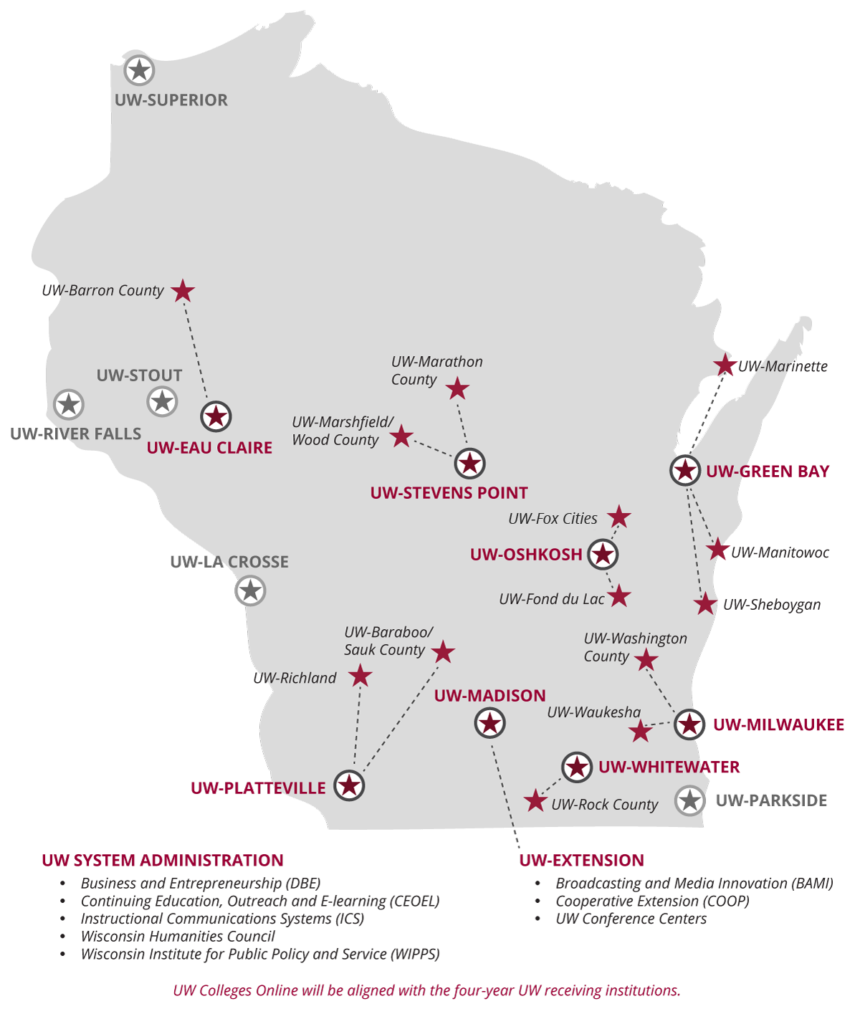 The New UW System
UW Colleges' two-year campuses are important access points to higher education for students all across Wisconsin. Their programs offer the quality education the UW System is known for at affordable tuition levels. Over the last several years, UW Colleges has faced enrollment and financial challenges brought on by Wisconsin's changing population demographics.
On July 1, 2018, the UW Colleges' 13 two-year campuses joined with seven of the UW's four-year comprehensive or research institutions as branch campuses. UW-Madison now administers Broadcasting and Media Innovation (which includes Wisconsin Public Television and Wisconsin Public Radio), as well as Cooperative Extension and the UW Conference Centers, all formerly part of UW-Extension. UW System now administers the Division of Business and Entrepreneurship; Continuing Education, Outreach and E-Learning; Instructional Communications Systems; Wisconsin Humanities Council; and the Wisconsin Institute for Public Policy and Service. UW Colleges Online has been aligned with the four-year UW receiving institutions.
Students will still have access to the same great classes and degree programs they've come to expect from UW Colleges and UW Colleges Online, at the same affordable tuition rates. Our goal in joining UW Colleges with the UW's four-year comprehensive and research institutions is to expand access to higher education, maintain affordability, and increase the opportunities available to students throughout Wisconsin and beyond. Uniting these institutions ensures the future viability and sustainability of all UW campuses while upholding the UW's longstanding commitment to providing access to affordable, quality higher education to all Wisconsin residents.
Restructuring Proposal
To ensure the future viability and sustainability of all our campuses, in November 2017, the University of Wisconsin Board of Regents approved a resolution to restructure UW Colleges and UW-Extension. In January 2018, the UW System submitted its application to restructure UW Colleges and UW-Extension to Higher Learning Commission (HLC). The application describes how the UW System will ensure that Wisconsin's higher learning institutions can serve the state's needs for years to come. With this plan, all two-year campuses will remain open and continue to serve students. In June 2018, the HLC approved the UW System's application to restructure UW Colleges and UW-Extension.
Primary Objectives
Expand access to higher education by offering more courses at the two-year campuses, including eventually offering upper-level courses
Maintain affordability by continuing existing tuition levels post-integration for courses currently offered at the two-year institutions
Identify and reduce barriers to transferring credits within the UW System
Further standardize and regionalize administrative operations and services to more efficiently use resources
Leverage resources and shared talent at our institutions to get more students into and through the educational pipeline successfully, better aligning our universities to meet Wisconsin's projected workforce needs
New Administrative Structure
The following UW College campuses will be aligned with the UW four-year institutions:
The following units of UW-Extension will be administered by UW-Madison and UW System Administration:
Project Implementation
Implementation of the proposed restructuring will take place in two phases.
Phase 1 (Year 1): July 1, 2018, to June 30, 2019
Phase 2 (Year 2): July 1, 2019, to June 30, 2020
During Phase 1, the two-year branch campuses will continue to function largely as they do now while preparing to internally integrate administrative functions, such as IT, HR, and procurement with UW System services. Student support services, such as admissions and financial aid processing, will continue to be administered by the two-year campuses.
In Phase 2, the receiving four-year institutions will undertake operational planning and services will be integrated into the two-year campuses.
Restructuring Progress Review
The Higher Learning Commission (HLC) conducted a six-month review during a Focused Visit on December 3-4, 2018, to examine progress by UWSA and the Receiving Institutions in restructuring UW Colleges and UW-Extension, as outlined in the original application to restructure.
The six-month review examined capacity to meet HLC criteria to ensure quality educational experiences for students at the branch campuses. The review also looked at essential elements such as oversight of branch campuses, oversight of instruction, planning and budgeting, continuity of academic programs and student support services, as well as faculty, staff, and student governance. A Focused Visit Report submitted to HLC prior to their review consisted of a systemwide overview of restructuring activities, including the transition of services, which are guided by customized Memorandums of Understanding.
Following the Focused Visit, HLC's peer review panel submitted its findings to the HLC's Institutional Action Committee. In March 2019, it upheld the panel's recommendations that no further review or reporting was needed for the Restructuring Project. This is the final HLC decision on UWSA's restructuring. Read a detailed summary of HLC's final actions.
Project Planning and Governance
The restructuring project is sponsored by UW System President Ray Cross and is advised by a Steering Committee that is made up of representatives from UW System Administration, UW Colleges and UW-Extension, as well as each of the other UW institutions. Shared governance is integral to this process, and the Steering Committee includes faculty, staff, and student representatives from each governance group. The Steering Committee helps oversee the planning and implementation of the project.
Regional restructuring teams were chosen by the Chancellor of each four-year receiving institution. Regional teams translate current processes, norms, and cultures into a new context; coordinate with and report to the Steering Committee at key milestones and deliverables; represent the project on campuses; and have a chair who is a primary point of contact for the region.
Functional teams were established to identify common and consistent solutions across regions and review regional team recommendations.
Course Offerings
A key opportunity for expanding access, and reducing cost and time to a degree, is the addition of online courses for general education at the four-year campuses. This will also expand the online course array for students across the state. The addition of a branch campus will provide additional venues to offer four-year degree programs. This enhances access to more educational programs for people across the state, especially in the smaller communities where branch campuses are located.
Students at the branch campuses will have greater access to academic learning support and other student support services through an affiliation with a four-year institution. Advising at the branch campus will help ease the transfer of students across institutions within the System. The continuation of reduced tuition for branch campus courses will continue to provide an affordable associate degree or general education program for more students in Wisconsin. Barriers to transfer will be removed because students will take courses that more readily transfer as a part of a degree pathway.
High school students will be able to take advantage of dual enrollment offerings to gain college credits while reducing the time and credits to degree once they are enrolled at a UW institution.

Seamless Credit Transfer
Throughout both phases of the restructuring process, the UW System will expand its transfer initiatives to ensure its process is seamless, smooth, and easily navigable for all students during their educational journey. In addition, UW System faculty and staff will identify degree pathways that eliminate barriers to transfer and reduce time and credits to degree for all students.
As branch campuses are integrated with four-year comprehensive and research institutions, the UW System will be able to advance its 2020FWD strategic plan goals associated with improving transfer for students within the UW System: enacting transfer policies and processes that serve the best interest of students. Through 2020FWD, the UW System seeks to ensure its transfer processes foster educational attainment, accommodate student mobility, and provide equal treatment of transfer and continuing education students.
Branch campuses will benefit from joining with their receiving institutions through increased and improved access to programs and services, as well administrative efficiencies and cost savings. Appropriate institutional performance measures will be developed by the UW System, in collaboration with the UW receiving institutions, to monitor progress toward the goals of the restructuring.