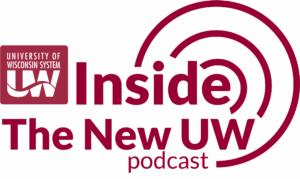 Join us as we explore the projects, people, and policies that drive the Wisconsin Idea forward. Each episode, we bring different people and perspectives together to discuss the challenges and opportunities facing the University of Wisconsin System today. Subscribe and listen on SoundCloud and Castbox.
Episode 1 – Restructuring:  In this episode, we dive into the catalyst for the biggest change to the UW System since the 1970s and discuss how the UW is adjusting to meet changing demographics and workforce needs.
Guests: UW System Interim Vice President for Academic and Student Affairs Dr. Karen Schmitt and UW System Vice President for Administration Robert Cramer
Episode 2 – Accreditation: In this episode, we explore accreditation – what it is and why it's important.
Guest: UW System Associate Vice President Dr. Carleen Vande Zande
Episode 3 – Access: In this episode, we discuss access to higher education and what the UW System is doing to maintain and expand access to students throughout the state.
Guests: UW Colleges Executive Officer Dr. Jackie Joseph-Silverstein and Interim Dean of the College of General Studies at UW-Milwaukee Dr. Stephen Schmid