USER STATISTICS FOR TIS HOME PAGES & MAJOR SECTIONS OF TIS
TIS User Statistics are based on accesses to the TIS Home Pages and subsidiary web pages. Since the Transfer Information System moved to the web in 1996, overall usage has grown from approximately 34,000 hits in the 1996-97 academic year to nearly 275,000 hits in 2012-13.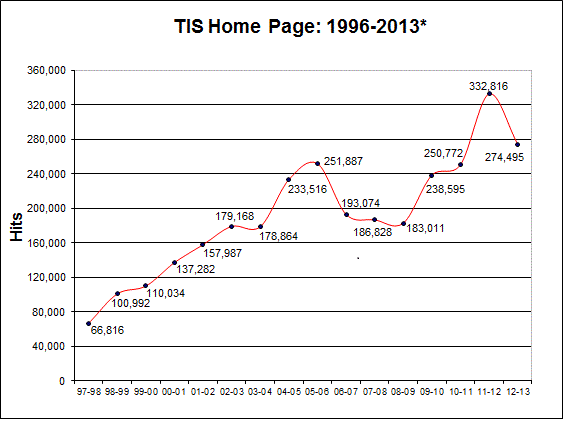 * Due to a technical problem, the totals for the years 2004-05, 2005-06, and part of 2006-07 are artificially high.
The table below shows statistics for the TIS Homepage and other major sections of TIS.
| | | | | | | |
| --- | --- | --- | --- | --- | --- | --- |
| Year** | TIS Home Page | Transfer Course Wizards | UW Colleges Transfer Guides | WTCS Transfer Agreements | UW Campus Resources | WTCS Campus Resources |
| 1996-97 | 34,011 | Not Available | Not Available | Not Available | Not Available | Not Available |
| 1997-98 | 66,816 | 38,168 | 2,700 | 1,930 | 8,817 | Not Available |
| 1998-99 | 100,992 | 51,692 | 6,289 | 3,873 | 9,149 | 6,197 |
| 1999-00 | 110,034 | 61,456 | 9,335 | 5,886 | 8,851 | 6,460 |
| 2000-01 | 137,282 | 82,706 | 14,960 | 9,545 | 8,672 | 7,774 |
| 2001-02 | 157,987 | 114,439 | 20,540 | 12,024 | 13,348 | 7,879 |
| 2002-03 | 179,168 | 134,074 | 25,460 | 15,740 | 6,624 | 2,362 |
| 2003-04 | 178,864 | 144,371 | 33,588 | 19,264 | 7,011 | 1,468 |
| 2004-05* | 233,516 | 164,733 | 34,753 | 20,655 | 5,913 | 1,632 |
| 2005-06* | 251,887 | 191,086 | 51,506 | 40,656 | 23,281 | 3,209 |
| 2006-07 | 193,074 | 187,144 | 43,639 | 24,512 | 6,259 | 1,557 |
| 2007-08 | 186,828 | 195,174 | 42,097 | 24,435 | 4,219 | 1,079 |
| 2008-09 | 183,011 | 185,917 | 39,326 | 22,267 | 3,727 | 1,179 |
| 2009-10 | 238,595 | 301,179 | 38,770 | 18,676 | 3,805 | 1,172 |
| 2010-11 | 250,772 | 354,326 | 41,689 | 18,907 | 3,844 | 878 |
| 2011-12 | 332,816 | 374,871 | 18,112 | 12,820 | 2,531 | 636 |
| 2012-13 | 277,495 | 314,044 | 13,339 | 13,159 | 1,655 | 603 |
| 2013-14 | 121,453 | 131,434 | 5,064 | 5,579 | 645 | 221 |