There is a known issue in which users of Internet Explorer browser find an unusual looking menu upon login to SFS."Universal Navigation Header" menu issues can be resolved by taking the following actions: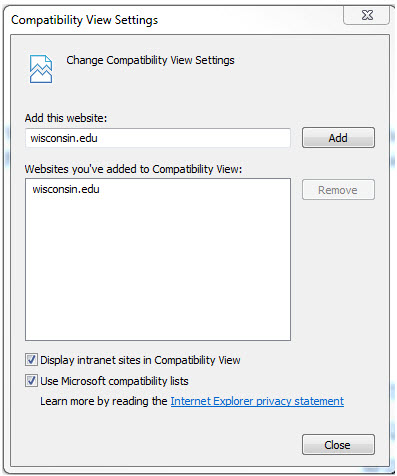 Add 'wisconsin.edu' to Compatibility View settings for Internet Explorer (IE)
In the browser window, click "Tools" [gear in upper right corner] then "Compatiblity View Settings".
In the "Compatibility View Settings" window, type 'wisconsin.edu' in the "Add this website" box, then click "Add".
Be sure that the two checkboxes at the bottom are checked.
Close all browsers and clear computer cache

Close all browser windows
Go to: Start Menu> Control Panel> Internet Options
Click "Delete" on the General tab
In the 'Delete Browsing History window, make sure the top option of "Preserve Favorites Website Data" is UNCHECKED and the next 3 options ARE checked
Click 'Delete' and wait for the process to complete
Reboot your computer

Shut down your computer, wait a few moments and restart