For those who use the nVision client, here are a few helpful facts:
Remote app:
The nVision client is accessed using the "Remote App". Essentially, this is a portal into another computer that houses the installed client.
The remote app is an application specific version of the remote desktop. It will only open an application on the other computer, not the whole desktop.
The nVision client .rdp files are shortcuts to this remote connection.
The remote computer may not (and probably does not) have the same version of Excel as you have on your local machine.
nVision Main Screen:
The main nVision sheet which opens in the client is called the "Nvsuser" file.
You do not ever need to save the Nvsuser file, when it asks you.

The proper way to close the Nvsuser file is to always close the inside sheet first! If you accidentally click the outside sheet, you can click "cancel" and the program will still close correctly. If you click the outside 'X' to close the sheet incorrectly, you may receive an "OLE" error and your session could lock open on the remote server. If this happens, please email uwsaproblemsolvers@maillist.uwsa.edu for help.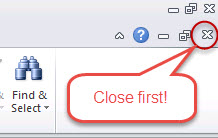 Layouts:
The collective directory location for all institutions' layouts is SFSPROC2-E (E:)\sfs\sfprod\nvision. Your client version should open to this location by default. If it does not, directions to change it are
.
There are folders for each institution and a general folder (UWGEN) for layouts shared by many institutions.
If you need to modify a layout that does not belong to your institution or for which you are not the owner, please make a copy of it first.