UW System eNews: UW FOR Wisconsin, systemwide e-newsletter

Federal Priorities – A reference guide to:
UW System Facts
Policy Priorities
Federal Financial Aid
Key Research Areas of State and National Significance
Key Federal Funding by Agency
Meeting National Public Policy Priorities

Accountability Report
The UW System's accountability report is similar to the way corporations report to their stockholders. The annual report outlines how the university holds itself accountable annually to taxpayers, students, alumni, and Wisconsin residents.

The UW System Fact Book is a reference guide to:
Academics and Enrollment
Financial Information
Faculty and Staff
General Information

Introduction to the UW System
Overview and admissions guidelines to UW campuses (Online copy of full-color print publication)

Knowledge Powers Wisconsin
Wisconsin's public universities, colleges, and extension networks are working to improve the state's competitive edge by leveraging the state's human capital, supporting business and industry, and strengthening local communities. Learn more at UWPowersWI.com.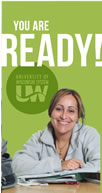 Brochure for Adult Students
A guidebook especially designed for adult students and veterans interested in starting or finishing their college degree.

Please contact universityrelations@uwsa.edu to request a high-resolution file of the UW System logo. For style guidelines, contact webteam@uwsa.edu.