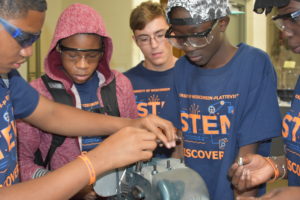 Young professionals are a vital component to our Wisconsin workforce and economy.
This week, the UW System joins the Wisconsin Economic Development Corporation and the rest of Wisconsin in celebrating Young Professionals Week (YP Week). YPWeek is dedicated to recognizing the contributions young professionals bring to our great state. Many of these young professionals developed their skills and knowledge at a UW System campus.
 The UW System remains focused on creating the best educational experience possible to provide students with the skills they need to have an immediate impact as young professionals in our current – and future – economy.
To that end, one of the goals of UW System's 2020FWD strategic framework is to provide every student with the opportunity to experience at least two high-impact learning practices, including internships and undergraduate research.
Learn more about how the UW is shaping young professionals across Wisconsin.
Visit ypweek.com to learn more about YP Week