I recently had the honor of meeting students in grades 9-11 who were visiting UW-Platteville for its inaugural STEM Discovery Camp. This outreach program serves a diverse group of learners, including low-income families. Students explore STEM-related fields and are introduced to a curriculum based in science, technology, engineering, and math. The camp's goal is to interest these high schoolers in STEM fields and lay the foundation for the skills and knowledge vital in today's economy.
Throughout the week, students participated in exciting, hands-on opportunities such as 3D printing, metal casting, fingerprinting technology, and much more. The enthusiasm I observed while watching students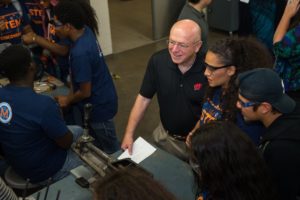 create solar ovens and build engines was palpable. Camps like this one can play a transformative role in influencing career trajectories. These students are now more likely to take a path toward college, and have a better understanding of what opportunities lie beyond a higher education degree.
Jobs in STEM fields are among the fastest growing in the U.S. economy. Many require a bachelor's or more advanced degree. Pre-college experiences like UW-Platteville's STEM Discovery Camp prepare students to enter the educational pipeline with tangible skills that will guide them as they move through college and into the workforce. It is estimated that 30-50% of jobs in 2030 do not yet exist, which makes outreach programs like this even more critical.
Our goal is to expand programs like this throughout the UW System to give young learners the opportunity for the same dynamic experiences I witnessed at UW-Platteville. The UW System, with the leadership of Chancellor Dennis Shields, was proud to support this camp. We look forward to further bolstering accessible, diverse educational experiences that will translate to a stronger workforce.
UW System's 2020FWD strategic framework emphasizes more engaging educational experiences so all learners can compete and succeed in a global environment. We are committed to readying students to meet the needs of a dynamic, changing world. Programs like UW-Platteville's STEM Discovery Camp help put greater emphasis on creativity, innovation, and critical thinking to ensure we have young people ready to take advantage of these jobs of the future.