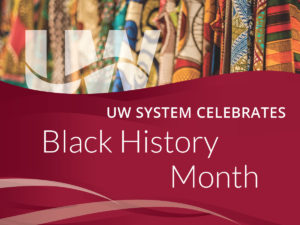 February is Black History Month, and on behalf of the University of Wisconsin System, I would like to help kick off the annual celebration. This is an important opportunity for us to honor and recognize the significant contributions of African Americans to our state and nation.
In January, I wrote about honoring Dr. King's legacy in our words and actions. Black History Month provides a perfect opportunity to do just that. The UW System proudly participates in this national celebration with a variety of events around the state, including guest speakers, panel discussions, and much more. You will find inspiring, thought-provoking programs at a UW System campus near you.  I encourage you participate in these events, such as several examples noted below:
February 4: Jamilah Lemieux will be the keynote speaker at UW-La Crosse's Reflections of Ebony event.  Lemieux is Vice President of News and Men's Programming for Interactive One, which is a digital new platform targeting millennials and African Americans. She is a strong champion of diversity and inclusion to achieve racial equality in our nation.
February 7: UW-Milwaukee is hosting a panel discussion regarding an important strategic diversity and inclusion initiative of strengthening the relationships between African-American students and faculty. This initiative can help improve our campus climate by helping create a positive academic environment on campus for African-American students and other students of various backgrounds to increase educational excellence.
February 28: UW-Madison in dedicating its new Black Cultural Center as it honors the past, present and future positive contributions of African Americans to the academic excellence of its campus.
This month is not only a celebratory occasion, but also an opportunity to highlight the many strategic diversity and inclusivity initiatives that are helping our students, faculty, staff, and community members create a positive academic environment and be successful participants in an increasingly interconnected world.
During our 2020FWD listening sessions, business and community leaders strongly emphasized that they want and need employees who can work as part of teams with people from different cultures, backgrounds, geographic areas, and political philosophies. Strengthening diversity and inclusion advances our nation's history of social justice and also builds the skills necessary for success as global citizens.
I am thankful for all of the UW System students, faculty, staff, and community members who help plan, lead, or participate in Black History Month events. This month, and beyond, educational opportunities like these enable us all to learn more about the sacrifices, successes, and innovations of African Americans, and to deepen our appreciation of diversity and inclusion.