What You Need to Know
The Job Framework is the overall organization of jobs. It is used to administer compensation and manage career development at the University of Wisconsin System. The Job Framework components include:
Job Families & Sub-Families
Job Titles & Job Descriptions
You can search for University of Wisconsin System job titles through our Standard Job Description Library. The library includes the job titles and job descriptions for Academic Staff, University Staff, and Limited Appointees. The library is meant as a reference tool for employees, managers, and Human Resources staff to use during employee conversations.
Helpful Video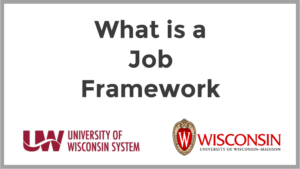 Job Framework Components
Job Families and Sub-Families
A job family is made up of jobs that involve similar work and require similar training, skills, knowledge, and expertise. Each job at UW System belongs to a single job family, which is determined based on the answers to the following questions:
Why does the position exist?
What are the most important responsibilities in the position?
What responsibilities take up most of the time?
A job sub-family consists of jobs within a larger job family. Job sub-families describe specialized functions. Each job is mapped to a single sub-family within a job family.